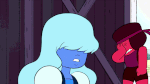 "I saw that this was a possibility..."
This article contains information about content officially released prior to its television premiere. Take caution when reading.
"

When we show up in this ship, it will be irrefutable that the last six-thousand years are now the biggest galactic embarrassment that's ever happened — and we're the ones to blame.

"
—Yellow Diamond
"Legs From Here to Homeworld"[1] is the 25th episode of the fifth season of Steven Universe and the 153rd episode overall.
Synopsis
Steven travels with his family.
Plot
The story starts the next day where "Reunited" left off. Blue Diamond is overjoyed that Pink Diamond wasn't shattered after all. However, Yellow Diamond complains about Pink faking her shattering and not telling them about it. Steven tells Blue and Yellow Diamond that he does not have Pink's or Rose Quartz's memories. Yellow then remarks that his memories might "be in there somewhere". Blue is surprised at the fact that he, Garnet, Amethyst, and Pearl weren't obliterated from their final attack. Steven then explains to them that the Gems affected by the attack weren't exactly obliterated.
The Gems then warp to Centipeetle's dropship, as Steven proceeds to show the corrupted Centipeetle to the Diamonds. Steven begs the Diamonds to fix her, though they are reluctant, as they have never seen a corrupted Gem before and are unsure where to even begin. Yellow eventually agrees to try, though she makes no promises for success. Yellow uses her power to reform her to her original shape but her mind remains corrupted. Blue uses her power to revert Centipeetle's mind back to a stable state, though she becomes stuck in a continuous loop of her experience in the moments just before her corruption. Steven uses his powers to calm her down, allowing her to regain her senses for the first time since her corruption.
Centipeetle, now fully healed, introduces herself as Nephrite Facet-413 Cabochon-12, and apologizes for not "heeding my Hessonite's orders", but she is relieved that the Diamonds are on Earth, believing that they must have defeated Rose Quartz. Yellow and Blue Diamond let go of her out of embarrassment and Nephrite immediately reverts to her corrupted state.
Frustrated, Yellow gripes to Steven about how many "perfectly adequate Gems you had us ruin". Steven is unfazed and demands that they do it again as they clearly have the power to do so. However, Yellow states that it won't work with just the three of them and that they need White Diamond in order for the cure to be permanent. They travel to Rose's Landfill to find Pink Diamond's Ship in order to travel to Homeworld.
The Crystal Gems (aside from Bismuth, who elects to stay behind to watch out for Lapis and Peridot who are in the process of reforming) and Connie, along with the Diamonds, board the ship and leave the Earth. During their flight, both Diamonds express concern over seeing White and fear her rage, as the revelation that Rose was Pink Diamond means that the last six thousand years have been an "embarrassment". Yellow matter-of-factly advises Steven to let her do the talking when they arrive, as the chances of Steven being listened to are slim.
Upon arrival, the group is surprised to be greeted by crowds of Homeworld Gems who have gathered at an arena to celebrate Pink Diamond's return. Steven is momentarily reassured, as he believes the assembled Gems are on his side, when White Diamond's Pearl suddenly appears before them. White's Pearl informs the group that White Diamond wishes to see "Pink Diamond" but when Yellow and Blue prepare to follow, White's Pearl clarifies that only Pink Diamond's (Steven's) presence is needed. White Pearl then transports Steven directly to White Diamond's ship. White Diamond welcomes Pink—as Steven—home, acting condescending and not giving him a chance to speak for himself. She then immediately transports him to a room full of bubbles overlooking Homeworld, presumably owned by Pink Diamond herself.
Features
Characters
Objects
Locations
Earth
Space
Gem Homeworld

Diamond Docking Bay (debut)
White Diamond's Ship
Pink Diamond's Room (debut)
Music
Instrumental Songs
Trivia
As of this episode, all four Diamonds and their Pearls have officially debuted.
This episode implies that White Diamond is the ruler of all Gems, including her fellow Diamonds, as evidenced by Yellow and Blue Diamond's demeanor on the topic of talking to White Diamond.
It is revealed that Pearl is not the only Pearl who has a gem placement different from her owner's.

White Pearl's gemstone is located on her navel, while her owner's gemstone is located on her forehead.

This is Amethyst's and Connie's first visit to Homeworld.
When Steven and the rest of his group land on Homeworld, the Gems that greet them stand in the color formations that represent the original symbol of the Great Diamond Authority, indicating that these Gems come from the different Courts of each Diamond. 

This also implies that Steven now has an army and the entire court of Gems at his disposal. 
Cultural References
White Pearl's hairstyle is similar to the Star Wars character Princess Leia.
Continuity
The title card has pieces of Yellow and Blue Diamond's ships scattered across the beach.
This episode begins immediately after "Reunited".

Garnet still has the wedding rings from the previous episode, but apart from that, everyone has changed back into their normal attire.
Lapis and Peridot have not reformed after being poofed by Yellow Diamond in "Reunited".

Yellow Diamond mentions the trial from the episode of the same name.
The Gem Homeworld has returned since its first appearance in "The Trial".
Steven mentions the events of "Monster Reunion".
Centipeetle is confirmed to be a Nephrite, a type of Gem mentioned to be pilots in "Bismuth" and "Jungle Moon".

In addition to Gems' distinguishing serial numbers including "Facet" and "Cut", this episode confirms the additional use of "Cabochon" in place of "Cut" in serial numbers like Nephrite's.

Nephrite's commander is confirmed to be a Hessonite, a type of Gem previously only mentioned in the game Save the Light (the Gem type of the game's antagonist).
Rose's Landfill from "Lion 4: Alternate Ending" makes an appearance again.
At the start of the episode, Garnet attempts to stop Blue Diamond from holding Steven, calling her a "shatterer". Blue Diamond had previously threatened to shatter Ruby in "The Answer" after witnessing Garnet form for the first time.
Errors
Throughout the episode, the sclera color of Yellow Diamond's eyes keeps changing between yellow and white.
In one shot inside the ship, when the Gems arrive on Homeworld, the panel Pearl manages is absent.
Yellow Diamond uses her left arm to control her ship instead of her right. The ship is modeled like a right arm.
Steven looks amazed that Nephrite is talking before she talks.
The second time Steven is interrupted by White Diamond, his standing position has changed. However, as the meeting ends, he is seen back in his original position, despite not walking or moving.
In the credits of this episode, Patti LuPone's name is, once again, in a different font.
In the credits of this episode, Aparna Nancherla's surname is misspelled as "Nancheria".
In the beginning of the episode, the house was partially destroyed, but when Pink Diamond's ship takes off, it appears to be perfectly fine.
Transcript
View the episode's transcript here.
Gallery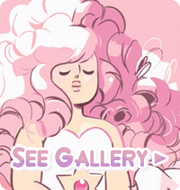 References