Jurassic World: Dominion Dominates Fandom Wikis - The Loop
Play Sound
This article is about the titular character. You may be looking for the episode.
Lion is a magical pink lion befriended by Steven that occasionally assists the Crystal Gems. Once a normal lion (presumably owned by Rose Quartz in the desert hundreds of years ago), Lion eventually died through unknown means. Rose Quartz was able to resurrect Lion through her healing powers, giving Lion pink fur and magical abilities. After being entrusted with many of Rose's belongings, Lion roamed the desert alone following Rose's departure until eventually being found by Steven.
Appearance
Lion has round ears, pink fur, black eyes, a soft light pink star-shaped mane, and a dark brownish-magenta heart-shaped nose. When Lion uses his magical abilities, his eyes and mane emit a white glow. There is a tuft of soft pink fur at the end of his thin tail.
Personality
Lion is an enigmatic creature whose sentience and sapience is somewhat questionable. However, he seems to act like a typical house cat, doing things like chasing butterflies in "Rose's Scabbard" and snapping at the dragonfly-like lights created by Sardonyx in "Cry for Help". Much like a normal animal, he rarely changes his expression and for the most part, he is quiet and docile. Though he is considered a "pet" for Steven, Lion looks after himself and often sees to his own activities. While Lion does not seem to acknowledge Steven most of the time, he does appear to understand Steven to a certain extent, responding whenever Steven needs him in mysterious ways. "Lion 2: The Movie" shows this understanding when he takes him and Connie to Rose's Secret Armory after Steven remarks how Lion is not "trained very well", and in "Lion 3: Straight to Video", Lion nearly smothers Steven's face to show him the dimension in his mane when Steven said he wanted to know more about his mother. Additionally, when Steven forced him outside, he whined and looked at him with sad eyes, showing that he didn't want to be left without him and that he does care about Steven in a sense.
However, in "Dewey Wins", after Connie asks Lion to take her home after frustratingly giving up trying to make Steven understand how much he hurt her by surrendering to Homeworld, Lion shoots Steven a disapproving glare before leaving with her, showing that he shares her anger at Steven over his surrender, as well as him treating the situation as nothing, and ignoring her feelings about it. Lion stays with Connie over the next few weeks afterward, presumably to give her comfort and companionship during her and Steven's estrangement, as well as teach Steven a hard lesson over his taking her and his other loved ones for granted; at one point, Connie rides him over to Steven's house to try and work things out in person after failing to do so over the phone, only to discover that he had left on vacation. In "Kevin Party", Lion returns along with Connie, bringing her to Kevin's party, and following her and Steven's reconciliation, forgives him as well, and by "Lars of the Stars", he showed to once again be under Steven's care and on good terms with him.
In "Can't Go Back", Lion demonstrates his caring and protectiveness of Steven's well being when he stops him from blindly running after Lapis after she opens the Moon Base's doors, and then nuzzles him in comfort when he ultimately fails to stop her from leaving.
In "Escapism", Lion encounters Steven in a Watermelon Steven's body out in the ocean and quickly recognizes him, showing his apparent ability to recognize Steven in any form. He takes Steven to Greg and Bismuth, and Steven relays a message for help to them before returning to his body.
In "Change Your Mind", when Lars finally returns home with the Off Colors, Lion snuggles up to him, indicating the bond they share by being brought back to life by Rose Quartz/Pink Diamond's power.
Two years later, in Steven Universe: The Movie, Lion has changed slightly, albeit retaining his feline traits of remaining docile and sleeping for extended periods of time. These changes come in the form of his involvement in the main conflict, as he actually willingly partakes in the dilemma involving the Crystal Gem's amnesia rather than having to be convinced by Steven. Lion also seems to now perfectly understand and genuinely care for Steven, listening to everything he says and showing affection by nuzzling him, as well as being worried about his safety after he confronts Spinel.
In "I Am My Monster" after Steven's PTSD, sense of purposelessness, and suppression of his emotions leads to his meltdown and transformation into a giant Gem Kaiju, Lion rallies with the rest of the Crystal Gems to help his master/charge. Teaming up once more with Connie, the two help evacuate the town, and then, after everyone embraces Steven with love, Lion warps her to the top of his head to give the final piece of love he needs. Later, after Steven has transformed back, Lion greets him with a warm, friendly lick and allows Steven to embrace him and cry into his mane as his master/charge finally lets out his emotions.
In "The Future", Lion warps Connie to see Steven and is last seen with them as they make plans to meet up while Steven travels around the world and eventually settles elsewhere, with the two intending to use his warp powers to maintain their relationship.
History

Click here to view the history of Lion.
Abilities
Episode Appearances
Trivia
Lion appears to like Lion Lickers, as shown in the episode, "Lion 3: Straight to Video", when he presses his face against the glass of the freezer holding the Lion Lickers. This attract can be a reference due to him being a lion.

In "Nightmare Hospital", Steven gives Lion Lickers to Lion to get him to stay in the Hospital parking lot. Lion seems enthralled by them, frantically attempting to reach the treat before the plastic is even off, to which Steven remarks about the animality of doing so.

Rebecca Sugar's pet cat is also named Lion.
Lion's ability to teleport might explain how he manages to follow the Crystal Gems back to the Temple in "Steven's Lion".
Lion usually sleeps near the house of the temple, as shown in "Fusion Cuisine" and in "Steven the Sword Fighter", when he is seen resting underneath the house.

In "Lion 3: Straight to Video", Steven allows Lion to sleep in the house in a bed he made for him.

One of the concepts designs considered for Lion is an "unsettling, silent caricature of a lion", like an "old medieval heraldry image. His face frozen into an uncertain grin except for his eyes which would follow Steven around while he creeped out the other Crystal Gems. He might not be pretty and actually kinda suspicious, but Steven loved him!".[2]
It is unclear how far Lion can teleport, but the furthest he has teleported so far is to the Moon while carrying Steven, Peridot, and the Crystal Gems. The jump to the Moon required several portals to stay open and is shown to exhaust Lion.
Steven states in "Lion 2: The Movie" that Lion "does his own thing most of the time".
Lion's portals are in the shape of diamonds and his teleportation theme features distorted accordions, the same instrument used in the theme songs for characters of the Diamond Authority.
When Lion saves Steven from the sandstorm in "Steven's Lion", Lion's color scheme changes and resembles the male Lions seen alongside Rose Quartz in the episode "Buddy's Book". His mane becomes darker than his body fur, changing from pink to cream-colored.
In the episode, "Lars' Head", Lars develops an ability to allow Steven to travel to Lion's head, indicating a connection to how Lion's ability and fur color formed. Given that Lion resembles the male Lions from "Buddy's Book" and Lars gains his abilities after he is revived by Steven's healing powers, Lion may have similarly been revived by Rose Quartz's healing powers which Steven inherited. This would indicate that Rose may have used them to revive Lion after he died.

Rebecca Sugar has confirmed in an interview that Lion got his powers the same way as Lars.[3]

He is similar in some respects to the Marvel Comics character Lockjaw.
His fur colors are identical to Lars'.
Galleries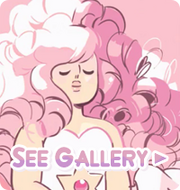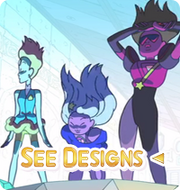 References