"Lion 3: Straight to Video" is the 35th episode of the first season of Steven Universe, and the 35th overall episode of the series.
Synopsis
Lion keeps lying on Steven's face while Steven is sleeping.
Plot
The episode starts off with Steven looking around inside the Big Donut having a hard time choosing what he wants to buy. Sadie encourages Steven, though Steven still feels conflicted. She tells him to ask Lion, who has been sleeping near the counter. Lion then abruptly stands up and points using his muzzle at the fridge containing Lion Lickers, which Steven refuses to buy. Sadie then interjects by saying that they need to hurry as she and Lars are about to close the store, though Lars leaves, leaving only Sadie to close it. Steven then notices a bunch of paper bags with Sadie's name on it in the refrigerators, and it's revealed that they're all lunch bags Sadie's mom makes her. After calling them childish, Sadie lets Steven take one home.
Back at the temple, Steven is spreading the contents of the lunch bag he got from Sadie on a counter while Lion gets his nose stuck in the bag. After several lunch puns from Steven, Lion blows the bag onto Steven. Steven then starts to wonder what his mother would've packed for him.
At night, Steven prepares Lion's bed with the couch, but Lion refuses and jumps into Steven's bed. Rushing up the stairs, Steven struggles to get Lion out of bed. Once successful, he finally falls asleep in it. Steven then finds himself in a strange, pink world. Looking around, Steven realizes that he can't breathe. Waking up to the sound of Pearl's voice, Steven finds himself lying under Lion. Steven shoos away Lion and asks why Pearl was there, and she answers that she likes to watch Steven sleep. Telling them to leave him alone, Steven once again tries to fall asleep. Feeling troubled as Pearl and Lion continue to watch him, he finally shoos them both away.
Now finally alone, Steven flops down on his bed and drifts to sleep where he dreams of him and Dogcopter playing checkers with Dogcopter winning using ridiculous moves. Complimenting Dogcopter and asking him for his ways to success, Dogcopter gives Steven terrible advice, and warns Steven to take a deep breath. In his confusion, Dogcopter flies away and the dream breaks. Steven finds himself awake in the pink grassy field again, still unable to breath, he realizes this is all Lion's doing. Annoyed, he breaks himself free from underneath Lion and scold him afterwards. Lion attempts again and again to get Steven to lay on him, much to Steven's chagrin. Eventually, Steven puts him outside as a "time out" punishment. Hearing Lion cry, Steven starts to feel guilty and apologizing for his rash behavior. As he gives lion a hug, Steven gets sucked into Lion's mane, and realizes that Lion's mane is a portal to the pink world he had kept seeing. Feeling like he had to do something there, Steven takes a big breath and sticks his whole body into lion's mane.
In the world, Steven wanders around (while constantly sticking his head out of Lion's mane to breath) and finds a large tree. Around that tree, Steven finds a "Mr. Universe" t-shirt, Rose's sword, a treasure chest, a bubbled gem (most likely a bismuth), a photo of Greg and Rose, a flag bearing Rose's symbol, and a video tape labeled "For Steven". Running out of breath again, Steven rushes out of Lion's mane, taking the tape with him. Knowing that he can't watch the video with the gems knowing, Steven hops on Lion's back to go.
At the Big Donut, Sadie opens the big doughnut while Lars listens to music. Catching up to them, Steven asks Sadie for a favor, and they hurriedly walk inside while Lars looks on confused. Using the TV in the employee room, Sadie and Steven watch the tape. It cuts to several scenes of the beach, including what the Crystal Temple looked like before the Gems had put in Steven's room. A Rose's voice comes on, and starts to talk about the amazing aspects of life on earth.
In the middle, a segment is dedicated to Greg introducing himself to Steven, calling himself, "The best dad on this side of the Cosmos!" (He also wears the same "Mr. Universe" t-shirt shown hanging on the tree in Lion's mane (also an effect on the camera includes the star that shows up at the end of each episode). As Rose continues to monologue, she turns the camera to reveal her face. She states that he will be amazing and extraordinary, as he is going to be a human. She explains to Steven that she knows that they cannot both exist at once, and tells him that once he is born, she will become half of him. She then tells him to love himself, and to never stop, as he is half of her and him doing that is like loving her. As the video ends, it cuts to one last scene of a pregnant Rose (who is revealed to be as tall, if not, taller than garnet) and Greg sharing a kiss.
Lars opens up the room and is shocked to see a watery-eyed Steven and Sadie. As Steven leaves, he pats Lars on the chest the same way he did in "Lars and the Cool Kids", and also hugs Lion outside. The episode ends with Lars asking about what they had watched, and with Sadie calling her mom, and telling her that it's okay to keep making her those bagged lunches.
Characters
Production Notes
Songs
Trivia
Continuity
Videos
Transcript
Click here to go to the transcript.
Gallery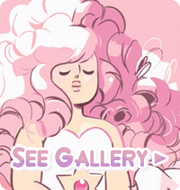 References
Community content is available under
CC-BY-SA
unless otherwise noted.