Jurassic World: Dominion Dominates Fandom Wikis - The Loop
Play Sound
"

There has to be a clue somewhere. Mom says she wanted to have me. But that must mean there's a reason. There has to be something I was meant to do. My magical Gem destiny.

"
—Steven
"Lion 4: Alternate Ending" is the 21st episode of the fourth season of Steven Universe, the 124th episode overall, and the first episode in the sixth StevenBomb.
Official Synopsis
Lion coughs up a magical key, and Steven goes on a quest to find what it unlocks.[4]
Plot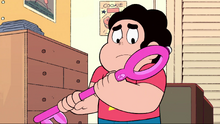 Rose Quartz is seen on Steven's TV with the latter rewinding one of her VHS tape recordings and writing on a notepad. Lion is grooming on Steven's bed in the meantime, who Steven wants to get attention from. Steven applies the acrostic method to find a secret message in the video, to no success. Lion, who was previously inattentive, starts to gag and coughs up a pink key. Steven wonders what the key unlocks.
Steven first enters Lion's Dimension and tries to open the chest, to no avail. He then enters Rose's Secret Armory, Rose's Fountain, then Rose's Room to try and find a lock for the key, to no success either. He then tries to unlock himself, which does not work. Steven continues to ponder the location of its use, so he asks Lion to take him somewhere new. Lion does not want to, but after Steven gestured politeness, Lion gives in and warps Steven to the desert Lion was first discovered in.
Lion runs toward an unknown location, with Steven basking in the heat uncomfortably on Lion's back recollecting his thoughts on who he is, what others expect of him, and his destiny. Lion reaches the destination. Steven refreshes himself with a bottle of water before heading toward the door to embrace his destiny. When he opens the door, his destination turns out to be Rose's Landfill. It triggers Steven into a frenzy until he spots another VHS tape with "Nora" engraved to it. Steven interprets it as if he has a lost sister somewhere. Steven asks Lion what the tape is supposed to be, but Lion disregards the question. Steven is desperate to know the tape's meaning, so he promises Lion not to get angry when he throws up on Steven's bed.
Lion warps to the hill of Beach City which Steven questions. He hears music and runs towards it only to encounter Greg. Steven questions if his dad is Nora but prioritizes why Greg was here. Greg explains he was "getting some songs figured out" on his "jamming hill". Steven shows Greg a tape he found, which Greg thought he would never see again. He plays the tape which shows Greg and Rose planning a camera pan intro of his "Mr. Universe" pose. Afterward, the tape plays the same clip on the VHS tape in the beach house, the difference being Rose saying "Nora" to refer to Steven.
Steven questions why it is the same tape Rose made for him and who Nora is. Greg answers with Steven being Nora. Steven freaks out believing he is his mom and sister. Greg reassures that he and Rose had it down to two names depending on whether Steven was a girl or a boy. Steven questions whether Nora would then have Steven's destiny; Greg has no idea. Steven argues the tape for him has a secret message but is also more of a puzzle piece, and sooner or later, he will find out what purpose he serves. Greg calms him down and talks to Steven.
Greg says Rose simply wanted Steven to be Steven, and Nora exists because when one has a kid, they don't know what will happen with that kid. That is why Rose was so excited about having Steven as he won't be bound to restrictions and will have access to every possibility in life. The tape plays to prove this claim and Rose's jubilant attitude towards this soon-to-be outcome for her. Steven is convinced there is no secret expectation, and Rose just wanted to have him as her kid. Greg asks if he is fine with that outcome, which Steven is, embracing Greg with a hug who returns the favor.
Features
Characters
Objects
Locations
Music
Instrumental Songs
Trivia
This episode reveals that Greg and Rose had planned to name Steven "Nora" if he was born a girl.

This is connected to Rebecca Sugar's own life, as her parents almost named her Nora.[5]
Cultural References
The helmet that is over Nora's tape appears to be a Stahlhelm, iconic for its use by the German military during both world wars. This one, in particular, is a World War 1 model, due to the bolts on the side.
The broken katana Steven finds in Rose's Landfill bears a close resemblance to the sword of the titular character from Samurai Jack.
Background sketches posted by Jane Bak on Twitter show that a screenshot from Paper Mario: The Thousand-Year Door was used as a reference for the red book stuck halfway into the ground at Rose's Landfill.[6]
Continuity
Errors
Videos
Transcript
View the episode's transcript here.
Gallery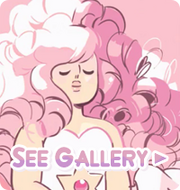 References