Jurassic World: Dominion Dominates Fandom Wikis - The Loop
Play Sound
This article is about the episode. You may be looking for the soundtrack.
"

If you don't give people room to grow, you'll suffocate them.

"
—Shep
"Little Graduation" is the 9th episode of Steven Universe Future.
Official Synopsis
Steven and the Gems celebrate Little Homeschool's first graduating class.
Plot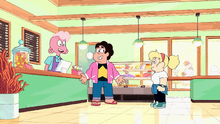 The episode starts in the car, as Steven puts on a mixtape of Sadie Killer and the Suspects' songs, and he sings along in delight. He arrives at Spacetries to pick up the graduation cake and see how Lars is doing. Sadie then arrives and Lars hands Sadie her mooncakes and asks Sadie how things are going with Shep, her new partner. Sadie gushes about how awesome they are and have been dating for almost two months. He tells her to say hi to the Suspects for him, and Sadie will. After Sadie leaves, Steven asks who Shep is, and Lars explains that Shep is Sadie's new romantic partner, they met while she was touring with the Suspects. Steven asked is it and then Lars tells Steven "yes it is" and he's leaving since the Off Colors are done with school which means he plans that they're going back into space. However, this worries Steven and asked him about his shop. Lars told him that he asked Blue Lace Agate to take over that he's ready to move on, he finished setting up the school and asked that he wanted to try something new. He said that the graduation cake is ready, tells him he'll see him tonight, and Steven agrees.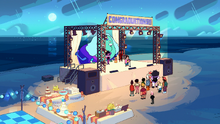 During the night, the graduation party takes place at the beach, where Steven gives an inspirational keynote to the Off Colors before declaring them official graduates. As the party goes on, Steven floats by and makes conversation with Sadie, who introduces him to Shep. Steven tries to be cool about it, but the conversation goes on awkwardly when he compares their relationship (going on for about two months) to the previous relationship Sadie had with Lars on the events of "Island Adventure". As Sadie and Shep walk away for cake, Lars heads in the same direction to say hi, but Steven intervenes, wondering if he's okay. Before leaving to go talk to them, Lars ironically asks him the same question.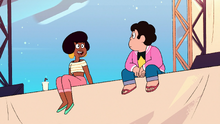 Steven then talks to Jenny about how the graduation goes on and states everyone is enjoying it but himself. With everyone having something new to do with their lives, Jenny states that it's rather beneficial. Now that the Suspects have broken up, Jenny states that she (and the others) will have plenty of time to accomplish their future goals. Realizing this now, Steven is shocked.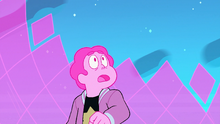 Sadie and Shep perform a song for the audience ("Looking Forward"). Throughout the song, Steven notices Lars starting to depart to space again with the Off Colors, saying that he was only here for them, and not entirely interested in big parties. As he is about to leave, saying farewell, Steven tenses up and turns into his pink form, halting Lars with a diamond-shaped barrier, as more of them form into a dome, surrounding everyone (including Steven) inside.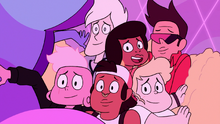 Knowing that he's been bottling his emotions about this whole situation, Steven denies responsibility and puts the blame on Lars, stating that he and Sadie haven't talked since he arrived back on Earth. However, Sadie confirms that she did have a chance to talk to Lars, and attempted to reconnect, but says that they grew apart. Despite missing what they had together, Sadie and Lars explain how they're actually happy for each other that they found something to do for their lives. Knowing that there's nothing to work out between the two, and still bottling his emotions, the dome closes in more, and everyone tries to push back. As this happens, Shep points out Steven's concern for his friends moving on in life, to where Steven still does not give in his feelings. Sadie informs that everyone has their own lives to live, with Shep saying if he doesn't let them, he'll (literally) suffocate them. Aware of this, Steven states that he'll miss all his friends entirely if they move on, but his friends let him know that they'll always be his friends, no matter where they end up.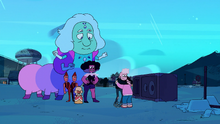 Moved by this pep talk, Steven turns back to normal, and the dome disappears. As everyone is about to leave, Shep hands Steven a cassette tape of the song they recently played before saying their goodbyes. Lars is about to depart too with the Off Colors, and Steven apologizes for his actions. Stating his dislike for graduations, he suggests that he might quit working at Little Homeschool. Before leaving, Steven and Lars share one more long hug.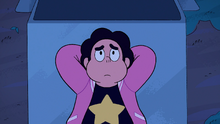 "Looking Forward" plays once again, and throughout the song, Garnet, Amethyst, and Pearl are setting Little Homeschool up for new students. Steven smiles at first but frowns and walks away. While driving, he listens to the cassette tape he received earlier, and lays on top of his van, with a confused look on his face. As he looks into the starry night sky, the episode ends with a shooting star passing by.
Features
Characters
Objects
Locations
Music
Songs
Instrumental Songs
Trivia
Shep is the first non-binary character in the franchise who is not a Gem or a hybrid fusion.

Additionally, Shep's voice actor, Indya Moore, is also non-binary and uses they/them pronouns like Shep does.

In dating Shep, Sadie is revealed to be queer or sexually fluid.
Steven leans on the fourth wall by saying he had not seen Lars and Sadie's relationship development that happened offscreen.
The names of items on the menu at Lars' bakery Spacetries are all space-related pastry puns.
Cultural References
The musical instrument that Shep plays is known as an Electronic Wind Instrument, or EWI.
In addition to space-related pastry puns, at least two of the names of Spacetries' menu items reference song lyrics or titles (see above).
Continuity
After the Gem-Human Excellence Mentorship program introduced in "Guidance", Blue Lace Agate is revealed to work at Lars' pastry establishment Spacetries.
Steven references "Island Adventure" when he claims that you don't really know someone until you're stranded on an island with them.
Lars mentions the time Steven used his head as a portal since "Lars' Head" as his own means to visit him.
Errors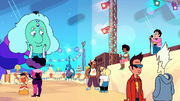 Before the Off Colors all toss their graduation caps, the Rutile Twins' tassels are on the right side after they move the tassels to the left side.
In one shot where Buck is talking to Sour Cream, his shirt is colored dark red, despite subsequent appearences in the episode having the usual white shirt.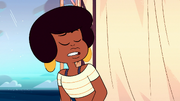 In one frame when Jenny said, "Did Sadie not tell you?" to Steven, part of the outline of her right earring is black instead of yellow.
When Steven's shield is formed, everyone at the party is shown to have been caught inside. However, Bixbite and Ronaldo are visibly absent from the point when it starts to contract, and Lace Amethyst and Nephrite are gone once everyone is nearly out of room.
Video
Transcript
View the episode's transcript here.
Gallery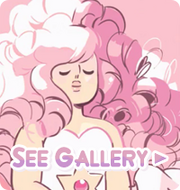 References