Doctor Strange in The Multiverse o Madness - The Loop
Play Sound
"

You'll learn all that and more right here at Little Homeschool.

"
—Steven
"Little Homeschool" is the 1st episode of Steven Universe Future. It is also the first episode in the premiere special that happened on December 7, 2019.
Official Synopsis
Welcome to Little Homeschool, a place on Earth where Gems from all over the universe can come learn how to live together peacefully! But there's one Gem who refuses to attend.[2]
Plot
In Steven's Bathroom, he uses Diamond aura potions and his healing spit on the water of his bathtub to heal a corrupted Gem named Cherry Quartz, who is very confused about what happened to her. Steven is very upfront and tells her that she was corrupted in a Diamond blast and that he had just healed her.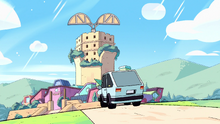 After offering her some pamphlets in both English and Gem Glyph, Steven drives Cherry Quartz in his new car over to Little Homeworld. He tells her who and what has changed in Beach City over the years, despite her not knowing any of the people he's talking about. They arrive in Little Homeschool, a place where former Homeworld Gems can learn about how to live and be free on Earth. Garnet, Amethyst, and Pearl are seen teaching other Gems about yoga, freedom, and technology respectively.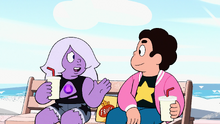 Amethyst tells her class to do whatever they want for an hour and invites Steven to have lunch with her. She tells Steven that she's content with her place as a teacher in Little Homeschool, seeing as no one except Steven had ever really looked up to her. She is also excited by the fact that so many Gems want to learn how to be Earthlings. Steven, however, is saddened by the fact that one Gem refuses to attend the school. Amethyst tells him to forget about her, but Steven says he's still worried about her. He explains that they built Little Homeworld and its school to fix some of the bad things the Diamonds did, and if someone out there is still hurting because of them, he should try to help her.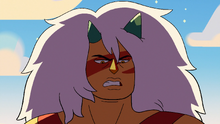 Amethyst tells Steven that he should stop trying to fix everyone, which he reluctantly agrees with. On the outskirts of Beach City, Steven walks through a forest until he reaches a cave, trying to find the Gem who refuses to attend the school. Before he can walk near it, someone interrupts him. The gem is revealed to be Jasper, who is shown to destroy every living Earthling that invades her space, including the grass.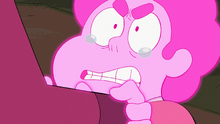 Steven tries to talk to her, but it quickly escalates into an argument, in which Jasper tells him that "You are not my Diamond" and challenges him to a fight. Out of anger, Steven agrees, which pleasantly surprises her. He throws the first punch, but as the fight progresses Jasper gains the upper hand and taunts Steven by telling him that he is only strong because of the assistance he gets from his friends and that he is nothing without them. Then, Steven's skin turns pink, giving him the strength to break free of Jasper's grasp and win the fight by smashing her through several trees and into the ground. Impressed, Jasper laughs and says she didn't think he had it in him.
Steven apologizes for the outburst, much to Jasper's disgust. Steven then tells her that instead of her learning from him, he could learn from her. He requests that maybe Jasper could teach him seeing as this fight helped him learn a new ability, to which she replies, "Consider that fight back there your first and only lesson". Steven then asks Jasper if he can come back and visit. Before walking back to her base, Jasper tells Steven to do whatever he wants.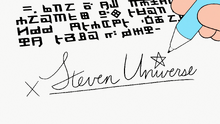 The scene then cuts to a montage of Steven making his way back home while repairing the damage from his and Jasper's fight, while explaining to Cherry Quartz that he still has more to learn about himself and notes that life is "a wonderful mystery". Cherry then asks if Steven could sign off on her class schedule. The episode ends with Steven signing his signature on her file.
Features
Characters
Objects
Locations
Music
Instrumental Songs
Trivia
Cultural References
Connie's pose while sitting down looks similar to "Study Girl" who is featured in the lofi hip hop beats Livestream videos, which in turn originates from the 1995 anime film Whisper of the Heart (a known favorite of Steven Universe creator Rebecca Sugar[5]).

Cartoon Network later uploaded an official "Study with Connie " parody video featuring the shot.
Incidentally, Grace Rolek (the voice of Connie) provided additional voice work for the English dub of Whisper of the Heart.
Continuity
Errors
When Steven is touring Little Homeworld, the Earth Flag colors are different: the circle is orange and yellow instead of blue and light blue, the small circle is white instead of little bluish, the hexagon is blue instead of orange and the circle inside is light blue instead of yellow.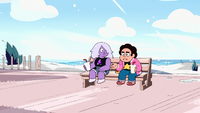 In one frame when Steven said to Amethyst, "Knowing there's someone out there still hurting...", his teeth are the same color as his skin.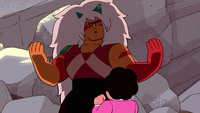 When Jasper says "Why don't you throw the first punch?" her corruption scar on her hand disappears.
In one frame when Steven is about to throw Jasper upward, his right eye turns pink.
Cherry Quartz's gemstone frequently changes. At first, it has a hexagonal facet with vertices pointing up and down. However, in later scenes, it has the same facet as an Amethyst gemstone— vertices pointing left and right. Later still, it is back to its original appearance.
While Jasper is telling Steven he's never beaten her on his own, his star is way too low on his shirt.
Transcript
View the episode's transcript here.
Gallery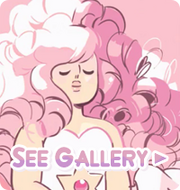 Videos
References