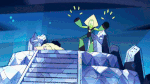 "You have to fix this!"
Little Homeworld is a settlement within the U.S State of Delmarva on Earth that houses some of the previously corrupted Gems.
History
At some point between "Change Your Mind" and the movie, Bismuth, Peridot and Lapis began to aid the uncorrupted Gems with the construction of the town to give the uncorrupted Gems a home away from Homeworld.
Appearance
Little Homeworld's small buildings are brightly-colored. Its central tower, which is still under construction at the beginning of the movie, is tall, hexagonal, and beige and has a rotating structure on top of it consisting of two semi-circles. The hole filled with semet with the star shape and the Warp Pad in the center stands on the same spot where the Barn once stood.
Trivia
According to Peridot, Little Homeworld is 83.7% complete during the events of the movie. It appears in a more completed state in the opening theme of Steven Universe Future, suggesting it is now fully complete.
Gallery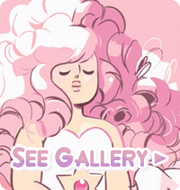 References
Community content is available under
CC-BY-SA
unless otherwise noted.