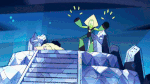 "You have to fix this!"
This article is about the location. You may be looking for the episode.
Little Homeworld is a settlement within Delmarva, serving as the home of the Uncorrupted Gems (among others).
History
At some point between "Change Your Mind" and Steven Universe: The Movie, the Crystal Gems began to aid the Uncorrupted Gems in building a place to stay for those who wanted to live on Earth, taking the area where The Barn once stood and turning into a thriving town.
Appearance
Little Homeworld's small buildings are brightly-colored. Its central tower is tall, hexagonal, and beige with a whirly-bird like structure on top of it. In the center of the town lies Little Homeworld's Warp Pad, surrounded by a gold star.
Locations
Trivia
According to Peridot, Little Homeworld is 83.7% complete during the events of the movie. It appears in a more completed state in the opening theme of Steven Universe Future, suggesting it is now fully complete.
Gallery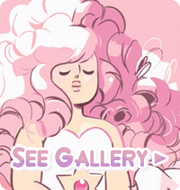 References