Little Homeworld is a settlement within Delmarva, serving as the home of the Uncorrupted Gems and other Gems that attend Little Homeschool.
History
At some point between "Change Your Mind" and Steven Universe: The Movie, the Crystal Gems began to aid the Uncorrupted Gems in building a place to stay for those who wanted to live on Earth, taking the area where The Barn once stood and turning into a thriving town.
Appearance
Little Homeworld's small buildings are brightly-colored. Its central tower is tall, hexagonal, and beige with a whirly-bird like structure on top of it. In the center of the town lies Little Homeworld's Warp Pad, surrounded by a gold star. There is a flagpole out front with a flag similar to the Earth flag at the Beach House. It has a black fringe, a dark blue background representing space, an orange circle with a yellow circle in the center representing the Sun, a dark blue hexagram with a light blue circle in the center representing the Earth and a white circle in the hexagram's upper right corner representing the Moon.
Locations
Little Homeschool
This article is about the location. You may be looking for the episode.
First appearing in the episode of the same name, Little Homeschool is a school for Gems who wish to "find their place in the universe" after the dissolution of the Caste System. Known Teachers include Steven, Garnet, Amethyst, Pearl, Peridot and Lapis Lazuli. In "Little Graduation", the Off Colors graduate. In "Prickly Pair", Steven quits his job as a teacher there.
Bismuth's Forge

This is presumed to be a smaller version of Bismuth's previous Forge.
Greenhouse

The location appears to be where Peridot teaches gardening classes.
Trivia
Gallery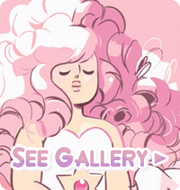 References