Spider-Man: No Way Home Trailer Dropped - The Loop
Play Sound
"

I think Jamie is asking you out... on a date!

"
—Connie
"Love Letters" is the 4th episode of the second season of Steven Universe, and the 56th episode overall.
Official Synopsis
Steven and Connie help Jamie the mailman with love.[2]
Plot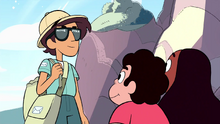 The episode opens with Steven and Connie taking selfies. Connie says she wants to take a selfie with the ocean view behind them. They try to take a selfie but fail. As they try again, Jamie arrives with the mail. Steven eagerly runs to meet him and introduces Connie. Jamie explains that he was in Kansas, trying to become an actor, but returned because he missed being a mailman. He then gives Steven a large mailbag and asks for multiple signatures.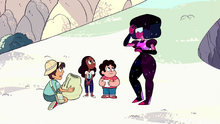 As Steven is about to sign, Garnet suddenly emerges from the sea. Jamie instantly "falls in love" with her. Steven asks what Garnet was up to, and she says that she was checking for signs of Jasper and Lapis Lazuli at the bottom of the sea. Jamie is shocked that she could dive to the bottom, and Garnet simply replies that it is easy. As she shrugs off the seawater, Jamie watches in infatuated awe.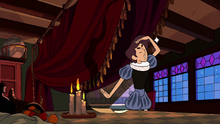 Steven and Connie open his many new boxes of Sea Pals. Steven explains that the first one didn't come, so he ordered lots more and wants to set them free. Jamie returns with a love letter to Garnet, which he gives to Steven before running off gleefully. They rush to give the letter to Garnet. Steven reads it aloud to find a beautiful, poetic declaration of love. As he reads, he imagines Jamie dressed as a Renaissance-era man, writing the letter with a quill (that catches on fire from a nearby candle). Connie realizes that Jamie wants to take Garnet out on a date, but Steven and Garnet instantly say that's not going to happen, since Garnet, as a fusion, is already "in a relationship".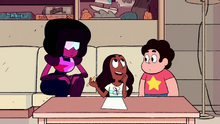 Connie sits down and tries to help Garnet write a letter back. Unfortunately, all Garnet can say is "NO" in the harshest way possible. Steven and Connie go to give it to Jamie anyway and find him on the beach. He tells them about all the rejections he encountered in Kansas, and how he couldn't bear another rejection. Connie tries to give him the letter, but Steven stops her.
Back at the temple, Connie tries to rewrite it so that the letter is poetic, but will still let Jamie down gently. After writing, they put it in the mailbox.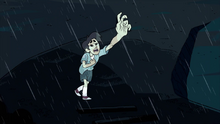 That night, Steven hears Jamie calling out for Garnet. He realizes Jamie misinterpreted the letter, believing it to be Garnet's declaration of love. Steven tries to tell him that's not the case, but Garnet arrives. Jamie thinks she's come to return his love, but she brutally shuts him down, saying she did not write the letter and does not want to be with him - ever. Depressed, Jamie runs off crying.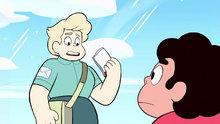 The next day a new mailman, Barbara, arrives with Steven's mail. She explains that Jamie became very depressed and can't bear to deliver on his former route anymore. She gives Steven a book of coupons and leaves. Steven and Connie realize how badly they've messed up, and then tell Garnet about what they've done. Garnet decides to go talk to him despite their protest believing her words would destroy him.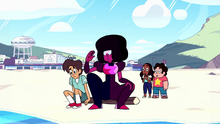 The three find Jamie throwing mail into the ocean. Garnet sits down next to him and tells him that love at first sight does not exist, that love has to be formed over time, and that he has no idea who or what she is; however, she also compliments his acting, mentioning how he fools both the kids and himself into thinking he is a "lovestruck fool" and that he should try local theatre. She slaps him hard on the back and leaves. Connie asks if he is okay, and he says yes. Steven asks if the letters floating on the sea were letters to Garnet, but Jamie replies they are actually letters he is supposed to deliver. Connie and Steven offer to help him pick them up, and the episode ends with Jamie thanking them.
Features
Characters
Objects
Jamie's Mail Carrier
Coupon Book
Novelty "Movie Star" Sunglasses
Locations
Music
Trivia
It's revealed that Jamie did not know Garnet, despite Steven telling him about the Gems in "Cheeseburger Backpack", and indirectly meeting the Gems in "Ocean Gem".
The promotional artwork depicts Garnet sending a love letter to herself in a comical manga style.
The creature Garnet beats up from the ocean is a giant-sized Tardigrade/Water Bear.
Cultural References
When Garnet emerges from the ocean it is reminiscent of Honey Ryder's introduction scene from the James Bond film Dr. No.
The Sea Pals that Steven orders are very similar in name and look to a 1950s children's toy called "Sea Monkeys".
When Steven is playing his video game, the music coming from the said game is similar to that of "Animal Crossing", which ties into the game Steven has in his room that resembles the GameCube game Animal Crossing.
The way Garnet blows water off her body psychically is most likely a reference to the move done by Wallace Wells and Mobile in the Scott Pilgrim series.
Jamie's exclamation "My panache!" is a reference to the play Cyrano de Bergerac by Edmond Rostand. A key plot point in that play is that protagonist Cyrano writes love letters on behalf of someone else. In the final line a dying Cyrano says that the one thing that can never be taken away from him is "My panache!" (in the original French "Mon panache!"), a play-on-words referring literally to the white feather he wears in his hat but also figuratively to his dashing style and confidence. As an aspiring actor Jamie would be familiar with this play, and Garnet's rejection clearly causes him to lose his "panache".
Continuity
Errors
Throughout the whole episode, the door to Steven's house opens to the left when originally it opens to the right.
When Jamie takes off his sunglasses after seeing Garnet, they disappear.
When Garnet talked to Jamie, Connie and Steven disappeared for a while.
Jamie hands the love letter to Steven facing down, yet Steven receives it facing up.
Steven's left hand is backwards when he raises it while discussing Garnet's relationship.
Transcript
View the episode's transcript here.
Gallery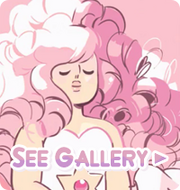 Videos
References