Magic Moss is a magical moss that Rose Quartz planted and cultivated via her phytokinetic abilities. It first appears in the episode "Lars and the Cool Kids".
Appearance
The moss is green before blooming. The flower is a rosy pink color with five light pink petals circling a central, hot-pink gem.
Episode Appearances
The moss was originally cared for by Rose Quartz on Brooding Hill. Without Rose's care, the moss eventually made its way down to a lagoon known as Dead Man's Mouth. Realizing the danger the moss poses to humans, the Crystal Gems place police tape around the area. Despite the tape, the Cool Kids decide to swim in the lake. The moss attacks Buck, Jenny, and Sour Cream by wrapping around them until it fully covers their bodies.
Steven and Lars manage to transport the moss up the hill where Rose used to take it. Upon reaching the top of the hill, the moss blooms into thousands of pink-gemmed flowers, freeing Steven and the others. Everyone watches the flowers drift above Beach City, while Steven draws the conclusion that the moss only wanted to bloom.
The flowers reappear behind the Big Donut in a cameo as Ronaldo and Steven explore the town's mysteries.
Trivia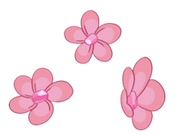 The centers of the flowers are similar to rose quartz gems.
In the episode "Keep Beach City Weird", Ronaldo Fryman states that according to his blog, the moss is not native to this region or dimension.

Considering its history is tied to Rose Quartz, this is not an unrealistic possibility.
Gallery
Screenshots
Animations
Storyboards
Promotional Artwork
Model Sheets
Backgrounds
Blog Images
Other
Community content is available under
CC-BY-SA
unless otherwise noted.