Template:Malachite "Malachite" is the fusion of Jasper and Lapis Lazuli. She first appeared in the episode "Jail Break". She is currently held at the bottom of the ocean, at an unknown location.
Appearance
Malachite is a massive fusion. She possesses six arms, of which the lower four function as legs. She has four eyes with light-green irises and pointed teeth. Her hair is a platinum blonde color, and is styled in the shape of a star. Her hair is short like Lapis's, but wild and frizzy like Jasper's. Her skin is sea-foam green with teal stripes, and its pattern is similar to Jasper's. She has two torsos joined together, similar to a
Centaur
. Her upper-torso and arms are longer and more slender, while her lower-torso and four limbs are more muscular. The upper-half of her outfit is dark green and black, resembling Lapis Lazuli's top, but it is solid at the back and has no ribbon. The lower half of her outfit resembles a one-piece swimsuit, and it is mostly black with a green V-neck "collar" that connects to form a
Yellow Diamond
emblem and serves as a waistband for her upper torso.
History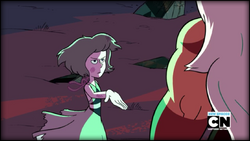 Malachite made her first, brief appearance at the end of the episode "Jail Break" where Jasper hypocritically acts against her belief that fusing is a cowardly tactic by weak Gems to get stronger, and rather than facing defeat at the hands of the Crystal Gems, she seemingly forces a distraught Lapis Lazuli to fuse with her. It is revealed that it was all a ruse on her part to trap Jasper within the fusion so she could not attack them; a surprised Malachite gets clasped in chains of water controlled by the Lapis personality and dragged to the bottom of the sea near Beach City.
Many of the following episodes revolves around, but does not feature, Malachite as the Crystal Gems are actively searching for her at the bottom of the sea, such as in "Love Letters" which reveals that Garnet regularly patrols the ocean in search of her.
She makes her next major appearance in "Chille Tid" in which Steven is able to enter the fusion in his dreams to contact both Lapis and Jasper inside of Malachite. Once inside, he observes their constant struggle for control. Due to his interference Jasper is able to momentarily gain the upper hand until Lapis is able to wrestle it back from her.
In the end, Lapis loses herself to the fusion, which likely means that Malachite is finally herself as opposed to the two Gems warring over control, and no longer constrained to the bottom of the ocean. This could be caused by the fact that Gems (Especially in unstable Fusions) will lose their individualities after being fused too long (Evidenced by Sugilite's rampage after Garnet and Amethyst were fused too long and lost control). However, Steven claims Lapis is still in control after his dream so Malachite's current situation is unknown.
Personality
Due to being a fusion, Malachite's personality is a twisted combination of both Jasper and Lapis' character traits. However, due to her being a very unstable fusion held together with anger both Jasper and Lapis's personalities are present rather than merging into a new one (much like how when Alexandrite displayed the individual personalities of Amethyst, Garnet and Pearl rather than merging into one). Once formed, she was shown as having Jasper's disdain for the Crystal Gems and wishing to see them destroyed, but Lapis' consciousness was later shown to be the most dominant, as she was able to overpower Jasper's.
In "Chille Tid", Lapis is shown to be struggling to maintain her dominance over Jasper, it is also clear that if Lapis is distracted at some point Jasper can become dominant in the fusion. At the end of the episode Malachite's personality starts to dominate and suppress Lapis' own personality, much in the same way Pearl was afraid would happen to Amethyst and Garnet when fused into Sugilite for too long. It ends on a chilling note with Lapis refusing the name Lapis and proclaiming that they are Malachite now, indicating that Malachite's own true personality is formed and is going to take over. It is unknown if Jasper has also lost herself to the fusion.
Abilities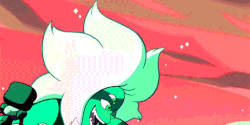 Malachite is presumed to possess standard Gem abilities, including bubbling, regeneration, fusion, agelessness, and superhuman strength/durability.
Unique Abilities
 Hydrokinesis: Malachite has immense power over water and liquid material.

Water Constructs: Malachite is capable of forming water into various constructs that she can control. She has shown to form hands out of water that she can use to smite enemies. She is also able to form chains to entangle or trap enemies with.
Appearances
Trivia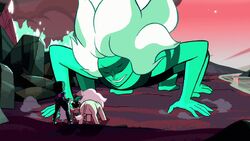 Gemology
Gemstone Information
Malachite is a gemstone associated with protection, acting against obstacles or dangers and taking risks, similar to Lapis' behavior after she fused.

Malachite is also associated with demanding respect, similar to how Lapis and Jasper are fighting for control.

Malachite is a green copper carbonate mineral.
Malachite is an alternate gemstone for the thirteenth wedding anniversary. As for the zodiac, it is regarded as the stone for Capricorn and Scorpio.
When submerged in water, Malachite releases toxic fumes.
| | |
| --- | --- |
| Image | Description |
| | Jasper's gemstone is located where her nose otherwise would be. It is triangular, and faceted onto a low point. It also resembles a tetrahedron, which is commonly associated with fire. |
| | Lapis Lazuli's gemstone is located in the center of her back. It resembles a teardrop. This is possibly an indication of her hydrokinesis, or perhaps her sadness of being everyone's "prisoner". |
Gallery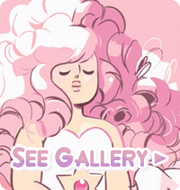 v • e
Fusion Gems
---
Hybrid Fusions
Crystal Gem/Homeworld Gem Fusions