"

Let's follow the funky flooooowww.

"
—Steven
"Marble Madness" is the 44th episode of the first season of Steven Universe, and the 44th episode overall.
Official Synopsis
Steven and the Crystal Gems encounter another droid from space.[2]
Plot
The episode starts with Steven and Connie on the beach.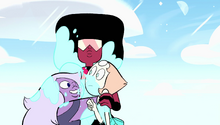 Connie introduces Steven to her favorite book series, The Spirit Morph Saga. The series is about a witch named Lisa, who has a Familiar of a falcon named Archimicarus, as she goes on a quest to rescue her father. Connie begins dictating the story to Steven when a droid (Plug Robonoid) suddenly crashes into the ocean. The droid rolls ashore, sprouting 7 legs. Garnet immediately jumps in to stop the droid from moving, calling on Amethyst and Pearl, who quickly dispatch it. The droid breaks apart, leaving behind a sticky blue goo. Pearl remarks that this is another one of Peridot's machines. Having destroyed the drone, the team scoffs at Steven's question of its intentions, complacent in the fact that it is destroyed.
In the next scene, Steven calls Connie to attempt to make sense of "Unfamiliar Familiar", having read the books out of order. Mid-conversation, a large sonic boom is heard. The Crystal Gems run out to the balcony and notice another drone has appeared and landed on Mask Island. They immediately warp to the island, quickly defeating the drone. Steven once again asks what the drones are trying to do, to which Pearl responds that she is unsure, while Garnet is just happy it is destroyed.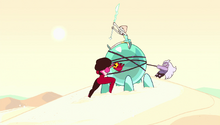 Cutting to Connie continuing to sort out "Unfamiliar Familiar", with Steven asking what a "familiar" is, the conversation is once again interrupted by the untimely arrival of another droid. Amethyst lets out a bit of her frustration with the massive number of drones, noting that this is the fifth drone to land in the past week. Garnet, Amethyst, and Pearl warp to the desert to find the newly landed droid, with Steven just behind them. He warps in to see them frustratedly beating on the droid. He yells for them to stop, reasoning that they should let it go and follow it so that they can figure out its purpose. Amethyst and Pearl are very much against this idea, but Garnet thinks otherwise; she admits, however, that while they can continue to fend off the robots, she herself does not want to.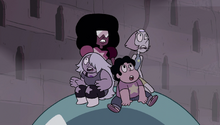 The four hop on top of the drone, as it walks to the warp pad and warps to the Kindergarten. Pearl immediately sees malicious intent in the drone's actions and starts to arm herself - only to be dissuaded by Steven and Garnet. The droid hops off the warp pad and walks to a seemingly meaningless plot of land. The droid takes on an upside-down pyramid shape and begins descending into the Earth. It reaches the bottom, illuminating a green room in which stands a control panel with a single button. The platform, previously the droid, drops a smaller Robonoid from its apex, which runs over to the control panel and activates the button. The walls light up with diagrams, and Peridot appears via a holo-screen. She mentions that this is the Prime Control Room for Facet Five of the Kindergarten. She begins to do a systems check, while the Crystal Gems hide out of sight.
Pearl, horrified, realizes that Peridot may be attempting to re-activate the Kindergarten, which would destroy all life on earth. As they try to guess at her true intentions, Steven remarks that they should simply ask her what her plans are. Garnet, previously a proponent for Steven's curiosity, immediately shoots him down - noting that they are up against "an enemy [they] don't know, with technology [they] don't understand". A plan is formulated to wait for an opening in which to destroy the power source for the control center, mandating that Steven should stay hidden. They turn to see Steven already climbing to face Peridot.
Steven stands out of view of Peridot, watching her fiddle with controls. As she works, she remarks that the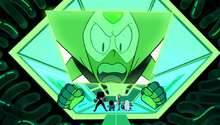 Gem Technology that she is working with is very old - calling it "simply archaic". Steven pipes in, saying it looks pretty cool - much to the shock of Peridot. They converse, as Peridot attempts to figure out who or what Steven is, asking if "Stevens" have replaced Humans as the dominant species on Earth. Steven asks her what she is up to. Peridot says that she is "just picking up where we left off", simultaneously raising a giant crystal fist to crush Steven. Garnet jumps in to save him, as do the others. Peridot is shocked that any Gems exist on the planet, saying that the Red Eye, previously destroyed by the Crystal Gems, had not reported any Gem lifeforms on Earth. Hearing Pearl confirm their actions, she realizes they are the ones responsible for the destruction of her robots, and the bizarre icon on one of the warp pads. When she finally demands why they have continued to destroy her "things", Pearl finally introduces themselves as the Crystal Gems, guardians of Earth; the group name unfamiliar to Peridot. The team destroy the power source, severing Peridot's connection to the control panel, and stopping her plans, but not before they hear Peridot shout that she will report what she found.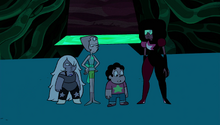 As Steven admits that he went too far, Garnet says that they have learned something new because of Steven's decisions. However, she also points out that finding out what the robonoid was doing was a pretty bad idea.
Features
Characters
Mentions
Locations
Objects
Music
Trivia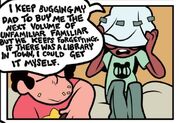 Cultural References
Continuity
Errors
Transcript
View the episode's transcript here.
Gallery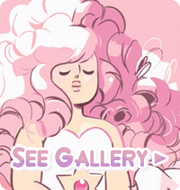 Videos
References
Community content is available under
CC-BY-SA
unless otherwise noted.