Jurassic World: Dominion Dominates Fandom Wikis - The Loop
Play Sound
"

What you need here is a system. Something to separate the trash from the garbage.

"
—Amethyst
"Maximum Capacity" is the 43rd episode of the first season in Steven Universe, and the 43rd episode overall.
Official Synopsis
A cleanup job reunites Greg and Amethyst with their favorite cheesy sitcom - Lil' Butler.[2]
Plot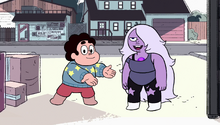 Greg and Steven are walking with a cardboard cut-out of Greg advertising summer waxing. They open up Greg's U-Stor when stuff falls out. Greg is prompted to make a New Years' resolution to organize the storage unit. Steven then brings Amethyst over to try and clean it up. She suggests that a system be made to separate the trash from the garbage, so Steven creates boxes for items to keep, sell, and burn. Amethyst notices that Greg has some good stuff inside of the U-Stor, but her discovery is interrupted when Steven notices that Greg has lots of books available. Greg lets him keep all of the books except for one named "Passions of Xanxor", saying that he can read it when he is a little bit older.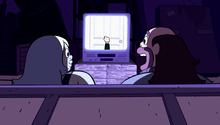 After Amethyst shapeshifts into Purple Puma and wrestles with Steven, Greg notices that the border of a picture with him and Rose Quartz is cracked. Amethyst appears troubled and walks farther into the U-Stor, and happens upon finding Li'l Butler, an old favorite sitcom of theirs. Steven asks what it is, so Greg eagerly begins to set up the TV to show him. Because Steven is still grounded from television (as of "Fusion Cuisine"), he turns his back, but Amethyst insists on watching "just one, for old times sake". Greg agrees, puts in the tape, and the intro for Li'l Butler rolls. Steven wants to get back to cleaning, but Greg doesn't and stays with Amethyst to keep watching.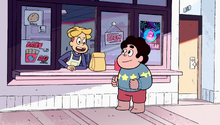 The next day is New Years', and the Beach City residents are looking forward to the fireworks that are being hosted that night. Steven stops by Beach Citywalk Fries to get breakfast for him and his dad and tells Peedee about "starting the New Year right" by cleaning out the U-Stor.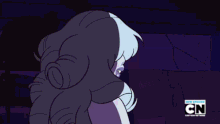 At midnight, when the fireworks begin, Steven realizes Greg is missing the show and goes to find him in the U-Stor. There, he finds Amethyst and Greg, still watching Li'l Butler. Greg realizes he's missing the fireworks and tries to leave, but Amethyst shapeshifts into Steven as she tries to convince him to stay. Greg gets annoyed at her shapeshifting. Amethyst says that she's trying to cheer him up and shapeshifts into Greg. They begin to argue. Greg gets angry at her and yells at her, saying that he can't stay and humor her and that he wants to see the fireworks with Steven. Amethyst becomes mad, changes back, and brings up how she had someone that used to be there for her until she started hanging out with Greg. Amethyst bets Greg that he would stay for her and shapeshifts into Rose, which makes him turn away in despair. Steven steps in, telling them to stop. Suddenly the TV screen becomes all static and Steven begins questioning Greg and Amethyst. Feeling guilty, Amethyst then runs off.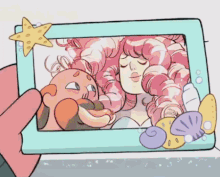 The next day, Greg and Steven return to the storage unit, swearing to finish the job. To their surprise, they find the Gems, who have cleaned up the unit and boxed everything up. When asked, Garnet says it was Amethyst's idea to clean everything up, then Amethyst hurriedly states that they can take everything to the temple and keep it in her room. She blushes and gives Greg a box that says "KEEP", which contains the photo of him and Rose. Greg thanks her, and the Gems return with the boxes to the temple, while he and Steven close the empty storage unit.
Features
Characters
Cameos and Mentions
Cameos
Mentions
Locations
Objects
Music
Song
Instrumental Song
Trivia
Part of this episode was revealed early but in Spanish.
In the promo artwork, Amethyst, a young Greg, Garnet, Peridot, Steven, Lapis, and Rose Quartz can be seen attending gym class with Steven as the teacher.
This episode starts on December 30, since Steven says he's excited for New Year's Eve the next day.
It is revealed that Greg's Aunt and Uncle were rich enough to live in a mansion, but the deed was never found after his passing.

The deed could have been handed to Greg, but then sometime after he misplaced or lost it.

The lyrics to the theme song for "Li'l Butler" were muted as of the May 14, 2016 airing. However, they returned as of the August 31, 2019 airing.
Cultural References
The premise of Li'l Butler is similar to that of the show The Nanny.
Li'l Butler's "too much money" catchphrase is likely a reference to The Fresh Prince of Bel-Air.

As is, likely, the "two-part Hawaii special".

The Sumy TV logo shown is a reference to Sony.
Shortly after the pile of stuff collapses, a book titled ONIX can be seen, which is a reference to the book UNIX in a Nutshell by O'Reilly Media, which is a manual for the UNIX computer operating system. Publications by O'Reilly Media have illustrations of animals on the cover.
The books found in Greg's collection make several references to actual books or other topics.
Continuity
Steven is still banned from watching TV after running away in "Fusion Cuisine".

Ironically, Steven seems to care more about enforcing his punishment than Greg and Amethyst; Greg was unaware that the Crystal Gems were still enforcing the punishment, while Amethyst doesn't mention it and is likely uninterested in disciplining Steven.

Amethyst shape-shifts into Purple Puma again in this episode.
Greg asks Steven what he is doing up so late, despite it being perfectly reasonable time to be up just as in "Laser Light Cannon".
The cat carrier from "Laser Light Cannon" makes a reappearance.
Greg wears one of the sweaters he tried on in "Fusion Cuisine".
Greg and Rose's picture from "Laser Light Cannon" is seen again in this episode, still held in the broken frame (however, Amethyst replaces the frame at the end as an apology towards Greg).
Errors
When Greg draws the comic out from the box, it appears on the right side, but when it's removed from the box, it's being taken from the left side.
After Amethyst takes the tape out of the VCR to put in the Hawaiian Special, she throws it on the ground. In the next shot, it disappears.
When Steven throws the cat carrier on the ground, it cannot be seen in the next shot.
When Greg goes to put a hose into the storage unit, he put it around a flamingo's neck. However, in the next shot, both the flamingo and the hose disappear.
Transcript
View the episode's transcript here.
Gallery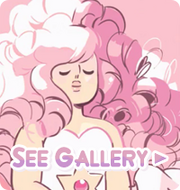 Videos
References