Wiki Targeted (Entertainment)
Play Sound
This article is about the double Pearl fusion. You may be looking for her component Pearl or Pink Pearl.
"

Your mother's Pearls never had the whole picture. One knew your mother was trying to change, but she couldn't understand why. The other never expected her to change at all. Now, I get to understand everything. Now, they finally get to have each other.

"
—Mega Pearl, "Volleyball"
Mega Pearl (as seen in Volleyball's credits) is the fusion of Pearl and Pink Pearl, who made her debut in "Volleyball".
Appearance
Because her components' forms and gemstones are the same, her body remains identical, except that it is larger in size. Mega Pearl has a tall, thin build, light-pink skin, a single purple eye, a pointed nose, and thin lips. Her hair is pink and is in a rolled chignon. There is a crack in the place of her left eye, like Pink Pearl. She wears a pink, long-sleeved crop top with a sheer blue collar and an amber sash. She also wears a pair of pink shorts, pink flats, white wrist-length gloves, a gold tiara and a pink cape with epaulettes on her shoulders. Her gemstones are located on her forehead and navel.
Personality
According to some scenes in the episode "Volleyball", Mega Pearl appears to be notably calm and collected, even while attacking The Reef's security system. In a similar way to Opal, Mega Pearl seems to be quiet and a few words gem, quoting just what is needed and in the right moment.
Abilities
Mega Pearl possesses standard Gem abilities. As a fusion, it's assumed that her natural abilities are enhanced.
Skillset
Bladed Ribbon Wand Proficiency: Mega Pearl is shown to be precise and elegant when using her bladed ribbon wand, as shown when defending herself and making quick work of Shell and the Reef's security system. 

Drill Transformation: Like Sardonyx, Mega Pearl can reconfigure her weapon into a drill-like form that can bore through walls and hard materials. She is able to throw her transformed bladed ribbon wand like a javelin.

Enhanced Agility: Mega Pearl inherits the grace and natural agility of her two component pearls, able to easily traverse through an array of lasers.
Relationships
Steven Universe
"

It's up to you now, Steven.

"
—Mega Pearl, "Volleyball"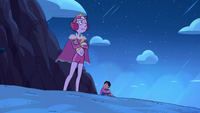 Much like her Pearl component, Mega Pearl appears to care for Steven deeply. She still assumes the protective role over him that Pearl possesses, going so far as to throw him out of harm's way but also shows faith in his strength as she trusted him to deactivate the security system when she threw him.
As stated by Mega Pearl, her components never had the full picture of their Diamond (with Pearl knowing that Pink wanted to change, but couldn't figure out why and Pink Pearl never expecting Pink to change at all). When fused as Mega Pearl, the two get to understand everything through their fusion and although they still miss Pink, they have each other.
Episode Appearances
Trivia
Due to her novelty, Mega Pearl holds many titles:

She is the fifth confirmed identical-Gem fusion (fusions of Gems so similar that they do not gain extra limbs, and other such features associated with Mixed-Gem Fusion, when fusing), after "Mega Ruby" (the fusion of three Rubies seen in "The Answer"), Giant Ruby, Topaz, and Chamber Guard Topaz (the Topaz fusion briefly seen outside of Yellow Diamond's Bubble Chamber in "Change Your Mind"). She is also the eighth confirmed same-Gem fusion as a whole, counting Zebra Jasper, Lemon Jade, and Crazy Lace Agate (most likely).

She is the third identical-type fusion Gem to be composed of two differing shade variations, creating a fusion of mixed color, with the first being Zebra Jasper, and the second being Lemon Jade. However, unlike the afformentioned fusions, she is the first to not have any additional features (although it is unknown if Zebra Jasper's features are natural or due to corruption).

She is the first fusion between a Crystal Gem and Homeworld Gem.

While Malachite's components are currently a part of the Crystal Gems and Homeworld, Lapis was still aligned with Homeworld when the fusion was active. Same goes for the Crystal Gem Ruby in the triple Ruby fusion mentioned above.
In addition, she is Pearl's first fusion outside of the main Crystal Gems and Pink Pearl's first fusion overall.

She is also the first Pearl-only fusion to be shown.

Her appearance bears resemblance to Anthy Himemiya and Utena Tenjou, characters from the anime Revolutionary Girl Utena. Her design also appears to be based upon traditional royal attire, specifically a prince outfit, contrary to Pearls' roles as servants (possibly symbolizing Mega Pearl's role as a character).
Her name was revealed in the credits of the episode "Volleyball".
| Image | Description |
| --- | --- |
| | Pearl's gemstone is located in the center of her forehead. It is identical to Pearl's gemstone, except for the color, which is pale pink. |
| | Pink Pearl's gemstone is located on her navel. It is identical to Pink Pearl's gemstone, except for the color, which is pale pink. |
Gallery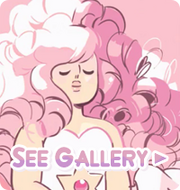 References
v • e
Fusion Gems
---
Hybrid Fusions
Crystal Gem/Homeworld Gem Fusions