"Message Received" is the 25th episode of the second season of Steven Universe, the 77th episode overall and the fourth episode in the fourth StevenBomb.
Official Synopsis
Steven has doubts about believing in everyone.[2]
Plot
The Gems are outside the barn, inspecting the drill. Steven spots Peridot walking into the barn; he has been suspicious of her ever since she took the diamond-shaped object from the moon base. He enters the barn and leads Peridot into a car to talk, intending to steal the object when he gets a chance. He fakes his curiosity on the Diamonds and Peridot explains that the great Diamonds are objectively better than the rest of the Gems. She claims they are absolutely perfect, and she reassures her loyalty to Yellow Diamond. Steven uses Peridot's loyalty and naivete to trick her and manages to take away the object, locking Peridot in the car. She pleas for mercy, but agrees to tell about the diamond-shaped object to Steven when he threatens to destroy it. Peridot explains that the object is a communicator created for the purpose of a direct line to the Diamonds, and she plans on using the object to inform Yellow Diamond of her mission status and how Earth can be used to the Gem Empire's benefit. Steven is extremely disappointed that despite trying to teach Peridot Earth values, she has learned nothing.
Steven shows the Diamond communicator to the Gems. Pearl is shocked that Peridot took it from the moon base, and Amethyst loses her respect for Peridot. Steven talks about how he tried his best to teach Peridot the value of life, and that it was best for her to figure out on her own. Garnet explains that even though it's great that Steven tried to help Peridot and that he is just like his mother, but some people can't be helped, and that they do not deserve the patience they're given to learn. Pearl tries to cheer him up by saying he did the right thing by taking away the communicator.
Peridot suddenly emerges from the barn with her giant mech; she explains that she was able to roll down the window of the truck and crawl out. The Gems attempt to engage her, but Peridot steals the communicator and runs away. Amethyst is angered and shapeshifts into a helicopter, and the Gems use her to chase after Peridot. They knock down her mech, but eventually Peridot climbs out and grabs the communicator. She and Steven struggle for the communicator, as he expresses his frustration that his efforts in teaching Peridot were gone to waste. Peridot tells him that his emotions and sympathy is his entire problem, and activates the communicator.
The Gems immediately hide behind the mech as the communicator creates a screen. Yellow Diamond's Pearl tries to ask Peridot why Peridot is using a direct diamond line, but Yellow Diamond later answers the call herself. After being asked questions, Peridot explains that she failed her mission and her ship was destroyed in an "accident", deliberately neglecting to reveal the involvement of the Crystal Gems. The Cluster is to emerge shortly, however, which pleases Yellow Diamond. She informs Peridot that there will be a ship that will extract her, but Peridot suggests that it's best to destroy the Cluster, as the Earth life has potential for resources that are otherwise unobtainable. Yellow Diamond dismisses her statements and tries to bring her down a peg, stating that she has failed at every part of the mission and she specifically wants the Cluster and for Earth to be destroyed, erasing it from the star map.
Peridot defies her order, and she tries to explain to Yellow Diamond that there are some things on the planet worth protecting. After being asked what she knows about Earth, Peridot loses her composure, declares that she knows more about Earth than Yellow Diamond does and calls her a "clod", which greatly angers the leader. Peridot quickly ends the message before the Gems cheer her, thrilled that she finally understood at least some values Steven has tried to teach her, while she herself is in shock and disbelief that she disobeyed Yellow Diamond and defied her loyalty. She tells the Gems to dispose of the communicator, as it can be remotely detonated. Steven bubbles it and Garnet launches it in the air before its detonation. Peridot, distressed, realizes that she is now a traitor to her homeworld. Steven declares Peridot a Crystal Gem, causing her to groan loudly. The camera zooms out on Earth and the episode ends.
Features
Characters
Objects
Locations
Music
Songs
Instrumental Songs
Trivia
This marks Yellow Diamond's official debut. She also has her own Pearl, who debuted in this episode.
Peridot becomes an official Crystal Gem in this episode.
After the earlier revelation that there are sub-castes of Gems, each identical to each other (hundreds of "pearls", "rubies", "peridots", "jaspers", etc.), it was unclear how, or even if, they differentiate themselves (even for basic administrative purposes). This episode establishes that individual Gems actually have long strings of serial numbers to distinguish them: Peridot introduces herself to Yellow Diamond as "peridot", and Yellow Diamond bluntly asks "which peridot?", then Peridot lists off her number designation, "Facet-2F5L Cut-5XG".
As the Diamond Communicator is activating and while Peridot is speaking with Yellow Diamond, a variation of Blue Diamond's theme can be heard, suggesting that the diamonds have an overarching musical theme.
In this episode it is revealed that Peridot has/had a manager, but it is unknown who her manager is.
Cultural References
In one scene, Yellow Diamond's Pearl smiled in a similar fashion as the "Grinch from The Grinch Who Stole Christmas" by Dr. Seuss.
When Steven puts the hood of his hoodie up and pulls on the strings, he briefly resembles Kenny McCormick from "South Park". 
Continuity
This episode takes place immediately after returning from the Moon Base.
Peridot uses the Peribot she built in "Back to the Barn" to attack the Crystal Gems.
Peridot mentions that the Gem Warship was destroyed in an "accident" in "Jail Break".

Yellow Diamond also asks her about the Jasper that was assigned to her.

Previously in "Marble Madness", Peridot stated she would report about the Crystal Gems to an unknown superior. Based upon Yellow Diamond mentioning assigning her Jasper as an escort and asking her about the Gem Warship, she most likely reported this to Yellow Diamond.
Errors
When Peridot is saying "No! How could you do this to me?" her mouth goes off from the face.
When Amethyst transformed into a helicopter, Pearl, Garnet and Steven are on the right side of Amethyst with Pearl towards the front and the others towards the back. After Amethyst tells the gems to get in, Pearl appears behind Amethyst's left tail rotor while Garnet is on Amethyst's left side of her rotor.
While Amethyst was transforming into a helicopter, Pearl's eyes are black instead of blue.

This may not be an error, but rather a design choice or a show of Pearl's emotion.

When Yellow Diamond is seen in the communication room with Peridot, the sclera color of her eyes is inconsistently changing from the yellow tint of the communication screen to white and back to yellow. This continues when she is seen on her side of the communication screen with her sclera changing color between yellow and white every other scene.
When Peridot was turning the communicator while Steven is on top of her, the blue and white sections of the communicator switch places.
While Peridot had her head down while saying "The Cluster will emerge shortly" while speaking to Yellow Diamond, her visor's lines were black and when she looked back up her visor's lines were back to the normal dark green shade.
During the first showing on Cartoon Network, when Yellow Diamond turns her head and says "the Earth", the screen froze for a moment and then went to Peridot. This did not occur during later showings.
Transcript
View the episode's transcript here.
Gallery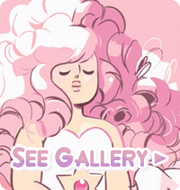 Videos
References