hiya! got something to tell me? here's the place to go, i guess. give me memes, scream about something, shoot me a musical recommendation, etc. i'll try and respond asap if i'm not writing fics or playing volleyball somewhere. don't be a stranger!
current to-dos:
obsess over pearl
find memes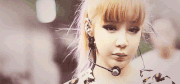 Give Kudos to this message
You've given this message Kudos!
See who gave Kudos to this message
Community content is available under
CC-BY-SA
unless otherwise noted.