Template:VA Michaela Dietz is a South Korean-born American voice actress who voices Amethyst and Hoppy on Steven Universe.
Trivia
When asked what her favorite episode of Steven Universe was, she responded, "I really loved this whole week," the week of the third StevenBomb.[1]
Her personal quote is "Don't EVER be afraid to be yourself."
External Links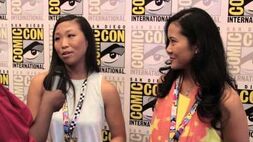 Template:VAnav