Jurassic World: Dominion Dominates Fandom Wikis - The Loop
Play Sound
Minor Alien Characters are non-Gem aliens that have appeared but have no significant or recurring roles.
Jungle Moon Inhabitants
These aliens inhabit the Jungle Moon, and all made their debut in the episode of the same name.
Arthropod Aliens
The "Arthropod Alien" is a medium-sized creature resembling a large arthropod that inhabits the Jungle Moon.
It is deep purple in color and has a segmented body with four long legs. It has four eyes, all of which possess visible pupils and sclera, and possesses a beak-like rostrum with a mouth containing a large, light pink tongue. A curved horn of medium size extends upward from the end of its rostrum, much like a rhinoceros beetle. This creature has a rather interesting defense mechanism: when decapitated, it can sprout a new set of four soft limbs from its head to escape, leaving its headless body behind.
Ball Birds
The "Ball Bird[s]",[1] nicknamed "Bird Blob[s]" by Stevonnie, are blob-like creatures that inhabit the Jungle Moon.
They have turquoise-colored, blob-like bodies with beady eyes, pink or yellowish beaks, and a single pair of limbs that resemble skinny arms or tentacles. Some Ball Birds are extremely small, and seemingly lack digits; others are much larger than Stevonnie and possess a single claw at the end of each appendage (possibly infants and adults respectively). They are able to compress their bodies into a rounder shape in order to travel on land. The larger ones are also able to fly by expanding their bodies into a shape vaguely resembling the top of an open umbrella, which they undulate to pump out air and rise, visually similar to a jellyfish moving through water.
Ungulate Aliens
The "Ungulate Alien" is a creature that inhabits the Jungle Moon. It is primarily turquoise in color, with a small amount of pale yellow stripes. It has a tall hump on its back, a pinkish-yellow beak, and disproportionately short legs that end in cloven hooves, like those of an even-toed ungulate. When it is drinking, it can shoot water out from the sides of its beak.
Other Aliens
These aliens have appeared in the show, but where they came from has no significance.
"Thing" (Rainbow Caterpillar)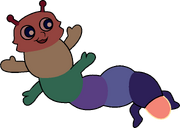 The "Things" are a species of worm-like aliens from a Kyanite colony. As mentioned by Blue Diamond in Steven's dream of his mother's memories in "Change Your Mind", Pink Diamond once let a bunch of them loose in Homeworld's ballroom and was thrown into the Prison Tower as a result.
The creatures have rainbow-colored bodies split into seven segments. The first six segments of the creature, starting with its head, are respectively colored orange, yellow, green, violet, blue, and indigo. The creature's seventh segment is deep orange in color and appears to be bioluminescent, much like the tail of a glow worm. The creatures have dark blue eyes with yellow sclera, red antennae, short nose, and a mouth fixed into a smile. They also have six legs: two on their yellow segment, two on the green segment, and two on the indigo segment. They seem to be mischievous, as they chase Pearls through the halls, and one managed to hide in Blue Diamond's hair.
Flower-Like Aliens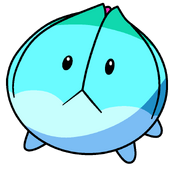 The Flower-Like Aliens debuted and have, so far, only appeared in the episode "Why So Blue?" They were encountered on an Unknown Jungle moon that was being terraformed by two Lapis Lazulis.
The Flower-Like Aliens, true to their name, greatly resemble flowers, specifically lotus flowers. They have round bodies and stubby legs, giving them a similar body type to Pumpkin. Their bodies can open up like a blooming flower to reveal a pink inside. They are viviparous and give live birth to small, seedling-like young. Their young are spherical and light green with a dark turquoise leaf sprouting from the top of their heads.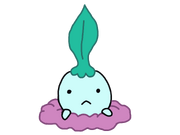 References