Jurassic World: Dominion Dominates Fandom Wikis - The Loop
Play Sound
Minor Animal Characters are animals that have appeared but, as of yet, have no significant or recurring roles.
Blue Crabs
Blue Crabs are a variety of crabs first appearing in "Steven and the Stevens". When Steven decides to go to It's a Wash, the crab comes before him, and Steven tells him "After you, sir.".
A similar blue crab appeared in "Lion 3: Straight to Video". Rose Quartz recorded the crab with a video camera before Greg was ready to introduce himself to Steven. A bunch of blue crabs were seen in "Say Uncle" when Uncle Grandpa showed up in the beach.
In "Are You My Dad?", Pearl and Garnet build a sandcastle to house two blue crabs.
They strongly resemble the Chesapeake Blue Crabs.
Butt Lobster
The "Butt Lobster" is a lobster that clings onto Pearl's posterior in "Steven and the Stevens", prompting Garnet to point out that she has a lobster on her butt.
The Crystal Gems warped back from the Sea Shrine and, as a result, the lobster came along with them, along with a fish, an octopus, and a crab. Pearl was not aware that the lobster was on her and was startled when Garnet pointed it out. Its current whereabouts are unknown.
It strongly resembles The Australian Lobster.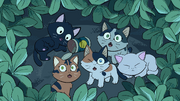 Cat Steven has Four Siblings that appeared in "Pool Hopping". One resembles a mackerel tabby, a black cat, a white cat, and a tuxedo cat. 
They were put up for adoption at the end of "Pool Hopping" with their current whereabouts being unknown.
Dog
The Dog appears in Steven's dream sequence in "Steven Floats". The dog is brown and short and has 3 teeth showing as well as its tongue sticking out. It bears a resemblance to a chihuahua.
In the dream Steven has, Steven is afraid that he will not get his donut. Steven imagined that Sadie fed his donut to the dog.
Mask Island Fish
The Mask Island Fish are creatures that inhabit the waters around Mask Island. They've only appeared in "Island Adventure".
There are at least two species of these fish inhabiting the island; a more common trout-like species, and a larger predatory species with sharp teeth similar to a barracuda. Similar to the rest of the creatures on Mask Island, these fish are magenta in color, and seem to bear a smiling expression, even after being speared by Sadie while she's fishing. However, after being cooked by Lars, these fish instead appear to have sad expressions on their faces.
Seagulls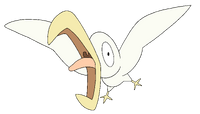 Seagulls have appeared in various episodes including "Monster Buddies", "Watermelon Steven", "Sworn to the Sword", "Steven Floats", and "Bismuth". They look like typical seagulls, having white feathers and yellow beaks. They are often seen searching for food. Unlike many seagulls in real life, the seagulls that occur in Steven Universe are not afraid of the close presence of humans, and will only cower if threatened.
They strongly resemble American Herring Gulls.
Snake
In "Keep Beach City Weird", the Snake is seen on the hill outside the Lighthouse. It hisses at Steven before slithering away from him. It is dark teal with a light green belly.
It strongly resembles the Bluestripe Garter Snake.
Steven the Third
"Steven the Third" is one of Steven Jr's goat kids.
Steven the Third lives with its parents and one sibling at the Sky Spire. As Steven The Third was not seen when the Crystal Gems first visited the location in the episode "Giant Woman", but rather made its first (and so far only) appearance in "Warp Tour", its date of birth probably occurred some time between the two episodes.
It strongly resembles a Fainting Goat.
Raccoon
In the episode "On the Run", the Raccoon was seen traveling along with Steven and Amethyst. It is gray, with a black and white, striped tail. It has white eyes with black circles around them and white ears along with black fur on their outsides.
It strongly resembles the North American Raccoon.
Onion's Mouse
Onion's Mouse is a mouse owned by Onion, first appearing in "Onion Friend".
Onion was originally going to feed the mouse to his pet snake, upsetting Steven. To make him feel better, Onion did not kill the mouse, and instead hid it in his mouth for the duration of the episode.
It strongly resembles the Common Field Mouse.
Onion's Snake
Onion's Snake is a pet that Onion currently owns. The snake made its debut in "Onion Friend". It lives in a darkened terrarium that sits on a dresser across the room from Onion's bed. It is unknown what the snake's name is.
It strongly resembles the Blue Python.
Party Guy
"Party Guy" is an unseen snake mentioned in "Gemcation". Residing at Cool Ranch, Pearl and Amethyst encounter Party Guy. Pearl starts screaming, and Amethyst informs Steven and Greg of the snake, referring to it as a 3-foot-long, hissing, reptilian "party guy".
Strawberry Battlefield Butterflies
The Strawberry Battlefield Butterflies are white and pink butterflies native to the Strawberry Battlefield, first seen in "Serious Steven". They get in Steven's eyes when he becomes covered in strawberries.
Duck
A duck is seen in "Lars and the Cool Kids", sitting on a log in Dead Man's Mouth. It is a brown duck with a green head and a white "collar". It flies off quickly when the Magic Moss swallows the log it is sitting on.
It strongly resembles the Mallard Duck.
Sea Birds
These sea birds are seen in "Lion 2: The Movie". They fly alongside Steven and Connie as Lion takes them across the ocean.
They strongly resemble Terns.
Whales
Whales are seen in "Lion 2: The Movie". Their silhouettes are briefly shown underwater while Lion runs across the ocean.
Octopus
An octopus is briefly seen in "Steven and the Stevens" on top of Garnet's head when the gems return from the collapsing Sea Shrine. It is a small lavender octopus.
Various Fish
Various fish and sea creatures are seen in Lapis Lazuli's water tower during "Ocean Gem". They strongly resemble a manta ray, an ocean sunfish, and anchovies, among others.
Mask Island Worm
The Mask Island Worm was seen in the episode "Island Adventure". It is a dark purple worm with the same "mask" as the fish on the island. Steven and Sadie use it as bait to catch fish.
Frog
A frog is seen in "The Answer". It appears in Garnet's retelling of Ruby and Sapphire's story. The frog eats a butterfly that Sapphire is admiring, before being picked up by Ruby and shown to an excited Sapphire.
Rabbit
A Rabbit appears briefly in "Gem Hunt" in the The Great North. It runs away when Steven and Connie approach it.
It is likely based off of the Arctic Hare, due to its location, though it lacks the black tips on its ears characteristic of the species.
Rose's Lions
Rose's Lions are a pack of lions that live in the desert, and were tamed by Rose Quartz. There are seven in total, 3 lions and 4 lionesses. They are first seen in "Buddy's Book," in a flashback where Buddy Buddwick encounters Rose in the desert. Among the pack is Lion.
Onion's Gang's Bugs
Onion's Gang's Bugs consists of several bugs, that were put into a race with each other. They consist of a grasshopper, a stinkbug, a pillbug, a caterpillar, a ladybug, and a stag beetle. A centipede was also seen coming out of Soup's hat/pot.
Bull
A bull appears in "The Question". Ruby attempts to lasso it, to which it chases the group.
Rattlesnake
A rattlesnake briefly appears in "The Question". Ruby has a short standoff with it, before it slithers away.
It appears to be based on a Western diamondback rattlesnake.
Bluebirds
Bluebirds are a nest of wild birds that appear in the episode "Little Homeschool". The babies are saved by Steven during his fight with Jasper. Later, the mother can be seen.
Blackbird
A blackbird appears in "A Very Special Episode". It is seen building a nest, during The Tidying Song.
River Fish
The River Fish appears in the episode "Fragments". It is caught by Steven during his training montage, and subsequently cooked and eaten.
It appears to be a species of trout.