Doctor Strange in The Multiverse o Madness - The Loop
Play Sound
Minor Fictional Characters are in-universe fictional characters that have appeared, but did not hold any significant or recurring roles.
Ace

Ace is a character in the video game Golf Quest Mini, from the episode "Rose's Room". He is the main protagonist, as well as the main character in the video game. He is voiced by Chris Jai Alex.
He has light brown hair, fair skin, and wears a primrose-yellow long-sleeved shirt. He dons an au chico-colored backpack, early dawn/beige waistband, blackish-brown pants, and cocoa brown shoes, with reef green argyle stockings with red lines.
He is partially based on Ash Ketchum from Pokémon.
Ace's Father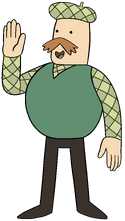 Ace's Father is a character from the video game Golf Quest Mini on the Nintendo 64 that first appeared in the episode "Rose's Room". He is the father of Golf Quest Mini's protagonist, Ace. He is voiced by Chris Jai Alex.
Ace's Father has a ginger mustache. He wears a general golfing outfit. This consists of a pale mint and light green beret and undershirt. He also wears a fern colored vest over the other shirt and dark brown pants.
He disappeared on June 9, 2014, but was able to survive in cryostasis due to Project F.L.O.G. He only appears during the game's secret ending.
Li'l Butler
Li'l Butler is the titular protagonist of the sitcom series Li'l Butler. He serves the Money family. According to the credits, he is played by a human named Randy Anderson. His real-world voice actor is Eric Bell Jr..
Li'l Butler is a boy with white hair, a mustache, and a balding head, giving him the appearance of an old butler. He wears a black two-piece suit with white buttons and a violet-blue bow tie.
Mr. Money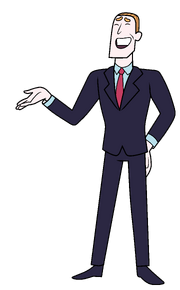 Mr. Money is the husband of Mrs. Money and the father of Daughter Money. He is a fictional character that appears in the show Li'l Butler. According to the credits, he is played by a human named Patterick Crosdale III. His real world voice actor is Chris Jai Alex.
Mr. Money has orange-blond hair and pale skin. He wears an indigo-gray, two-piece business suit with a light blue dress shirt along with a light reddish-pink tie, and his dress shoes are the same color as his suit. He also has light blue collars at the end of his sleeves. He wears long, lined socks that are the same color as his dress shirt.
Mrs. Money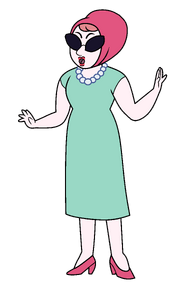 Mrs. Money is the wife of Mr. Money and mother of Daughter Money. She is a fictional character that appears in the show, Li'l Butler. According to the credits, she is played by a human named Cathryn Scotterson-McNeil.
Mrs. Money is a pale skinned woman. She wears a necklace of pearls around her neck. She puts on red lipstick and wears black-tinted sunglasses. She wears a mint short-sleeved dress that reaches down to her knees. Her hair is salmon-colored and styled into a bun. Around her head, she wears a strawberry-colored headscarf. She also wears pumps of the same shade.
Daughter Money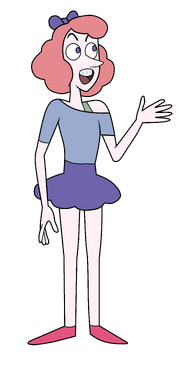 Daughter Money is the daughter of Mr. Money and Mrs. Money. She is a fictional character that appears in the show Li'l Butler. According to the credits, she is played by a human named Kelly Darling.
She has pale skin, indigo eyes, and short, curly salmon-colored hair with an indigo bow on top. She wears light gray-cyan braces in her teeth. She wears a gray-blue top with a fern-colored tank top underneath. She also wears an indigo skirt, along with pinkish-red shoes.
Her main appearance neatly resembles Pearl's 80's regeneration (pale skin and pointy nose), while her clothes resemble Amethyst's regeneration in the first season. Even so, there has been no confirmation about this being a reference or not. She was voiced by Deedee Magno Hall.
Dirtbike Money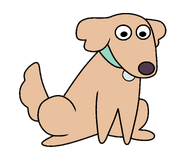 Dirtbike Money is the pet of the Money family. The dog is a fictional character in the show Li'l Butler.
Dirtbike Money is a small dog that resembles a golden Labrador dog, wearing a sea-green/teal collar that has a silver medallion on the middle.
Lonely Blade series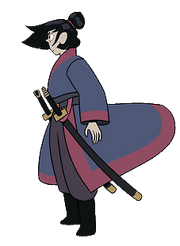 Lonely Blade
Lonely Blade is the main protagonist in the film franchise, Lonely Blade. He is voiced by Chris Jai Alex.
The movies Lonely Blade IV and Lonely Blade V are part of a Japanese film series about Lonely Blade, involving three other people besides the character Lonely Blade. He fought with two katanas and performed the move, "Boomerang Blade". Although this isn't a real sword-fighting technique, Steven still likes it.
He bears a striking ressemblance to Lupin III character Goemon Ishikawa XIII.
Evil Janitor

The Evil Janitor is the main antagonist of Lonely Blade IV. In a plot twist, he is revealed to be the President of the Shadow Samurai Shadow Government. He wields a sword cane disguised as a mop. He is voiced by Chris Jai Alex.
Lonely Blade's Brother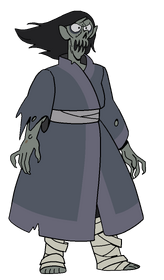 Lonely Blade's "Brother" is an antagonist in Lonely Blade V, voiced by Chris Jai Alex. The "Brother" is revealed to be a monster impersonating Lonely Blade's real brother.
Mearl
Level 2 Canon Section
This section contains informations on a subject that is considered "level 2 canon" and may be contradicted by the TV series.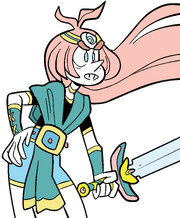 Mearl is the main character of "Carrion Amongst The Clover" and another book in its series. She appears in Issue 7 of the Steven Universe comics.
Mearl is a royal lady of the North End who adopts a fake identity to run away from her responsibilities. From there, her experiences outside her kingdom help her reunite her people with those from the "Heavy Sphere", with whom they have been feuding for centuries. Eventually, with events that are unexplained, she is saved by Sir Argarate and his squire Peapod and returns to her homeland to find her mentor Everlord of the Everlands had been banished behind the Shadow Curtain, which cannot be passed without being broken down into mere essence. She, later on, takes her place on the North End throne.
She resembles Pearl in face, skin tone, and eye and hair color. She wears a golden circlet with green trim, with a golden and green gem on the forehead. She has long hair in a partial bun with two strands of hair sticking up at the top. She wears a gold choker, green and gold laced bracers (sometimes seen without them), pink and gold boots (sometimes pink, brown and red cuffed boots) and a green and gold robe. Under this, she has a black shirt with gold trim, gold and cyan shorts (sometimes long pants). When she has the red boots and long pants, she also has a golden-horned circlet and green cape with gold trim. She also has a pink, green, and gold sword with a pink gem in the hilt.
Pizza Jenny
This article is about the dream version. You may be looking for the human.
Pizza Jenny is a character appearing in Kiki Pizza's dreams in "Kiki's Pizza Delivery Service. She is a pizza version of Jenny and is a representation of Kiki's emotions about her sister. She (like Jenny and Kiki) is voiced by Reagan Gomez-Preston.
Like Jenny herself, Pizza Jenny (in Kiki's dreams) asks Kiki numerous favors of taking her work shifts while Jenny gets to do fun activities. After finally telling Jenny's dream version "no", Kiki builds up the courage to say "no" to Jenny in real life.
Ringo
Ringo is one of the characters that was created by Steven's imagination in "Garnet's Universe". Ringo deceives others to achieve personal desires. When he is in power, he finds delights in destroying his enemies and their property by turning them into onion rings.
Ringo's hair is styled in a ring, similarly to an onion ring. He wears a burgundy kimono, brown shorts, a white apron, black boots, and rectangular gray rimmed glasses. Ringo resembles Ronaldo in general appearance.
The placement of the gem in his hair loop triggers his transformation. Ringo becomes bigger and more muscular. He retains his glasses and brown shorts, but his kimono disappears. He transforms the apron into a tattered cape that wraps around his neck; it is tied at his waist with a ribbon. His black boots acquire a burgundy trim, and he carries a magical, red staff decorated with three gold rings.
He wears white fundoshi-style underpants.
See also