This article is about Minor Gem Characters. You may be looking for Unknown Gems.
Minor Gem Characters
are
Gems
who have debuted and been identified, but, as of yet, hold no significant nor recurring roles.
Topazes
Two Topazes appear, non-speaking, in a flashback in "Now We're Only Falling Apart" alongside Pearl, Rose Quartz, and three Amethysts. One Topaz has her gemstone on her navel, while the other's gemstone placement is unknown. Four more are seen in the episode, "Familiar". The first two are seen guarding Yellow Diamond's extraction chamber and the other two are seen guarding Blue Diamond's pool chamber, each holding a mace. Three Topazes appear in "Change Your Mind", two of which having previously guarded the extraction chamber in "Familiar" now guarding Yellow Diamond's bubble chamber and a Topaz fusion with a gemstone on each arm.
Snowflake Obsidian
Snowflake Obsidian is a Crystal Gem who fought during The Rebellion until she got corrupted by the Diamonds. As of "Change Your Mind" she has become uncorrupted, albeit scarred. Snowflake was close enough friends with Bismuth for her to be mentioned twice when asking about the whereabouts of the other Crystal Gems (in the episode "Bismuth").
Snowflake Obsidian is a tall, bulky, warrior-like Gem. She has a spiky white mane, shaped similarly to the patterns scattered over her form, which mirror real-life snowflake obsidian. She has only one eye, round in shape, and no nose. Her gemstone is embedded in the back of her right hand.
Her outfit consists of a black breastplate with shoulder pads, a thong in the same color, and boots. Her waist and thighs are uncovered.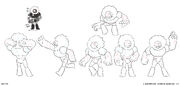 | Image | Description |
| --- | --- |
| | Snowflake Obsidian's gemstone is located on the back of her right hand. It is unfaceted and round in shape. |
Trivia
All Gems of the same Gem type also share the same voice (with the exceptions of the Diamonds and different variations of Quartz), albeit with some differences in tone. Their appearances are also nearly identical, excluding gemstone placement and minor outfit details.
Snowflake Obsidian shares the same gemstone as Obsidian (the Crystal Gems' fusion).
See also
Community content is available under
CC-BY-SA
unless otherwise noted.