Doctor Strange in The Multiverse o Madness - The Loop
Play Sound
Minor Sentient Plant Characters are plants that have been animated by the powers of Rose Quartz or Steven Universe, but hold no significant or recurring roles.
Magic Moss

Magic Moss is a magical moss that Rose Quartz planted and cultivated via her phytokinetic abilities. It first appears in the episode "Lars and the Cool Kids". The moss is green before blooming. The flowers are a rosy pink color with five light pink petals circling a central, hot-pink gem.
Magic Spike Vines
Magic Spike Vines can be seen growing around Rose's Fountain in "An Indirect Kiss". Pearl implies that their current state is a result of Rose's absence, as she is no longer there to guide them. Steven and Amethyst are later attacked by the Magic Spike Vines, only to be saved when Pearl and Garnet unclogged the fountain, restoring the flow of Rose's tears, and causing the plants to cease their attack.
Topiary Stevens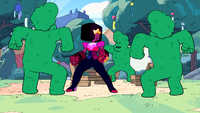 In "Everything's Fine", several Topiary Stevens were accidentally created when Steven applied his saliva to a withering plant in Peridot's greenhouse at Little Homeschool. They ran around saying "Steven's here to help!", but seemed to do little else. They were voiced by Zach Callison.
Sentient Pumpkin, Gourd, and Squash
A Sentient Pumpkin somewhat resembling Pumpkin, a small Sentient Gourd, and a Sentient Squash can be seen running down the street in "The Future".
See Also
Trivia