Jurassic World: Dominion Dominates Fandom Wikis - The Loop
Play Sound
This is a list of all minor locations that have appeared, but hold no significant nor recurring role.
Show
This section is for minor locations that first appeared in the Steven Universe television series and Steven Universe Future.
Danny's
Danny's appears to be a sweet shop in Beach City located next to the Beach City Music.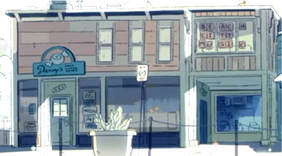 Appearance
It has a sign with a plastic-wrapped candy with the word 'Danny's' below it and next to it 'Salt Water Taffy' which is a sweet. The building has a lot of detail but a small colour scheme making it unimportant and a bit rusty.
This location is where Steven sees Connie for the first time.
History
It's first appearance is during the episode "Bubble Buddies" as a background in the Boardwalk Parade during Steven's flashback. It later appears in "Joking Victim" as a more visible background without crowds, but is still obscured by a running, flaming Lars.
Wiener in Hand/Hot Dogs
Wiener in Hand, later named Hot Dogs, is a business featured inside the Beach City Funland boardwalk, and made its first appearance in "Bubble Buddies". Little is known about this business, due to its brief appearances.
There are signs of what the menu of the business could have (such as a sign for ice cream, a sign for a hot dog, etc.). There is also a fan inside.
After "Too Short to Ride" (and shown again in "I Am My Mom"), the "Wiener in Hand" sign says "Hot Dogs" instead, possibly because the original name was an inappropriate double-entendre.
"Hot Dogs" appeared in Steven Universe: The Movie.
Underwater Sword
The Underwater Sword is a part of the Crystal Temple statue, that somehow ended up at the bottom of the ocean near Beach City. It was first seen in "Bubble Buddies". It appeared again in "Ocean Gem", clearly visible after Lapis Lazuli took the ocean away.
The sword is a statue of the original Obsidian's Greatsword (part of the Crystal Temple's statue). While the original Obsidian's sword has not been shown in-person, its replica (the Underwater Sword) resembles the Greatsword of the hybrid fusion Obsidian (with Steven), with only the blade being different.
Aqua-Mexican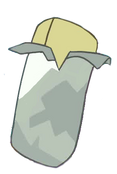 Aqua-Mexican was a restaurant situated in Beach City, and it was first mentioned in "So Many Birthdays". As the name implies, the restaurant specialized in Mexican seafood cuisine. According to Steven, Aqua-Mexican closed down five years before the start of the show.
T-Shirt Shop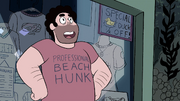 T-Shirt Shop is a business along Beach City's boardwalk. Steven visits the shop while contemplating growing up in "So Many Birthdays". He ends up buying a big shirt saying "Professional Beach Hunk" on it.
T-Shirt Shop is a fairly nondescript building that features a display window at the front of the store showing various beach-themed t-shirts inside. On the window, there is a sign that lists the store hours (illegible), a "Help Wanted" sign, and a sign that reads "Special Duck 1/2 Off!" Hanging inside the bottom half of the door is a sign with the words "[Ye]s, we're open" in all capital letters. On the side of the building is a sign that simply reads "T-Shirt Shop", but in the original opening sequence to the show, the sign can be seen with the words "Beach City" and "To The Tee" written on it and also features a drawing of a shirt with a smiling face and other illegible text.
In "Greg the Babysitter", Sour Cream and Onion's mom, Vidalia, got her first job at the T-Shirt Shop shortly after Sour Cream was born.
Classic Thyme
Classic Thyme is a kitchen shop that first appears briefly in "Onion Trade".
It has a light lavender and beige façade. Two plants hang on either side of the front door, and there is a planter in front of the large display window. The display window contains a mannequin adorned with an apron and a chef's hat. There also appears to be books or magazines and other miscellaneous kitchen items in the window display.
In Steven Universe: Future, the store is shown boarded up and closed.
Suitcase Sam's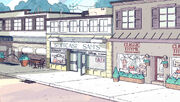 Suitcase Sam's is a boutique store in Beach City, first appearing in "Onion Trade". Its products consist of an assortment of bags, suitcases, and luggage.
Suitcase Sam's is a very elegant store that is a part of a commercial walk in the middle of Beach City. It has a beige color scheme and a muted brown interior. The inside consists of shelves lining the walls filled with all manner of branded suitcases and leather bags. The main part of the store has a counter on which Suitcase Sam deals business with customers, including Onion.
Mini Golf Course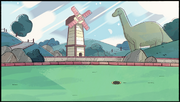 Mini Golf Course is a golf course that first appeared in the ending of the episode "Rose's Room".
The only parts of the golf course shown are a section of the green with a red brick border around it, green trees, brown bridges and hills across the horizon, a light tan windmill with brown frames and a brown roof, and a tall, green plastic dinosaur prop.
Flower Meadow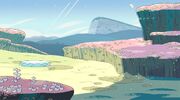 The Flower Meadow is a location first introduced in "Warp Tour". It is a grassy meadow with large patches of lavender pink heart-shaped wildflowers. These flowers are tall enough to tower over someone of Steven's height and in the distance a hill can be seen. A warp pad sits in the middle of the meadow.
The Crystal Gems warp here to defeat an unknown corrupted Gem. They return later to investigate what Steven had allegedly seen in the warp stream. Steven is shown to be allergic to the flowers' pollen.
Space Camp
Space Camp is the place where Connie was going to. Its only mention is in Steven Universe: The Movie when Connie did see Steven before she's going out.
University of Jayhawk
The University of Jayhawk is the university Connie plans to go to for her undergraduate degree. Its only mention is in "Together Forever" when Connie tells Steven about her college plans. Based on the pamphlet Steven opens during this conversation, The University of Jayhawk appears to be located west of Delmarva.
West Keystone
West Keystone is a state which is likely adjacent to Keystone. It is Greg's home state. It was introduced and visited in "Mr. Universe".
Showne
Showne is a town in West Keystone. It is Greg's hometown and where he grew up.
Comics
Level 2 Canon
This page contains content that is considered "level 2 canon" and may be contradicted by the TV series.
This section is for locations that first appeared in the Steven Universe Comics.
Empire City Wildlife Rehabilitation Center
The Empire City Wildlife Rehabilitation Center is a location in Empire City that briefly appears in Issue 1. Steven calls the center to request that they take in Susan, a baby songbird fallen out of the nest, only to be told that common songbirds are not accepted at the center.
The wildlife center is nondescript with its only defining feature being a blue interior. It appears to be like any medical office with medical gear such as gauze, disposable gloves, and lab coats.
Galaxy Bakery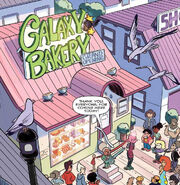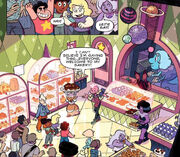 In Issue 25, Lars fantasizes about opening his own bakery in Beach City called the Galaxy Bakery.
The outside has pale yellow and green walls, a small window on the right, a glass door, and a large window on the left displaying the bakery's various pastries. The roof is red with a curve above the door, and three spotlights placed on either side to illuminate the bakery's sign.
The inside has yellow floors and yellow and green walls similar to the Sun Incinerator. Several glass cases and counters filled with baked goods align the left and right walls, and the Rutile Twins main the front counter. Multiple model planets hang from the ceiling. Next to the counter is a pink door that leads to the oven room.
This fantasy later became reality in canon as of Lars' return to Earth, being named Spacetries.