"

I'm Lapis Lazuli, and you can't keep me trapped here anymore!

"
—Lapis
"Mirror Gem" is the 25th episode of season 1 in Steven Universe, and the 25th episode overall.
Synopsis
Steven befriends a magical mirror that can mysteriously communicate with him.[2]
Plot
Steven is talking to Connie on the phone and she tells him that they can hang out since school's out for summer vacation. Steven is confused about school so he gets Pearl to set it up. When Pearl finds out that school is about learning, she summons the Gem Mirror to try to teach him. She says that they found this at the Galaxy Warp, and it can show him any event in Gem history. They then try it out, but when it doesn't work, Pearl assumes it's broken, and allows Steven to keep it.
Steven takes this mirror out to the beach and bumps into Lars and Sadie, and talks with them about their plans for summer vacation. After Sadie says she hopes to find a new friend, Steven agrees with her and says he hopes to make a new "beach summer fun buddy," and walks away from the two of them. As he wanders around town, he walks into the boardwalk without seeing Mayor Dewey's van. The Mirror suddenly warns him of the danger by playing back a memory it has seen, and Steven yells out in panic, stopping the vehicle. After Mayor Dewey drives away, Steven concludes that the mirror is like a person and can communicate by using bits of sentences witnessed or said by people and combining them to speak. Amazed, Steven plays with it all day, then comes back home to inform the Gems of his discovery, despite the mirror's discomfort with this idea, playing a clip of Steven's screaming from earlier.
When he arrives home and shows the gems his new friend, they all are stunned and fearful that the mirror has a personality. Pearl and Amethyst both seem apprehensive, Pearl saying that it should "only be following orders" and Amethyst asking Garnet to "do something." Garnet then walks over to Steven, and the mirror again shows it's fear with the clip of Steven screaming "no." Garnet then orders Steven to give it to her, saying that it'll be safer with her. The mirror keeps playing the screaming clip in a loop, frightening and confusing Steven. He pleads Garnet to not take the mirror, saying that it doesn't want to go with her, but she attempts to assure him that it's just an object that doesn't want anything. As she reaches closer to the mirror, Steven swipes his hand at her, saying that it wants to be with him, but accidentally slaps Garnet, and her visor falls to the ground, shocking everyone. Garnet stares angrily at the terrified Steven, who then runs out the door, screaming and apologizing while running down the beach. Pearl insists to Garnet that it was only an accident and he didn't mean to slap her, and all three proceed out the door after him.
Hiding behind a rock on the beach, Steven pleads with the mirror to tell him what he can do to help it. The mirror shows him that he needs to take the gem out of the mirror with a visual demonstration appearing on the mirror. When he begins to pull at the gem, the water around him forms a pattern, and when he finally tugs it out, the mirror breaks. In front of him, a girl appears from the gem, who subsequently introduces herself as Lapis Lazuli, a Gem with the apparent ability to manipulate water. She thanks him for setting her free and questions whether he really is a Crystal Gem himself, with obvious confusion as to why he talked to her and helped her leave the mirror.
The rest of the Crystal Gems find them and pull out their weapons. Lapis seems to remember Garnet, Amethyst, and Pearl and attacks them in anger, stating that they knew she was trapped in the mirror but did nothing in efforts to help her. She tells Steven to come "home" with her, whose hesitance prompts her to tell him not to trust the Gems while Garnet charges at her. Lapis walks into the ocean, escaping and blocking out Garnet's attack with a wave. A concerned Pearl embraces Steven, who seems bewildered but otherwise unharmed, and Garnet tells him that he is grounded.
Features
Characters
Objects
Locations
Production Notes
Soundtracks
Trivia
Lapis Lazuli makes her debut in this episode.
The Galaxy Warp is mentioned for the first time.

In future episodes, such as "Space Race", it begins to play a bigger role.

It's revealed that Steven doesn't know what a school is.
This is because he is homeschooled by the Crystal Gems.
Garnet becomes angry at Steven for the first time.

Steven seems to fear her, since after he panicked and slapped her by accident, he ran away saying "I'm sorry!".

This is the first time Steven has been grounded and is punished.
Connie's parents are pictured.
The word 'RE-FLECT' is very similar to the words painted on Mayor Dewey's Van, "RE-ELECT".

The word 'RE-FLECT' has connection with this episode, but the fact above could be just a coincidence.
Continuity
This episode is part one of a mid-season finale, the second being "Ocean Gem."
Pearl's dance from "Lars and the Cool Kids" was done again while summoning the mirror.
Steven knocks Garnet's glasses off, marking the second time her eyes are shown, the first time being in "Arcade Mania".
When Steven starts to walk backwards, there are posters of Beach-A-Palooza in the background.
Connie is wearing her glasses without the lenses, due to being healed by Steven's saliva in "An Indirect Kiss."
Errors
When Garnet's right hand is reaching out to grab the mirror from Steven, Ruby's gemstone is shown instead of Sapphire's.
The arm of water that creates Lapis is right, but the shadow of this is a left arm.
When Steven is on the boardwalk about to get run over the writing on Mayor Dewey's Van is not backwards, even though it is shown from a mirror.
The mirror disappears after Steven releases Lapis from it.
When the mirror flashbacks to when Sadie says "New friend", the donut logo on her shirt should be backwards, like when the mirror flashbacks to when Lars scolds Steven.
Transcript
View the episode's transcript here.
Videos
Gallery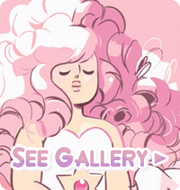 References
Community content is available under
CC-BY-SA
unless otherwise noted.