Doctor Strange in The Multiverse o Madness - The Loop
Play Sound
"

They've been waiting here for her. They didn't want to leave her behind.

"
—Garnet
"Monster Reunion" is the 14th episode of the third season of Steven Universe and the 92nd episode overall.
Official Synopsis
Steven reunites with an old friend.[3]
Plot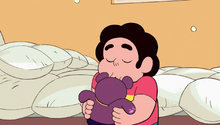 The episode starts with Steven sitting on his bed, mentioning that his teddy bear, Master of Ceremonies Bear Bear, has got a tear. Steven says that even though he's hurt, he'll look after him. Steven then kisses the bear's head and his tear gets fixed with Steven's healing spit. Steven then goes downstairs. Trying to show the Crystal Gems that his healing spit is back, he breaks a plate Pearl has in her hands and tries to fix it, but Pearl says she believes him, stopping him from touching the broken plate out of fear of Steven harming himself. Then Steven thinks of healing Nephrite, but Garnet says no before he can say anything. Steven asks her if he can make her change her mind, which she does, so they go to the Burning Room. Amethyst grabs the bubble in which the "Chaaaaps", Nephrite's favorite snack, are preserved so Steven can give them to Nephrite. Steven then proceeds to release her gemstone from the bubble.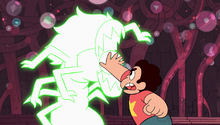 Nephrite starts forming, but before she can fully form again, Steven uses his healing spit on her gem. Nephrite then fully forms into a more humanoid form, yet still corrupted. She stands up, horrified. Steven says it worked and takes the "Chaaaaps" to Nephrite but she hisses at Steven before he can give her the chips. Amethyst tells Steven that she probably does not remember them, so Steven just puts away the chips dejectedly. Steven then asks Nephrite if she remembers him, to which she looks at him confused, and Steven realizes that it didn't work as he wanted it to. He tries to heal her again by kissing her gem, but Nephrite just screeches at Steven in pain and crawls away from him. Garnet says this is the best healing they've seen of a Corrupted Gem, but Pearl says it didn't work and that it'll probably take more than a kiss to heal what the diamonds have done to this Gem.
Steven is confused and slightly disappointed because even though his healing powers are back, he could not fully heal Nephrite. Pearl tells him that it's okay since she's not cracked, but corrupted, which is different and nearly impossible to describe. Garnet then makes an analogy to M.C. Bear Bear and tells Steven that corruption is as if the bear tore his mind instead of his arm. Amethyst then comments that it's pretty explained to her. Garnet asks Amethyst to poof Nephrite, to which Amethyst agrees with a stern face. Promptly, Steven refuses and tells the Gems that she's not a monster anymore, but is actually like them now because she is possibly sentient. Steven then asks them to please let him keep her and try to heal her further instead of just poofing her. The Gems reluctantly accept. Steven even tells them that she could stay in his room, and they acquiesce.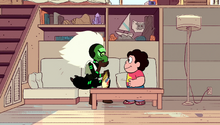 Later, Steven and Nephrite, or as he calls her, "Centi", are in his room. He asks her for her real name, but she can't talk so she just screeches, which he doesn't understand. Steven asks Centi if she really doesn't remember saving him from the seagulls, them adventuring in the ice cavern, or even when he electrocuted her with the Cookie Cat freezer, but Steven tells her that it's better for her to forget that one. Steven then sadly opens the bag of "Chaaaaps" and Steven starts singing the chip's jingle, and Centi follows him. Steven realizes that she does remember, and she takes a chip and eats it happily and proceeds to sing again with Steven.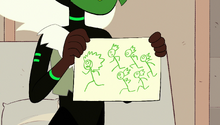 Seeing that she remembers, Steven then tries to communicate with her through writing, but she seemingly draws a bunch of squiggles. Steven then asks her to draw her feelings, revealing she remembers being friends with Steven. She then shows her past, revealing that she was originally captain of a ship of Gems from Homeworld sent to Earth by her unnamed commander. On Earth, she gets caught up in the Gem War and is separated from her crew. Her commander then tells her to leave, and while frantically looking for her crew and ship, she gets hit by a white light, the memory of which causes her to cry. Steven then asks what caused it, to which she draws three diamonds with a black crayon, signifying that it was "The Great Diamond Authority".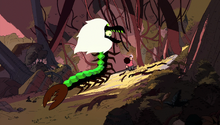 Nephrite then starts frantically crying, reverting slightly to her fully corrupted form. She then leaps toward the warp pad attempting to leave but can't due to being corrupted. Steven graciously warps her to the Gem Ship. As she runs toward the ship, her physical form continues to deteriorate, leaving only two human-like hands on her right side. Upon reaching the ship, she completely reverts to her fully corrupted form, preventing her from opening the door. Steven opens it for her and they go inside.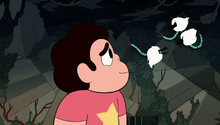 Upon entering, they see two other corrupted Nephrites, who are Centi's crew-mates who have been waiting for her all this time. As the Nephrites are reunited, Amethyst, Pearl, and Garnet walk into the ship, revealing they followed Centi's note which is actually written in Gem language. They then decide to leave them inside the ship as they are all happy together, and Steven asks Pearl if she could teach him how to write in Gem. He looks through Centi's drawings as he asks Pearl if she could teach him to write a few things such as "Hi", "How are you?", and "Where's the bathroom?". When he reaches the symbol of the diamonds, he sorrowfully adds "I'm sorry".
Features
Characters
Objects
Locations
Music
Trivia
Cultural References
Continuity
Errors
Note: Time is displayed in [mm:ss]; [00:00] refers to the point after the title card is displayed and before the episode's start.
Plot
[00:02] Steven refers to Master of Ceremonies Bear Bear as "M.C. Bear Bear", but they are two different toys.
[08:22] The Ancient Gem Colony Ship is missing the hole in the roof that Peridot blew in "Friend Ship".
Design
[05:25] When Nephrite shows Steven her name on the paper, her gloves turn black.

[TBA] When Nephrite finished her drawings, the green crayon was inside the crayon box despite some of her drawings being green and despite the other crayons she used were displayed outside of the box.

[TBA] When Garnet showed Steven Nephrite's writings it was never shown that she wrote those during her drawing montage with Steven.
Transcript
View the episode's transcript here.
Gallery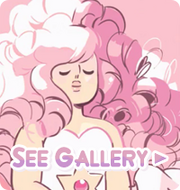 Videos
References