Jurassic World: Dominion Dominates Fandom Wikis - The Loop
Play Sound
This article is about the episode. You may be looking for the character also known as "Mr. Universe", the song or a similarly named episode, "Mr. Greg".
"

I could've done all that stuff! My problem isn't that I'm a Gem, my problem is I'm a Universe!

"
—Steven
"Mr. Universe" is the 15th episode of Steven Universe Future.
Official Synopsis
Greg takes Steven on the road to find the origins of the Universe name.
Plot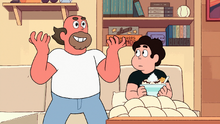 Greg makes Steven "Ice Cream ala Pie" for dinner, relieved Steven's swelling has gone down. Steven is still lost in thought as he has no idea who he is as a being. Greg tells Steven when he was a teen, he had no idea of what he wanted to do until he hit the road and how he spent time watching trucks go by and eating junk food. He suggests that Steven and he go on a road trip for a change in perspective and they head off with Steven carrying his ice cream.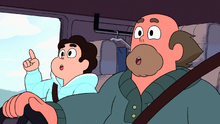 On the road with Greg at the wheel, they have fun while they make a pit stop for Pepe's Burgers, go to a store to try sunglasses on, and sing songs. Upon arriving in a neighborhood, Greg tells Steven that he played his first gig in this area. As Steven asks how he became "Mr. Universe" in the first place, Greg decides to show him how that came to be.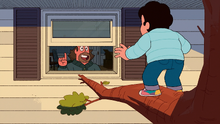 Later, the van arrives at a certain house, and Greg climbs over the fence. Concerned about how his dad is breaking and entering, Steven follows Greg through a second-story window, where Greg struggles to get in while Steven merely jumps and drifts, of an empty home.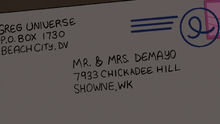 Greg looks for something certain and Steven goes to write a note for the homeowners, trying to make it seem like there was an excuse. Steven finds unopened letters from his father to "Mr. and Mrs. DeMayo", and realizes they are in Greg's childhood home.
Steven becomes excited to be in the house Greg grew up in and was impressed by Greg's old belongings, while the latter thought the opposite. Greg remembered the rough times: curfews, chaperones, and meatloaf every Thursday night for twenty years and not eating a taco until he was "too old". Steven continues to look through the knick-knacks and takes a picture of Greg in his middle school yearbook on his phone. Greg tells Steven about his poor relationship with his parents, who were on their timeshare on Florida Island, and how they made him miserable with their lifestyle and choices for him. On finding his graduation photo, Greg reminisces on his parents made him get a bad haircut for that moment and right before a gig. Steven asks if there were any pictures of that, Greg explained that music was forbidden in this house. Suddenly, Greg remembers and finds what he is looking for in a box in an air vent and tries to go out the window due to "habits", but takes Steven's advice to go through the front door.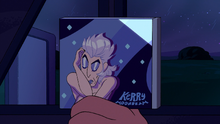 Greg gives Steven the keys, as it is his journey, and they head off. He tells Steven how he just did what people, his parents, wanted of him until a friend gave him a CD (the item he was looking for) that inspired him to be who he is.
As the CD plays, revealing the inspiration for Greg to change his name to "Mr. Universe", Greg wants to replay the song but Steven angrily turns it off, telling him that he wished that he could have grown up with structure and supervision like his father had. Greg tells Steven that the things he liked were always wrong to his parents and that they forced him to do the things they wanted him to do instead. Steven then begins to glow pink with anger saying that Greg was just like his mother. Still mad, Steven adds that he never did things like going to school and visiting the doctor as other humans have. Despite Greg's objections to Steven's beliefs, Steven rips out the steering wheel, crashing and flipping the van.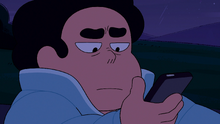 After waking up, Greg tries to cheer Steven up and tells him he is proud of Steven for speaking his mind and telling him off, something he could never do to his own dad. As Greg goes on, however, the audio slowly muffles as Steven doesn't respond and completely ignores his father. Steven looks at his phone and deletes the old picture of his father while sighing in disappointment, showing that he has lost some respect for him.
Features
Characters
Objects
Locations
USA

Florida (mentioned)
West Keystone (debut)

Showne (debut)

Mr. & Mrs. DeMayo's house (debut)

Pepe's Burgers
Uaua (debut)
Music
Songs
Instrumentals
Trivia
Cultural References
Kerry Moonbeam, the artist that Greg listened to, is a reference to (and is heavily inspired by) English rockstar David Bowie and his famous Ziggy Stardust character and album.

Kerry Moonbeam's singing voice is provided by Jemaine Clement of the New Zealand comedy music duo Flight of the Conchords, who co-wrote the song "Bowie" with bandmate Bret McKenzie as a tribute to and parody of Bowie's musical style.
Kerry's name is likely a pun on "carry moonbeams home in a jar", a line from the classic American pop standard "Swinging on a Star" by Jimmy Van Heusen and Johnny Burke.

 The convenience store "Uaua" is a parody of the real-life convenience store "Wawa".
Greg's poster on his old bedroom door looks exactly like the Twitter logo.
The deletion screen on Steven's photos is similar to the Apple deletion screen for photos.
Continuity
Steven and Greg play and listen to a recording of the song "Dear Old Dad" which they sang together in "House Guest".
Pepe's Burgers from "Mr. Greg" appears again.

While Steven and Greg are eating outside of a Pepe's Burgers restaurant, the same little yellow bird that appeared shortly before "Mindful Education" ended lands near them.

Steven and Greg pass by the wheat field where Peridot's Escape Pod landed, as shown in "Joy Ride".
Steven mentions that it has been two days since "Growing Pains".
Greg's mention of his parents being at their timeshare on Florida Island is a direct reference to how the geography between the show and the real world differs due to the direct involvement of Gems in Earth's history.
The suspense building up to Steven deleting the photo could be a reference to "Full Disclosure" where Steven didn't answer Connie's call in the song "Full Disclosure".
Errors
When Steven and Greg both get out of the Beach House, the star on Steven's shirt is missing.
When Steven says his line, "I just wish I knew what to do with myself.", the captions read "I-I just wish I knew what to do with myself.".
Steven says "They can't be worse than mom's family. I went halfway across the galaxy for them, and this was right here?!, but according to Garnet and Peridot, Homeworld is in a separate galaxy visible from Earth.
Video
Transcript
View the episode's transcript here.
Gallery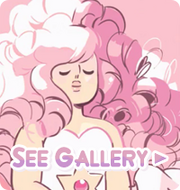 References