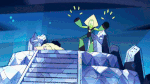 "You have to fix this!"
This article is about the episode. You may be looking for the character also known as "Mr. Universe" or a similarly named episode, "Mr. Greg".
"Mr. Universe" is the 15th episode of Steven Universe Future and the 15th episode overall.
Official Synopsis
Greg takes Steven on the road to find the origins of the Universe name.
Plot
Greg makes Steven "Ice Cream ala Pie" for dinner, relieved Steven's swelling has gone down. Steven is still lost in thought as he has no idea "who" he is as a being. Greg tells Steven when he was a teen, he had no idea of what he wanted to do until he hit the road and how he spent time watching trucks go by and eating junk food. He suggests that Steven and he go on a road trip for a change in perspective and they head off with Steven carrying his Ice cream.
On the road with Greg at the wheel, they have fun while they make a pit stop for Pepe's Burgers, go to a store to try sunglasses on and sing songs. Upon arriving in a neighborhood, Greg tells Steven that he played his first gig in this area. As Steven asks how he became "Mr Universe" in the first place Greg decides to show him how that came to be. 
Later, the van arrives at a certain house and Greg climbs over the fence. Concerned about how his dad is breaking and entering, Steven follows Greg through a second story window, where Greg struggles to get in while Steven merely jumps and drifts, of an empty home.
Greg looks for something certain and Steven goes to write a note for the home owners, trying to make it seem like there was an excuse. Steven finds unopened letters from his father to "Mr. and Mrs Demayo" and realizes they are in Greg's childhood home.
Steven is excited to be in the house Greg grew up in and was impressed by Greg's old belongings, while the latter thought the opposite. Greg remembered the rough times: curfews, chaperones and meatloaf every Thursday night for 20 years and not eating a taco until he was, really old.  Steven continues to look through the knicknacks, and takes a picture of Greg in his middle school yearbook on his phone.  Greg tells Steven about his poor relationship with his parents, who were on their timeshare on Florida Island and how they made him miserable with their lifestyle and choices "for" him. Once finding his highschool photo, Greg reminces on his parents made him get a bad hair for this moment and it was before a gig. When Steven asks if there were any pictures of that, Greg explained that music was forbidden in this house. Suddenly, Greg remembers and finds what he is looking for in a box in a air vent and tries to go out the window due to "habits", but takes Steven's advice to go through the front door.
Greg gives Steven the keys as it is his journey  and they head off. He tells Steven how he just did what people, his parents, wanted of him until a friend gave him a CD (the item he was looking for) that inspired him to be who he is.  As the CD plays, revealing the inspiration for Greg to change his name to "Mr. Universe." Greg wants to replay the song but Steven turns it off, telling him that he wished that he could have his life for having grown up with structure and supervision. And that Steven never did things like going to school and to the doctor like other humans have. Despite Greg's objections to Steven's beliefs, Steven begins to glow with anger, ripping the steering wheel out, crashing and flipping the van.
After waking up, Greg tries to cheer Steven up, and tells him he is proud of Steven for speaking his mind and telling him off, something he could never to to his dad. As Greg goes on, Steven looks at his phone and deletes the old picture of his father.
Features
Characters
Objects
Locations
Pepe's Burgers
Uaua (debut)
Mr. & Mrs. Demayo's house (debut)
Music
Songs
Instrumental
Trivia
Zach Callison and Tom Scharpling are the only speaking voices in this episode.
Greg reveals the "Universe" name came after he listened to a song titled "Mr. Universe". After listening to it, he was inspired to pursue a career in music, resulting in him leaving the strict household he lived in and driving a rift between his and his parent's relationship.
Cultural References
Kerry Moonbeam, the artist that Greg listened to, is a reference to English rock musican David Bowie's famous Ziggy Stardust character and album. His singing voice is provided by Jemaine Clement of the New Zealand comedy music duo Flight of the Conchords, who wrote and performed the song "Bowie" with bandmate Bret McKenzie.
Continuity
Pepe's Burgers from "Mr. Greg" and "Dear Old Dad" from "House Guest" appear again.
While Steven and Greg are eating outside of a Pepe's Burgers restaurant, the same little yellow bird that appeared shortly before "Mindful Education" ended lands near them.
Steven and Greg pass by the Wheat Field, where Peridot's escape pod landed as shown in "Joy Ride".
The lyrics of the song contained in Greg's CD is a nod to Steven's worsening mental health, and Pink Diamond/Rose Quartz; his mom, a trigger for his pink state. This may explain why Steven acts so indifferent, later irritated and nervous, towards the song.
Steven mentions that it has been 2 days since "Growing Pains".
Errors
Videos
Transcript
View the episode's transcript here.
Gallery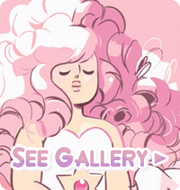 Community content is available under
CC-BY-SA
unless otherwise noted.