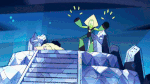 "You have to fix this!"
Nicole Rodriguez was a storyboard revisionist for Steven Universe: The Movie and Steven Universe Future. She graduated from the Fashion Institute of Technology with a degree in Illustration. She has been a cleanup animator under Studio Yotta, as well as Nickelodeon, Cartoon Network, and Double Fine.
About
Nicole is the main artist on "Pizza Run", a comic from Oni Press. Her work on the comic includes concept art, thumbnailing, drawing, inking, and coloring. She has also been a cover artist for Oni Press' Rick and Morty series.
Nicole's work has been featured in Gallery Nucleus' "Farewell to the Falls" artshow, and she has starred in "The Deep End"'s 16th podcast titled "Outlaw Star with Nicole Rodriquez".
Art
Storyboards Revised
Promotional Artwork
Drawings
External Links
Community content is available under
CC-BY-SA
unless otherwise noted.