Jurassic World: Dominion Dominates Fandom Wikis - The Loop
Play Sound
"

Do you know how many children I see every day in the hospital who've cut their faces off playing with swords?! None! Because they all have parents who love them, and who don't let them play around with deadly weapons like some kind of gang member! No playing with swords under any circumstances!

"
—Priyanka Maheswaran
"Nightmare Hospital" is the 16th episode of the second season of Steven Universe, and is the 68th episode overall.
Official Synopsis
Steven and Connie sneak into a hospital to recover Rose's Sword.[3]
Plot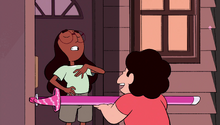 The episode begins with Lion carrying Steven and Connie to the Maheswaran Residence. Connie then "assumes her secret identity" to avoid getting in trouble with her parents. Steven then asks if Connie will train in sword fighting the following week at the same time as she did in their present week. Connie agrees and laments over how she can't practice at home. In response, Steven retrieves his mother's sword from Lion and offers it to Connie, starting a medieval-esque "-eth" joke. While she opens the door to her house, Connie tries to decline his offer, saying that Rose's sword is too important to Steven for her to have. As they walk inside, Steven counters her statement by saying that the sword's importance is the reason she should "have-eth" it and that she could have all week to practice with it. They both laugh at their "-eth" lisps, and Connie finally accepts the sword.
Connie hears the garage door open and realizes that her mother is home. She exclaims that she needs to hide the sword from her mother or she will end up taking it away. Steven tries to find Lion but discovers he has wandered off. Connie and Steven come up with a plan to disguise the sword. As Mrs. Maheswaran enters the living room, she finds Connie calmly practicing the violin with a nervous Steven by her side on the couch. Connie greets her mother, and she greets her and Steven. As she walks up to the upright sword, which is disguised as a coat hanger, Mrs. Maheswaran says that she had a rough day at the hospital and doesn't want any more surprises. She explains that there was a very strange case, terrifying Connie and Steven, but assures that she can't share the details because of the rules of doctor-patient confidentiality. She finally realizes that they don't actually own a coat hanger and finds out that it is, in fact, Rose's sword. She becomes extremely shocked and asks Connie where she got it. Connie lies and says that she found it outside and wanted to show it to Steven. After scolding Connie, she reminds her that she cannot play with swords. She gets a phone call from the hospital telling that she is needed. Dr. Maheswaran tells Connie that after her work is done, she will discuss her punishment with her father, and departs. She brings the sword with her. Connie apologizes to Steven for letting her mother take away his sword. Steven suggests that they reason with her, but Connie explains that she never goes back on a rule or punishment and that it is imperative that both of them get the sword back.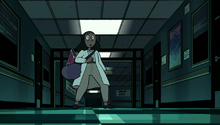 They teleport to the hospital on Lion's back. Connie says that they should leave Lion behind, and Steven gives Lion some Lion Lickers to keep him in place. After teasing Lion's behavior, they enter the hospital. The lights are all down. Connie proceeds to explain that after dinner, the lights are turned down. And after hearing a faint growl, they hold each other's hands and quickly run through the hall undetected. They spot Dr. Maheswaran from across the hall and hide as she passes by them. She enters her patient's room, and after a phone call for information on the patient, begins to monitor their heart rate. After a quick conversation about the hospital and her mother's job, Connie spots Rose's sword laying in the corner of the room. Dr. Maheswaran determines that, despite being able to move and make faint noises, the patient has no heartbeat, but attributes it to cheap hospital equipment, throwing away the stethoscope and leaving the room to get a new one. Steven and Connie quietly enter the patient's room and, while stopping several times to watch the patient's erratic movement, finally grab the sword and get to the door. Dr. Maheswaran enters the room and is shocked to see Connie trying to reclaim Rose's sword, taking it back.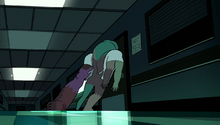 They hear a crashing noise outside the hallway, and they run out to see what's going on. Dr. Maheswaran spots a humanoid figure and assumes it is one of the other doctors, but after shining a flashlight, determines that it is one of her patients and tries to get it back to its room. Steven identifies the strange humanoid as a gem mutant, and as it charges at them, they rush back into the room. The patient in the room suddenly begins to make very aggressive movements in bed, and Dr. Maheswaran tries to cover them up. Steven explains to Connie that the being banging the door to the room is a gem mutant. Connie tries to convince her mother to give her back the sword, but she refuses. The patient bursts out of the curtains, revealing itself to be another gem mutant/gem cluster experiment, and grabs Connie. Steven rushes in with his shield and saves Connie while holding back the mutant, exclaiming, "Keep your hands off my Connie!". Dr. Maheswaran observes that the patients are beyond reason, and Connie keeps trying to convince her to give her back the sword, but she still refuses.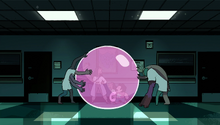 They rush out of the room and distract the outside mutant while running down the hall. They are chased down by the mutant from the room, and the distracted mutant arrives on the other side, surrounding them. As the mutants advance towards them, Steven summons his bubble shield. Connie keeps trying to tell her mother that she knows how to use the sword, but her mother simply says that she doesn't. Steven steps in and says that she does know how to use it. He explains that Connie has been training to be a sword fighter for some time, and she wasn't going to use Rose's sword to play around with, but rather to train by herself in her spare time. Connie's mom denies Steven's explanations, saying that she knows exactly what Connie does all day, and controls her schedule and activities. Connie yells that her mother doesn't know her at all, and points out that she still didn't notice anything unusual about Connie's glasses. After her mother asks her, Connie says that they don't have lenses, and they were that way for almost a year. Still in disbelief, Connie's mother sarcastically asks if her eyesight "magically" got better, and Connie yells that it did. She explains that she has been dealing with Gems and magic ever since she met Steven.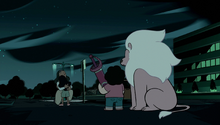 Tired of arguing, Connie simply grabs and unsheathes Rose's sword from her mother, and tells Steven to stop using his bubble shield. The shield explodes, sending the mutants back, and as one leaps towards them, Connie effortlessly cuts through it, poofing the mutant. Steven pushes the other mutant back with his shield and lets Connie jump off of it. She leaps over the other gem and slashes it, which poofs it as well. Steven bubbles the gems and shares a look of victory with Connie. Dr. Maheswaran stares at them in shock. Outside the hospital, Steven explains to Connie's mother what the mutants were, and she realizes that's why they had no pulse. She stumbles upon Lion, which scares her. Connie apologizes to her mother for lying, saying that it started as a small secret, but as more things happened, she wouldn't believe Connie and would not let her see Steven again. Dr. Maheswaran slowly comes to a realization and asks Connie if she and her father are too controlling, to which she agrees. She tells Connie that she only wants to protect her and be a good mother, but Connie says that she can protect herself. She tells Connie that she will be more relaxed as far as rules and regulations, and try to keep an open mind about everything magic-related. She wants more feedback from Connie in the future and wants her to stop lying. Connie agrees not to lie anymore. As the two hug, Steven glances down at the sword to see his mother's sigil and proceeds to hug it.
Features
Characters
Objects
Locations
Music
Songs
Instrumental Songs
Trivia
It turns out Gem experiments were able to be found by humans, as two Gem experiments were found on the side of a road.

The possibility that some of the fusion experiments may have escaped was previously hinted at in "Keeping It Together". The fusion experiments in this episode may have been the ones that Peridot mentioned had hatched early.

Dr. Maheswaran seems to have grasped a basic understanding of Gem biology, stating "that's why the patient didn't have a pulse" when referring to the mutant Gem, whereas before the episode's end she believed them to be accident victims.

However, she does get a lot of criticism for not immediately realizing the mutant Gems weren't human (not only because of their extra limbs and lack of heads but because of their inhuman coloring.)

The Cluster Gems had the strongest reactions to the presence of Steven in the room, perhaps hinting that the Clusters can sense other Gems.

Peridot had confirmed in "Gem Drill", the reason for this is because the Cluster Gems seek out other shards in a vain attempt to make themselves "whole" again.

This episode reveals that Steven has never been to a hospital before. Whether this is due to a hinted regenerative healing factor, or the Gems simply taking care of his medical needs has not been confirmed.
The mutant Gems in this episode are the first Cluster Gems to not be mere limbs (such as many fusions seen in "Keeping it Together"). However, they still lack any other discernible body parts.
In this episode, a new song or lyrics for the Ending Theme played during the credits, entitled "Nothing Like You".
In honor of the episode, Lion Lickers were prepared by Christy Cohen for the show staff.[4]
Cultural References
Continuity
Errors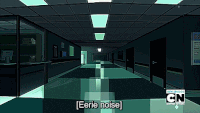 When Connie and Steven enter the hospital, the lady at the desk that they sneak past can't be seen until the next shot.
The same goes for the two doctors standing in the corridor.
When Connie and Steven enter the hospital while holding hands, Connie's hand color becomes white for a brief moment.
The door to the patient's room in one shot swings outwards, then when Dr. Maheswaran walks in it swings inwards. However, it could open both ways on purpose.
When Steven asked "Same time next week for sword training?", Lion's ear is dark brown.
When Steven jumps off Lion, the color of Lion's body changes to light pink.
When Steven looks for Lion at Connie's house, he is nowhere to be found. But in the next scene, Connie and Steven ride through a portal with him.
Transcript
View the episode's transcript here.
Gallery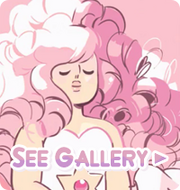 Videos
References