Jurassic World: Dominion Dominates Fandom Wikis - The Loop
Play Sound
The Obelisk is a structure that held the corrupted[1] Albite[2] powering the Pyramid Temple.
Appearance
The Obelisk is a large, upright rectangular prism with pyramids floating off of both ends. The top pyramid appears to have a face on each triangular side. Three of the faces appear to be frowning while the fourth one seems to be smiling. The bottom pyramid is divided into two pieces and has a triangular pattern on it. The Obelisk's body has an abstract pattern on it that resembles a humanoid. The hands are designed to look like they are holding a gemstone that is embedded in the "chest" of the Obelisk. The gemstone is a table cut Albite.
Faces
| | |
| --- | --- |
| Image | Description |
| | Face 1 of the Obelisk, otherwise known as her "Happy Face". |
| | Face 2 of the Obelisk, otherwise known as her "Frowning Face". |
History
The Crystal Gems find the Obelisk in a room filled with small spinning pyramids. They discover that the gemstone in the Obelisk is powering the mechanism in the temple that trapped them in never-ending rooms. Steven is thrown by Garnet to the Obelisk to remove the gemstone. However, he is not able to remove it until the Obelisk's smiling face turns towards him. The gem flashes yellow before falling to the floor with Steven. After the gem is removed, it glows yellow, the pyramids and the Obelisk retreat into the gemstone, and the temple explodes.
Episode Appearances
Trivia
The name "Obelisk" was given in its model sheet.
With its anthropomorphic design, the Obelisk can be compared to a stele, which is a funerary or commemorative monument built by several ancient cultures.
The gemstone in the Obelisk has a similar cut to Yellow Diamond's.
The gemstone in the Obelisk can produce and absorb matter rapidly.
The gemstone was revealed to be Albite in Steven Universe: End of an Era.
| Image | Description |
| --- | --- |
| | Albite's gemstone is located in the "chest" of the Obelisk where its hands are held. It is shaped like a square with five total facets, and is white in color. |
Gallery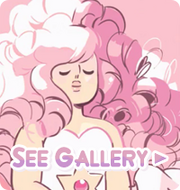 References