This article is about the Snow Monster. You may be looking for the Ice Monster.
Ocean Jasper (also known as Snow Monster) is a formerly corrupted Gem who first appeared in the episode "Gem Hunt". She was held captive by Jasper until "Earthlings", where she was forced into a fusion and fled after unfusing. She was later healed in "Change Your Mind".
Appearance
Corrupted
While corrupted, the Snow Monster is a giant wolf-like creature with two horns. She has a mixture of turquoise-blue colors, with pink spots across her body.
Uncorrupted
Uncorrupted, this Gem has turquoise-blue skin and white hair, with pink markings on her body. She also retains the spikes from her formerly corrupted form.
History
She and Biggs are shown roaming the Great North and trying to evade Jasper. She is eventually found, poofed, and taken prisoner by Jasper alongside the other monster.
She and Biggs are used by Jasper in an attempt to attack the Crystal Gems.
In "Earthlings", she is shown imprisoned in the Beta Kindergarten alongside the rest of Jasper's Corrupted army. Jasper attempts to force a fusion with her to battle Smoky Quartz, but she breaks apart from the fusion and flees from Jasper.
In "Change Your Mind", she is healed by Steven and the Diamonds at Rose's Fountain, alongside other Corrupted Gems, healing just seconds after the Heaven Beetle and Earth Beetle are both cured of their corruption; breaking the surface of the Fountain right underneath the pair as Pearl cryingly smiles and hugs Garnet, a possible implication she was a Crystal Gem. She is later seen having a conversation with an unknown Gem with thick brown hair.
TBA
Abilities
Episode Appearances
Trivia
It was confirmed at New York Comic Con 2016 that the Snow Monster and similar Corrupted Gems are types of jasper.[1]
The Snow Monster is the first Corrupted Gem to fuse with a non-Corrupted Gem (Jasper).

By extension, the Snow Monster is also the first known Corrupted Gem to fuse with any other Gem.

The Snow Monster is the first living (unshattered) Gem to be shown physically forced into fusion by another.
This Gem appears to be based on a common variety of ocean jasper.
| Image | Description |
| --- | --- |
| | The Snow Monster's gemstone is located on her chest. The hexagonal-faceted gemstone is light blue with pink and dark blue circles. It is a tetra-decahedron, specifically a truncated hexagonal dipyramid. As seen in "Gem Hunt", it has a silver ring around it, which is hidden inside her body. |
Gallery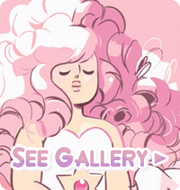 References
Community content is available under
CC-BY-SA
unless otherwise noted.