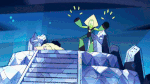 "You have to fix this!"
"Off Colors" is the 3rd episode of the fifth season of Steven Universe and the 131th episode overall.
Synopsis
Steven gets new allies.[2]
Plot
After managing to escape Yellow Diamond's attacks from the previous episode, Steven and Lars run to hide. They begin to search the outer Gem Homeworld, looking for something to eat. They are eventually spotted by an explosive robonoid. They tried to avoid it, but end up being caught by catching Steven's Gem on it's scanners, and started attacking them. Steven and Lars run behind a wall, with Lars admitting how scared he is, but were later saved by the Twins of Rutile in a tunnel and escaped from it's scanners.
Confused by the type of gems, they walk in the tunnel to a really huge yet abandoned Kindergarten. And later met other rouge gems in the kindergarten, with multiple fusions, such as a Rhodonite, a Fluorite, and a Padparadscha Sapphire, which they explained they were defective and useless to their Gem owners.
Soon they were found again by a group of robonoids, and they all went into hiding trying to avoid from being scanned. Steven and Lars hid inside an empty kindergarten hole, and Lars was being scared again. Steven cheer him up saying "it's okay to be scared" calming Lars down. But when Lars saw the Twin Rutile was about to be scanned with no escape, he went out trying to be brave, grabbed a rock, and threw it on to one of the robonoids interrupting their scanners. The two robonoids then scanned Lars again, standing absolutely still, they scanned him with no result. Since Lars is human and not a gem, he's completely invisible to the robonoids. Then Padparadscha made a late prediction, and was obvious to the robonoid who was scanning her, but Lars manage to save her by kicking it away it's blast and moved her away.
Steven tried again not being scanned with his shield, but cause no effect as it still caught his gem. Lars then grabbed a large stick, and started batting away the robonoids, then one escaped from him and blasted Steven, but it was deflected and sent to the other robonoids, destroying one after another. Rhodonite was trying to warn Padparadscha, when she realized she was being scanned, but once again, Lars went and blocked the scanners from exposing her. Finally he jumped right on top of the robonoid, and started attacking with a stick, making random shots all over the place, until he finally stabbed the stick into the lends, causing it to explode, and throwing Lars off into the wall injuring him.
Steven ran to him, seeing if he's okay, but he didn't move. All the gems were happy and impressed of Lars saving them from the robonoids, but still he did nothing. Steven placed his ear into Lars chest, trying to listen for a heartbeat.
Features
Characters
Objects
Locations
The Gem Homeworld
Abandoned Kindergarten
Music
Songs
Instrumental Songs
Trivia
Steven gains the ability to resurrect people with his tears.
This episode reveals that if "Off Colors" are spotted on the surface of Gem Homeworld, then they'll be shattered.
Cultural References
Lars makes a reference to Jurassic Park when he says for him and Steven to not move so the scanners weren't seeing them. He later refers to it as seeing a "dinosaur movie."
Continuity
This episode follows the events of "The Trial".
Errors
When Lars first sees Fluorite, the circular gem on her forehead has a pentagonal facet. For the rest of the episode the facet is triangular.
Transcript
View the episode's transcript here.
Gallery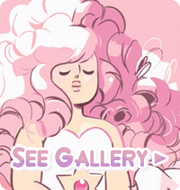 References