This article is about the episode. You may be looking for the group.
"Off Colors" is the 3rd episode of the fifth season of Steven Universe and the 131st episode overall.
Synopsis
Steven finds some unusual new allies.[3]
Plot
After managing to escape Yellow Diamond's attacks after Steven's trial, Steven and Lars wake up on the ground, at the crashed palanquin. Lars tells Steven his bones were only half broken, thanks to his bubble, and he agrees to the same. The two begin to run and decide to hide, but they both realize they have no way getting off the planet. Lars also expresses his hunger, but they are interrupted by an explosive robonoid coming towards them. The two try to avoid it, but the scanner identifies Steven's gemstone, and the robonoid begins to attack them.
Steven and Lars run behind a wall, with Lars admitting how afraid he is. Suddenly an arm belonging from below tells them to come over, and although Lars resists, the robonoid attacks and Steven tells them they have no choice. They jump into a tunnel and thank the stranger who saved them. The stranger reveals herself to be a conjoined pair of Rutiles, which surprises Lars.
Bewildered by the odd-looking Gem, Steven and Lars walk from the tunnel to a large abandoned Kindergarten. They meet the rest of the rogue Gems hiding in the Kindergarten (a Padparadscha who makes late predictions, and fusions Rhodonite and Fluorite), who explain themselves to be a rogue group of Gems, being outcast from Homeworld society for being defective, abnormal, or "off color". Rhodonite also explains if they were found by anyone, or the robonoids, they would all be shattered.
Soon, another group of Robonoids follow them to the kindergarten, and Steven tells everyone to hide to avoid being scanned. Steven and Lars hide inside an empty Kindergarten hole, and Lars begins to hyperventilate. Steven reassures Lars it was okay to be scared, and he calms down.
Lars turns around and sees the Rutile Twins about to be scanned, and says someone had to do something. He runs out, grabs a rock and throws it onto one of the Robonoids, interrupting its scanners. The two Robonoids then scan Lars again, who stands still, knowing it was okay to be afraid. However, Steven finds out that since Lars is organic and has no gemstone, he is completely invisible and unrecognized to the Robonoids' gemstone scanners.
Padparadscha goes out of Rhodonite's sight and makes a late prediction in front of Lars, oblivious, to the Robonoid that scans her, but Lars manages to save her by kicking it away its blast and moving her away.
Steven tries to avoid being scanned again by putting up his shield, but the scanner still notices his gemstone. Lars then grabs a large rock shard and starts batting away the Robonoids. One escapes from him and blasts Steven, but is deflected by his shield, and sent to the other Robonoids, destroying one after another.
Rhodonite tries to warn Padparadscha until she realizes she is being scanned, but, Lars jumps in front and blocks her exposed gemstones from the scanners. Finally, Lars jumps on top of the Robonoid and starts attacking it with a stick. The Robonoid begins shooting all over the place, nearly hitting Steven. Lars finally stabs the stick into the lens and the robonoid explodes, knocking him hard back into the wall twice, unconscious.
Steven runs to Lars, to check if he's okay, but Lars doesn't move to his shock. The Gems, not knowing of Lars' injury, are happy and impressed of Lars saving them from the Robonoids. Steven places his ear into Lars' chest, trying to listen for a heartbeat, but hears silence. Steven gasps, realizing the explosion had killed him, and he had saved them all.
Distraught at Lars' death, Steven bursts into tears. Everyone stands around in silence. Steven picks Lars up and a drop of his tears drips onto Lars' cheek. Lars's body begins to glow and turn pink from head to toe, and to their shock, he wakes up with a scar on his right eye. Surprised that Lars has come back to life and him questioning what just happened, the episode ends with Padparadscha making another late prediction.
Features
Characters
Objects
Locations
Music
Songs
Instrumental Songs
Trivia
This is the first time a human character dies and is resurrected
Steven demonstrates the ability to resurrect people with his healing tears.
This episode reveals that if "Off Colors" are spotted on the surface of Gem Homeworld, then they'll be shattered.
This episode confirms the existence of perma-fusions living in Homeworld, although they are abominated.
Cultural References
Lars makes a reference to Jurassic Park when he says for him and Steven to not move so the scanners won't detect them. He later refers to it as seeing a "dinosaur movie".
While they were wandering around Gem Homeworld, Steven and Lars stop under a giant sword that's similar to the elucidator of Kirigaya Kazuto from Sword Art Online. The only differences are the sizes and the symbols.
Continuity
Errors
When Lars first sees Fluorite, the circular gem on her forehead has a pentagonal facet. For the rest of the episode, the facet is triangular.
Transcript
View the episode's transcript here.
Gallery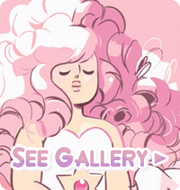 References