This article is about the group. You may be looking for the episode.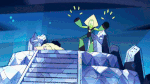 "You have to fix this!"

The Off-Colors are a group of unaligned fugitive Gems (some of which are defective or "off-color") who live reclusively in an abandoned Homeworld Kindergarten. This group includes Padparadscha, Rhodonite, the Rutile Twins and Fluorite (their presumed leader). After the events of "Lars' Head", this group is allied with Lars Barriga.
History
Padparadscha was left behind and disowned after her future vision was revealed to be defective. Since their emergence from their Homeworld Kindergarten, the Rutile Twins were isolated as a result of forming incorrectly. Rhodonite and Fluorite were ostracized for being Fusions, and fled to the abandoned Kindergartens (as Rhodonite's component Pearl and Ruby were even replaced by their Morganite after being caught fusing).
The Off-Colors, alongside Lars, are currently searching for a way to flee Homeworld and escape to Earth through the remains of the abandoned Kindergartens.
Members