This article is about the episode. For the song of the same name, see here.
"

I am not going to let you stand there and remind me of everything I hate about myself!

"
—Amethyst
"On the Run" is the 40th episode of the first season in Steven Universe, and the 40th episode overall.
Synopsis
Steven and Amethyst try out life on the road.
Plot
Steven is reading a book when the Gems come in carrying the Flask Robonoids from "Warp Tour". Steven asks what they are doing and Pearl tells him that they are going to analyze the robonoids, making sure that they can't reactivate and fix the Gem Homeworld warp so that the home Gems can't come to earth.
Steven asks what the Home World Gems want to do to Earth. Pearl tells him that a long time ago, Gems tried to do something very bad that would damage the Earth. She says that some Gems, like herself, Rose Quartz, and Garnet, felt that this was unfair to the life that already lived on Earth and vowed to defend the Earth from being damaged, even if it meant that they couldn't go to their Home World again. Steven notes that they can't go home just like the characters in the book he was reading, "The No Home Boys". Pearl then says that makes no sense, stating that they're in his home right now. Amethyst is conspicuously absent in the discussion, seemingly sulking in the corner, breaking Flask Robonoids and seemingly getting angrier and angrier about the discussion.
Steven and Amethyst then decide to go and live on the road just like the "No Home Boys", so with bindle sacks on sticks in their hands, they set out. They catch a ride to the edge of town in Jenny's Car and then jump on a train. Steven notes the hardships of living on the road and states he wants to go home. Amethyst says that she doesn't want to go back yet, but Steven says that the other Gems are probably worried sick. Amethyst retorts that Steven's home isn't her home either. Steven at first believes that Amethyst is referring to the Gem home world, but Amethyst reveals that she was actually born on Earth.
Steven asks her to explain where her home is, but she says it would be easier to show it to him. Amethyst then brings Steven to the Gem Kindergarten, an imposing canyon, covered with disused Gem machinery which Amethyst calls "Old Gem Junk". The walls of the canyon are covered with humanoid-shaped holes and Amethyst shows Steven the hole she herself came from; she explains to Steven that whilst Garnet and Pearl come from space, she was created here. Steven grows nervous, musing over all the other holes in the cliff face.
Pearl suddenly warps in. She tells the pair that Garnet told her they would be in the Kindergarten, but she refused to believe it. Pearl is furious at Amethyst for showing Steven the Kindergarten, saying that he is "not yet ready" to know of it. When Steven asks Pearl if Amethyst was really made in Kindergarten, Pearl demands Amethyst to tell her how much she told Steven. Amethyst angrily admits that the Kindergarten is a "bad place" where "bad Gems would grow more bad Gems", and that Garnet and Pearl saved the Earth from "parasites like me". Pearl stammers to Steven that she never wanted to let him know of the horrors of Kindergarten, to which Amethyst responds by attacking Pearl in a rage.
While they are fighting, Amethyst says that she feels that she is just an embarrassment to Pearl, and that Pearl wants to remind her of everything she hates about herself, she also says that she "never asked to be made". Steven gets in between them and tells them to stop fighting, when a disused Gem drill machine that had one of its legs was damaged earlier in the fight, starts to fall in their direction. Steven summons his bubble to protect himself and Pearl, but Amethyst runs away before Steven could get her in it. The machine crashes and Amethyst seems to be crushed.
Emerging from the rubble, Steven finds Amethyst, unharmed, hiding in the hole she came from, crying. Amethyst claims that she's "bad" and Steven shouldn't be around her. Steven admits that he still doesn't understand the meaning behind Kindergarten, and Amethyst replies that if he did he wouldn't want to talk to her. Steven pleads Pearl to talk to Amethyst. Pearl confesses to Amethyst that she had no idea how upset she was about her creation. Amethyst angrily responds that this was her whole purpose for existing, and that Pearl sees her as a mistake. Pearl reassures Amethyst that she doesn't think of her as a mistake, but as a "byproduct of a big mistake". Pearl quickly retracts the statement, telling Amethyst that none of it is her fault. Pearl apologizes to Amethyst; she states that Amethyst was the only good thing to have come out of the whole mess, and she thought that Amethyst was proud of that fact. The group reconciles, with Amethyst hugging Pearl. The trio departs holding hands as dark clouds circulate over the Kindergarten, and some banging noises are heard.
Features
Characters
Objects
Locations
Music
Songs
Soundtracks
Trivia
This is the second episode that Amethyst sings in, the first being "Steven and the Crystal Gems".
This is the first episode that was mostly shown out of Beach City (while on Earth).
It is revealed that Amethyst was "manufactured" on Earth, while Garnet and Pearl (and Rose Quartz) were from the Gem Homeworld.

What happened to the other manufactured gems is yet to be explained, but they could have been destroyed by the Crystal Gems, or be the corrupted gems scattered around the earth.

It is also revealed that the Homeworld Gems wanted to use the Earth for something, but Rose and the other Crystal Gems rebelled.

This might explain why the Crystal Gems have star symbols on their clothes while the other Gems have a diamond symbol or no symbol.

It is revealed that Gems could be "manufactured" from special drill-like rigs in some sort of "Kindergarten".
This is the second episode where Pearl uses her spear's ranged functionality.
Amethyst wasn't originally part of the Crystal Gems until she met Rose and the others.
This is the first time Amethyst is seen crying.
Amethyst is seen spin-dashing for the second time, at technique she is later shown to share with Homeworld Gem, Jasper.
Amethyst's whips are shown to generate a wave of energy that zips along the whips, which will cause an explosion at the end of her whips.
This is the first time Amethyst attacks Steven during a fight with Pearl.

Although initially she was doing this to keep him out of the way

Note how there was some sort of banging on metal at the end of the episode.
Garnet could've used her future vision to see Steven and Amethyst in Kindergarten.
Cultural References
The book series that Steven likes, No Home Boys, is based on the children book series The Hardy Boys and The Boxcar Children.

Both series were written before and during the Great Depression, which would explain the brothers' choice of a nomadic lifestyle.

The people-shaped holes lining the walls of the Kindergarten, Amethyst's comment that one of the holes is "her's", and the way she slides into it are references to the horror manga, "Enigma of Amigara Fault".
Twice in the episode, Steven gets attacked by a raccoon. This could possibly reference the movie Elf.
The mass production of Gems in the Kindergarten is similar to the mass production of gravediggers in Sunday Without God.
Continuity
The Kindergarten, which Peridot planned to reactivate in "Warp Tour", is visited.
Peridot's flask robonoids returned in this episode.

However, they seem to still be disabled and the liquid that they shoot seems to be more blue this time.
Errors
Amethyst threw Steven far before he landed on the train during the song, before he landed on the hard metal, yet Steven didn't even get hurt.
When Amethyst throws Steven aside before fighting Pearl, her left eye faces the opposite direction as her right eye.
In the beginning of the fight, Amethyst was holding her whip using her left hand, and after performing her spin ball, she was holding her whip using her right hand.
When Pearl asks for forgiveness, she blushes purple rather than blue.
Transcript
View the episode's transcript here.
Gallery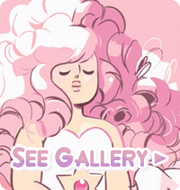 Videos
References