Jurassic World: Dominion Dominates Fandom Wikis - The Loop
Play Sound
Onion's House is the home of Vidalia, Yellowtail, Sour Cream, and Onion. It made its first appearance in the episode "Onion Friend" when Steven and Amethyst visited the residence.
Description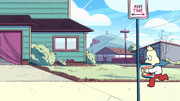 It appears to be a two-story building that is painted blue and with a dark burgundy roof. It is located past the Crab Shack and Ocean Inn. The hill with the abandoned lighthouse can be seen in the distance behind the house and over to the right.
Known Rooms
Garage Studio
The garage has been converted into a makeshift studio for Vidalia's portrait paintings. When the old garage door is open, the entrance is covered with a dark pink tarp. The painting canvas takes up most of the floor space. It has shelves of painting supplies, a sink, and a turquoise curtain in the corner. The garage is filled with canvases having Amethyst's face on them.
Kitchen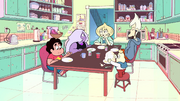 The kitchen has wrap-around counters and cupboards. A dining table stands in the middle of the floor with mix-matched chairs.
Living Room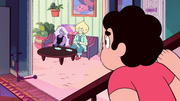 The living room is a small room on the first floor. It has pink carpet and light blue, striped wallpaper. A painting of fish hangs on the wall. There is a couch, a large potted plant, and a coffee table on the floor. Behind the couch are more paintings and a smaller potted plant hangs from the ceiling.
Onion's Room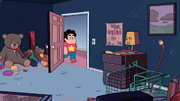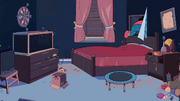 Onion's room is on the second floor. To the right of the doorway sits various items including stuffed animals, sewing supplies, and a beach ball. To the left of the door are a dresser and shopping cart. The opposite of the doorway is a bed covered in red blankets at the right corner with a trampoline and nightstand next to it. In the left corner, there is a dresser with a snake habitat on it. Next to that is Onion's television, several open books, and a briefcase full of money.
Onion's Office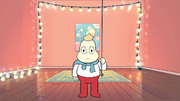 This tiny room is accessed through an air duct whose entrance is hidden by a poster in Onion's room. The room itself has a hardwood floor and pink walls. There is an outlet with Christmas lights plugged in. The lights are wrapped around the wall opposite of the entrance. On that wall hangs a painting of a fetal Onion. On the floor is a blue treasure chest sitting atop a blue-green carpet that contains his toys.
Trivia
When Sour Cream DJs, he uses up all of the electricity in the house, causing the lights to flicker on and off.
Gallery