Doctor Strange in The Multiverse o Madness - The Loop
Play Sound
"

Onion felt really sad about his summer friends leaving. But then he started to feel a little better. He remembered all the great times he had with his friends, and all the cool stuff they did together. And until next summer, he had his pal, Steven to hang out with.

"
—Steven
"Onion Gang" is the 7th episode of the fourth season of Steven Universe and the 110th episode overall.
Official Synopsis
Steven learns about Onion's secret group of friends.[2]
Plot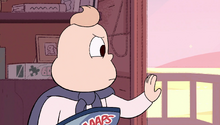 The episode starts off with Onion and Steven continually bouncing on Steven's couch. Steven sits down, tired from bouncing so much, claiming they had been doing it for 2 hours already. They go over to the kitchen to get a snack, but when Onion picks Steven's favorite limited edition Chaaaaps, Steven is slightly annoyed but lets him continue. Instead of eating the chips, Onion throws them aside, hearing the boat horn indicating his father's return from work, and leaves.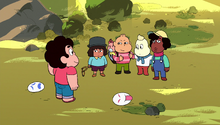 The next morning, Steven is reading on the couch when Onion knocks on the door. Steven asks if Onion wants someone to hang out with again, but he does not go inside, instead offering his hand. Steven takes it and Onion leads him outside of town. They pass by Onion's House and end up in the woods. Steven falls and looks around, asking where they are. Onion whistles loudly and three figures with masks come out, creeping Steven out and making him fall back. Steven is then introduced to Onion's other friends: Pinto, Garbanzo, Squash, and Soup. They soon go on adventures throughout the town: riding around on a soapbox car and playing a game with a trenchcoat.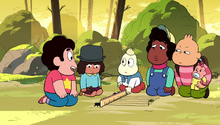 After heading back into the forest, Onion draws a racetrack in the dirt. Soup takes off his soup pot hat from which insects crawl out, startling Steven. They soon pick their own bugs and start racing them and Steven ultimately wins. The others encourage Steven to squish his beetle, but he cannot bring himself to do it. Steven soon runs home and checks his cell phone to see who else is available to hang out with. Unable to find anyone with free time, Steven relaxes in the Beach House alone. Eventually, Onion comes up to Steven to show him something. Steven tells Onion to leave him alone. Onion begins to leave, but bursts through the screen of the front door, insisting, but Steven again rejects his offer, believing that Onion only hangs out with him out of pity and that he should instead spend time with his other friends. Onion leaves, but not before he leaves the beetle from earlier today, still alive. Steven is surprised, and he runs back to the woods to apologize to Onion.
He rushes through the bushes to find that Pinto, Garbanzo, Squash, and Soup are packing up. Steven apologizes for his behavior earlier, but Onion hands him a leaf, making him realize that Onion's friends do not live in Beach City. Since the fall was starting, it was time for them to go home. The three hug Steven and he thanks them for letting him hang out with them. They drive away on their boxcar as Steven and Onion wave goodbye. Steven goes over to Onion, who is looking noticeably saddened by his friends' departure. Steven comforts him, understanding that Onion wanted him to come over because he had one last chance to have his friends all together. However, he reminds Onion that he would always have memories of the good times they had together, and until next summer, Steven says he has him. Tearing up, Onion hugs Steven as the iris closes on both of them.
Features
Characters
Objects
Locations
Music
Instrumental Songs
Trivia
It is revealed that Onion does not know anybody his age in Beach City, resulting in his loneliness throughout the year until summer.
Zach Callison and Lamar Abrams are the only voices throughout the episode.
Continuity
In "Same Old World", Steven shows Lapis that the leaves are just beginning to change. In this episode, the leaves are beginning to change and Connie's going back-to-school shopping, indicating that a couple of months have passed since the events of that episode.

Coincidentally, Yellowtail appears in Onion's house. Since in his house, there is a "Dad's Home" list that indicates Yellowtail will be home on September 10 to 17 or 24, and since the episode aired on September 15, it is another reference that Steven Universe takes place in real-time.

It's shown that Vidalia still likes to paint, as shown previously in "Onion Friend".
Pearl's framed picture on the side of the fridge, previously seen in "Monster Buddies" but destroyed by the Centipeetle Mother, makes a reappearance. However, she is in her pre-regeneration outfit.
Cultural References
Onion, Steven, and his friends all piling on one another's shoulders, and putting on a trenchcoat to look like an adult or a tall man is a common TV trope.

Similarly, the Gang's game of dressing up in a trenchcoat and then revealing themselves in front of others is a rather lewd reference to the stereotypical flasher, wearing nothing but a trenchcoat and exposing themselves in public.
However, in the case of the Gang, the flashing is more innocent as the joke involves them instead taking flash photographs of the person's reaction.

This episode makes a number of references to the video game, Undertale.

Soup loosely resembles the character Frisk.
The bug race in the show references its snail racing minigame, Thundersnail.
The scene where Steven chooses to spare the beetle that won the bug race also parallels Undertale's mercy mechanic, in which the player can choose not to fight an enemy and instead spare them.
Steven makes another reference to Undertale when he says, "I guess this round of Onion Tales has come to an end.".
Finally, this episode was released on the game's one-year anniversary, although this could just be a coincidence.

The way Yellowtail is posing in his underwear for Vidalia's painting is a reference to a common trope in classical paintings of nude or otherwise scantily-clad women reclining on various pieces of furniture.

Specifically, his pose is very similar, if not identical, to the pose by the character Rose in the movie Titanic during the famous "Paint me like one of your French girls." scene.

Garbanzo only says his name, similar to a Pokémon.
The three masks that Soup, Squash, and Garbanzo are first seen with resemble the masks (and faces) of Lock, Shock, and Barrel from The Nightmare Before Christmas.
Errors
The bug that Steven picked was standing outside the line that Onion drew in one scene and is later seen inside the line in the next scene.
Transcript
View the episode's transcript here.
Gallery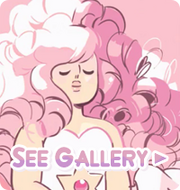 Videos
References