Line 84:
Line 84:
 

<gallery>

 

<gallery>

 

Steven Universe - Onion Trade (Sneak Peek)|Sneak Peek

 

Steven Universe - Onion Trade (Sneak Peek)|Sneak Peek

 
+

Replicator Wand - Onion Trade - Steven Universe - CN

 

</gallery>

 

</gallery>

 
 
---
Revision as of 23:25, 9 October 2016
"Onion Trade" is the 15th episode of the first season of Steven Universe, and the 15th episode overall.
Official Synopsis
A toy trade between Steven and Onion escalates to epic proportions.
Plot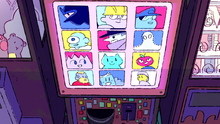 Steven finds Amethyst outside and tells her that he lost his "G.U.Y.S." toy. After hearing this, Pearl tells him that he can't find his things due to his messy room. She then opens his window, allowing a seagull to fly out. Amethyst stands up for Steven, stating her room is just as messy, and she is still able to find everything she is looking for. This remark causes an argument between Amethyst and Pearl, as Steven quietly leaves. He walks solemnly to the car wash, and when he gets there, his father sprays him with the hose, ready to play with him. However, Steven, who is not in the mood to play right then, tells Greg that he lost his toy that Greg got him last summer. Greg, who is unable to remember this toy, decides to give Steven a bag of quarters so he can win himself a new "Ranger Guy" from Funland Arcade.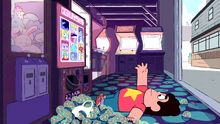 After numerous attempts to obtain "Ranger Guy", Steven has only won several "Dave Guys". He then realizes that Onion has the "G.U.Y." he is looking for. He follows him with the hopes of trading all the toys he has for the "Ranger Guy". After Onion refuses to trade, Steven goes back to the Temple and talks with Amethyst, who gives him Pearl's Replicator Wand.
Steven once again attempts to trade for "Ranger Guy" by replicating "Dave Guy". Eventually, Onion comes to Steven asks him for the wand instead. Ultimately, Steven gives in, handing Onion the wand for "Ranger Guy". The wand is to Onion's liking, and he accepts the trade. As time passes, Onion begins to replicate countless numbers of G.U.Y. toy balls. When the Gems question the situation, Steven reveals how he traded the wand for Ranger G.U.Y., and Pearl asks why he did not just use it to replicate the toy. The Gems, bombarded by Onion's attacks, fail to coerce Onion into handing over the Replicator Wand. While the Gems are distracting him, Steven is able to jump on Onion and make him  drop the wand. He realizes that Onion had stolen his Ranger Guy, but lets him keep it because he realizes all Onion does is "sit around and wait for his dad". Garnet  destroys the Replicator Wand, which results in the disintegration of every replicated item.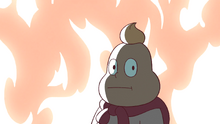 Amethyst then asks if all the stuff she copied disappeared as well, to which Pearl confirms, leaving Amethyst disappointed. As the Gems walk off home, Greg approaches his son and compliments him on his actions. Greg then asks him why he went through all that trouble for a toy. Steven responds that he wanted it for the memories but states that he now has "new memories — horrible, horrible memories".
Features
Characters
Objects
Locations
Trivia
Cultural References
The ketchup packets Onion threw had "Hynes" written on them. This is a reference to the popular condiment manufacturer, Heinz, as well as the last name of character designer, Danny Hynes.
It's possible that the G.U.Y.S. (Guys Under Your Supervision) toy line of rubber figures is a parody of MUSCLE (Millions of Unusual Small Creatures Lurking Everywhere), a similar toy line based on the Kinnikuman manga.
Steven's advice for surviving Onion's Dave Guy pool is "try to act like a rich duck", referring to Scrooge McDuck and his tendency to swim through the money in his massive vault, like in theme to the show "DuckTales".
While Steven is telling Amethyst about "G.U.Y.S." and it shows his face surrounded by their portraits, the visual is referencing the Mega Man stage select.

It could also be a reference to the Brady Bunch theme song.

Steven mentions a G.U.Y.S toy called Eye Guy, which shares its name with one of the alien forms of Ben Tennyson from the Ben 10 franchise.
Continuity
Errors
In the first scene, after Steven opens the front door, the door is suddenly closed in cuts to close-up shots, then it re-opens itself in overhead shots.
When Greg sprayed Steven with hose water, on the next scene, the place became flooded, which is impossible since the amount of hose water sprayed onto Steven isn't enough to flood the place.
In one scene, Garnet's left gem was on the placement of the right gem.

Garnet's gem was on her gauntlet, while it should be on the palm of her hand.
The star on it was also missing.
Transcript
View the episode's transcript here.
Gallery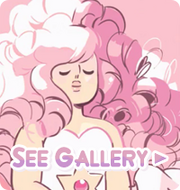 Videos
References
Community content is available under
CC-BY-SA
unless otherwise noted.