"Onion Trade" is the 15th episode of the first season of Steven Universe, and the 15th overall episode of the series.
Synopsis
A toy trade between Steven and Onion escalates to epic proportions.[1]
Plot
Steven finds Amethyst outside and tells her that he lost his "G.U.Y.S." toy. Pearl, overhearing this, tells him that he cannot find his stuff due to his room being so messy. She then opens his window allowing a seagull to fly out. Amethyst stands up for Steven by stating her room is just as messy and she is able to find everything, she is looking for. This statement sparks an argument between Amethyst and Pearl as Steven walks quietly away. He walks solemnly to the car wash and when he gets there, his father sprays him with the hose ready to play with him. However, Steven, who is not in the mood to play, tells his dad that he lost his toy, his father got him last summer. His father, who unable to remember this toy, decides to give Steven, a bag of quarters so he can win himself a new "Ranger Guy" from Funland Arcade.
After his numerous attempts to obtain "Dave Guy" fail, he realizes that Onion has this particular "G.U.Y." He follows him with the hopes of trading all the toys he has for the particular "Ranger Guy". After Onion refuses to trade, he goes back to the Temple and talks with Amethyst who gives him Pearl's Replicator Wand.
The wand is to Onion's liking and he accepts the trade. As time passes, Onion begins to replicate countless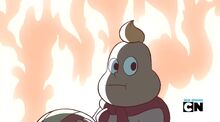 numbers of G.U.Y toy balls. Steven reveals he traded the wand for Ranger G.U.Y, and Pearl asks why he did not just use it to replicate the toy. The Gems, bombarded by Onion's attacks, fail to coerce Onion to relinquish the Replicator Wand. As the Gems have Onion's attention, Steven is able to jump on Onion and cause him to drop the wand. He realizes that all along, Onion had stolen his Ranger Guy and in the end, lets him keep it because he realizes all Onion does is "Sit around and wait for his dad." Garnet then destroys the Replicator Wand which results in the disintegration of every replicated toy and item.
Amethyst then asks if all the stuff she copied disappeared as well, to which Pearl responds "Yes," leaving Amethyst disappointed. As the gems walk off home, Greg approaches his son and complements him on his actions. Greg then asks him, why he went through all that trouble for a toy. Steven responds that he wanted it for the memories but states that he now has "new memories — horrible, horrible memories."
Features
Characters
Objects
Locations
Trivia
This is the first time Onion talks. This reveals that Onion does in fact speak, however, he doesn't speak English, but speaks gibberish.
This is the first time Yellowtail appears in the series.
This is the last episode to air on a Monday before [adult swim] moved its start time up to 8:00 PM.
This is Onion's first and thus far only major role.
This is the first episode where a human is portrayed as the primary antagonist.
Cultural References
Continuity
Onion is shown riding and later wrecking the same scooter that he won in "Arcade Mania."
Errors
In the first scene, after Steven opens the front door, the door is suddenly closed in cuts to close-up shots, then it re-opens itself in overhead shots.
In one scene, Garnet's left gem was on the placement of the right gem.
Transcript
Click Here to see transcript.
Videos
Gallery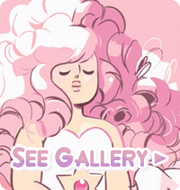 References
Community content is available under
CC-BY-SA
unless otherwise noted.