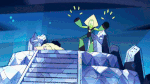 "You have to fix this!"
Padparadscha Sapphire is a Gem living in an abandoned Kindergarten facility on the Gem Homeworld amongst other defective Gems. She made her debut in "Off Colors".
Appearance
Padparadscha Sapphire is a gem with a peachy orange complexion and short, pale pink hair with bangs covering her eye. Her attire consists of a yellow, floor length gown with a lighter collar and sleeves and white, elbow-length gloves. Her skirt has a reddish upper layer with an off-white trim and is tied back into a bow. Her gemstone is located on the back of her right hand. 
Personality
She has a cheerful and kind personality. Despite being a Sapphire, her predictions are always late, leading her to comically announce events that have already transpired as if they have yet to happen.
History
She was considered defective, because her "prediction" visions are of events that have already occurred.
Abilities
Unique Abilities
Retrocognition: Rather than having visions of the future, Padparadscha Sapphire's visions are of events in the recent past, making her predictions very late.
Gemology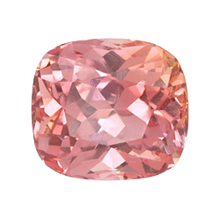 Gemstone Information
The term "padparadscha" (also known as Padmaraga) is derived from the Sinhalese word for aquatic lotus blossom, which has an unusual salmon color.

Many agree that padparadschas straddle the color boundary between pink and orange.

Padparascha sapphires are mainly found in Sri Lanka, as well as Madagascar and Tanzania.

Some experts insist that true padparadschas can come only from Sri Lanka, which, for centuries, was the only source of this coveted stone.
| Image | Description |
| --- | --- |
| | Padparadscha Sapphire's gemstone is located on the back of her right hand, featuring a triangular facet. The front and back are symmetrical. It is an octahedron, specifically a truncated trigonal dipyramid. |