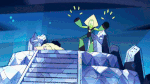 "You have to fix this!"
"Pearl's Robot" is a robot built in "Back to the Barn" to compete against Peridot in who leads the construction of the drill. Pearl controlled it to fight against Peridot's Robot. Currently, the robot is destroyed due to Peridot.
Appearance
It has a small spaceship as the body with a star sticker and a traffic cone that mimic Pearl's nose. It has long appendages with circular hand and 3 fingers, the feet are wheels attached to two metal beams going to the main hub of the spaceship.
Abilities
Pearls robot, while not very strong outright, is shown to be very quick and nimble, much like Pearl herself. It is also capable of firing a powerful laser from its cone.
History
Pearl made her robot out of spare parts in Greg's Storage Shed. She used it then to contest peridot in the Robolympics.
Trivia
Pearl's robot design and concept likely references the two-wheeled automobile robots from the anime Rideback. This is also supported by the anime's protagonist being a retired ballet dancer that uses the rideback robots to perform ballet-like moves, which matches Pearl's ballet dancer theme and her robot's introductory dance.