Pearls are servants on Homeworld, acting as custom-made Gems with the purpose of serving their owner. All Pearls shown so far, with the exception of Pink Pearl and Pearl under White Diamond's control, have been voiced by Deedee Magno-Hall.
Role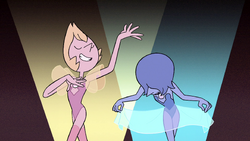 Main article: Caste System
In the strictly regimented Homeworld hierarchical system, Pearls function as attendants to high-ranking gems. They combine the duties of a variety of different service roles including that of a lady-in-waiting (tending to and making requests on behalf of her master), footman (opening doors and announcing their master's arrival), and secretary (carrying out clerical tasks). While not primarily an entertainer like a Spinel, Pearls do nonetheless act as companions and provide simple luxuries such as singing, dancing, and projecting visual entertainment via holograms. One of their most unique functions is their ability to hold and store inside their gem a seemingly limitless number of their owner's belongings.
Pearls are seen as status symbols of the gems who own them. While Peridot describes them as "someone's shiny toy" and also mentions that there are hundreds of them on Homeworld, it is nevertheless implied that they're reserved only for noteworthy gems of high social standing such as the Diamonds and aristocrats like Sapphires. She underlies this by commenting that the idea of a Peridot owning a Pearl is unprecedented. Pearls may also be earned by committing a significant act of merit, as "Eyeball" believed she would be rewarded with her very own Pearl for capturing Rose Quartz.
Pearls live to serve and their identity is fundamentally tied to their owner. They are expected to be utterly submissive and obedient, simply waiting on their owners and not acting independently in any way. Yellow Pearl even claims that her feelings "are irrelevant." When formed for the first time, their gem emerges from a holographic oyster after they learn their superior's preferred name. They are expected to consistently exhibit subservience by remaining silent unless spoken to and remaining a few paces behind their superior when walking with them. It is physically impossible for a Pearl to disobey a direct order from their owner,[1] and are normally dismissed with the phrase "that will be all" generally followed by the owner clapping her hands twice when they are no longer needed. There are exceptions to these rules depending on who the Pearl belongs to, such as those of the Diamonds. Yellow Pearl is able to get away with talking down to Gems higher in the caste system whenever she feels they would disturb Yellow Diamond, and clearly relishes the opportunity to do so. White Pearl was seen (and feared) as an extension of White Diamond's will, making even the other Diamonds tread lightly in her presence.
Pearls were made and repaired in The Reef, which also served as a boutique of sorts.
Physical Characteristics
Physically, all Pearls appear to have a slender, androgynous form and a beak-like nose. They can also be "customized" by owners in color and appearance, allowing them to have very noticeable differences from each other, unlike most other types of gems who would normally wear near identical uniforms and have the same colors.
Most Homeworld Pearls tend to wear some form of skin-tight, balletic clothing, such as a singlet or body suit, with a flowy sheer material attached to reflect a certain element of their owners clothing. The position of their gemstone also matches that of their owner.
Main Pearls
Other Pearls
Pearl Fusions
Trivia
References
↑ Joe Johnston's Tumblr
"Q: Sir, but how do we know everything Pearl did for Rose wasn't just that Pearl-caste-programming kicking in because in truth, Pearl knew Rose was infact her Diamond. Sure Pearl had feelings for her, but how do we know whether or not the servant mentality still didnt play a role in Pearl's allegiance with Rose.
A: I'll put it this way, if Pink Diamond we're to say "Pearl, I ORDER you to do such and such…" because she's her Pearl, she would have to do it. Of course her servant mentality played a role in her allegiance to Rose, how could it not. BUT, that relationship clearly grew and changed as naturally as any relationship will, and it wasn't due to Pink Diamonds powers or influence..."
↑ "they would make a bigger pearl with combined colors" – ian jq on Twitter