"

Very funny, Pink.

"
—Nosey, "Familiar"
Pebbles are tiny Gems who inhabit the walls and floor of Pink Diamond's Palace. They debuted in "Familiar".
Appearance
The Pebbles are miniature in size and have shades of gray skin and eyes black in color. The Pebbles vary greatly in appearance compared to other Gem types. The gemstones of the Pebbles are round and come in different shades of gray.
Personality
The Pebbles were shown to be good friends with Pink Diamond and, by extension, Steven. This friendship is demonstrated when the Pebbles are overjoyed upon "Pink Diamond"'s (Steven's) return to her palace.
The Pebbles acted timidly around the other Gems who entered Pink Diamond's room, running to hide for unknown reasons. Eventually, the Pebbles grew accustomed to the presence of Pearl, Garnet, Amethyst, Connie, and even Blue Diamond. The Pebbles grew enough trust to obey directions beyond Pink Diamond when building furniture. In her short time with it, Fisto developed a complete fixation to Steven's phone.
Abilities
The Pebbles seem to have standard Gem abilities.
Skillset
Skilled Craftsmanship and Tailoring: The Pebbles are shown to be skilled builders and tailors. The Pebbles can make a functional outfit out of nearby materials with ease and impressive speed. One Pebble has demonstrated to build the entirety of a small house within Steven's mouth in a few seconds.
Shapeshifting: The Pebbles can shapeshift their hands into hammers, scissors, sewing needles, hooks, and blades. Such tools go beyond their appearance and seem to match its assumed durability as well.
Members
| | | |
| --- | --- | --- |
| Image | Gemstone | Physical Information |
| | Noggin's gemstone is located on the back of her head. | Noggin has grey skin, an oblong head, and wears a purple dress. |
| | Chesto's gemstone is located on her chest. | Chesto has purple-grey skin, a boomerang-like head, and wears a light greenish-blue dress. |
| | Patch's gemstone is located in place of her right eye. | Patch has purple-grey skin, a boomerang-like head, and wears a yellow top with an orange skirt. |
| | Footy's gemstone is located in place of her right foot. | Footy has yellowish-grey skin, a round head, and wears a reddish-pink dress with a pinkish-red bow on her front waist. |
| | Brainy's gemstone is located on the top of her head. | Brainy has grey skin, a large, oval-shaped head, and wears a light blue dress with a white apron and a greenish-blue bow in the back. |
| | Nosey's gemstone is located where her nose would be. | Nosey has grey skin, a boomerang-like head, a pink dress, and a pink bow on the back of her dress. |
| | Fisto's gemstone is located in place of her left hand. (In parts of "Familiar", it instead replaces her right hand. This is likely an animation error.) | Fisto has grey skin, a round head, wears a green coat with similarly-colored shoes and hat, and lime-green pants. (This Pebble is voiced by Zach Callison instead of Susan Egan.) |
| | Unlike the other Pebbles, the Baby Pebble does not have a gemstone. | The Baby Pebble was accidentally created when a drop of sweat fell from Steven's face onto a rock-like object. Her entire body looks like an actual pebble (with the addition of arms, legs and a face). This is because, unlike the other Pebbles, she is not a Gem, but rather a rock that came to life (similarly to how Watermelon Stevens are scentient watermelons). However she still works alongside the other Pebbles. |
Role
Pebbles have the job of building and sewing things, such as beds and clothes. Like Bismuths, they are adept at shapeshifting their limbs into any tool they require.
Episode Appearances
Trivia
In "Catch and Release", Peridot uses "pebble" as an insult against Steven. The term may be referencing the Pebbles and imply the Pebbles have a low status on Homeworld, even lower than a Pearl. Squaridot also commonly uses "pebble" as an insult in Save the Light.

This status appears to hold true, as the Pebbles only serve as construction and tailor workers that likely follow directions beyond Pink Diamond from those considered even low-class or abnormal (Garnet, Amethyst, Pearl, and Connie).

Baby is the youngest Gem in the franchise, at around two years old as of Steven Universe: The Movie.
The Pebbles creating a Pink Diamond outfit for Steven is a reference to the scene in Cinderella where her mouse friends help create a dress for her to wear at the ball.
The Pebbles are voiced by Susan Egan and Zach Callison, who are the same voice actors who voice Rose Quartz/Pink Diamond and Steven respectively.
Fisto (the Pebble voiced by Zach), is the first non-corrupted full gem to have a male voice actor.
Unlike the other Gems seen thus far, pebbles are not named after a type of mineral. The term "pebble" is used to denote grain size rather than type/composition. According to the Wentworth scale, different types of pebbles have a particle size ranging from 4 to 65 millimeters.
They are the smallest non-corrupted Gems to date.
It is implied during the song "Familiar" that Pink Diamond created some of the Pebbles to keep her company.
Gallery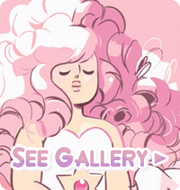 Community content is available under
CC-BY-SA
unless otherwise noted.