Jurassic World: Dominion Dominates Fandom Wikis - The Loop
Play Sound
"

You pick up a job to buy a house, or raise kids, or to... impress your dad. You work away your life and what does it get you? ...You get cash. Cash that can't buy back what the job takes, not if you rode every seahorse in the world.

"
—"Frybo"
Click
here
to see more of Peedee Fryman's quotes.
Peedee Fryman is a recurring character who made his debut in "Frybo", and is the son of Mr. Fryman and the younger brother of Ronaldo Fryman. He helped run his family's restaurant Beach Citywalk Fries and is currently running his own food truck, Hot 2 Tot.
Appearance
Peedee is short in stature and has fair skin and blond, wavy hair on the top of his head that resembles steak fries. He is also missing an upper tooth. He wears a white tank top, cargo shorts, and yellow slip-on sandals.
As of Steven Universe: The Movie, he is taller and now wears a white button-up shirt, a beige jacket, and khaki pants. He still wears his yellow slip-on sandals.
Personality
Overly serious, occasionally cynical, highly responsible, and inordinately dramatic, Peedee is unlike the average child his age. He has an outlook matching that of a world-weary soul, which leads to moments of profound contemplation. Driven by his love for his family and his work, he takes his job at Beach City Boardwalk Fries very seriously. He wishes he could "be a kid" like other children, but, for a long period, his desire for his father's approval barred him from being able to enjoy his childhood fully. However, as a result, Peedee appears to be trusted by his dad enough to be able to close up officially and run the shack on his own, as opposed to his older brother Ronaldo, who is fairly reckless.
Peedee is also highly excitable— in "Frybo", he was prone to hysterics even before the situation got dark. Even though Steven was dressed in a very obvious disguise in "Keep Beach City Weird", Peedee still mistook him for a real snake-person until he slipped out of the costume. He is also shown to be very attached to the shop, as shown in the episode "The Return" when his father had to pull him physically away from the counter during the evacuation of Beach City.
History
After informing his dad of his desire to be a part of the Fryman family business, Peedee is given the job of wearing the Frybo mascot costume. In the episode "Frybo", Peedee is attacked by several aggressive seagulls while wearing it. As he frantically runs around attempting to escape the birds, he bumps into Steven. Peedee manages to chase the seagulls away after swinging the costume's head at the flock, at which point Mr. Fryman steps out of the shop and reminds his son of his job of being Frybo. After Mr. Fryman leaves, Peedee expresses his frustration to Steven, wishing there was a way for the costume to do its job without him in it. Steven eventually decides to put a Gem shard into the costume, bringing it to life. The dancing costume fools Mr. Fryman, and Peedee excitedly leaves with Steven after telling it to "go make people eat fries." The two boys head over to Funland Arcade where they go on the rides. Peedee discovers he no longer enjoys them, and gloomily talks with Steven about the unmotivating nature of having a job. They head back to the fry shop where they discover the Frybo costume attacking people and forcing them to eat fries. Pearl arrives but is blinded by a torrent of ketchup from Frybo. As Frybo advances toward them, Peedee swings a stick at it while expressing his hatred of the costume, much to Mr. Fryman's surprise. Frybo is eventually defeated by Steven and his army of clothes which he animated using the other Gem shards. Pearl, Steven, Mr. Fryman, and Peedee later gather at the beach where they set the Frybo costume on fire before pushing it out to sea. Peedee asks his dad if he intends to get another costume, to which he replies that he does not need another Frybo because he has him.
Peedee gets Steven some fry bits at the shop. Like his dad and brother, he is enthralled by Steven's cat fingers.
Peedee and Mr. Fryman buy some donuts at the Big Donut.
Peedee is seen in the crowd of residents at the beach listening to Mayor Dewey's speech about the summer.
Peedee and the other residents gather at the beach where they are surprised at the sudden disappearance of the ocean. At the end of the episode, they celebrate Steven's return with the ocean.
Peedee is annoyed at having to once again cover for his brother at work who is busy with his paranormal research. Later on at the shop, Peedee notices Ronaldo is depressed. He begins to strike up a conversation when they are suddenly greeted by a "snake person". Ronaldo's gloom quickly turns to hysteria as he knocks out the "snerson" with a potato and takes him to the lighthouse. He studies his captive as Peedee fearfully watches on with a camcorder. Ronaldo hands Peedee a potato as a precautionary measure, who breaks down in tears. As Ronaldo attempts to calm him, the Crystal Gems burst into the lighthouse looking for Steven. While the Gems engage Ronaldo in a one-sided fight, Peedee is surprised to see Steven struggle out of the snake costume. Steven ends the fight and explains that he was trying to inspire Ronaldo to be weird again. Ronaldo is crushed, realizing his theories about snake people are false. Peedee is able to help him formulate a new theory, however, reinvigorating his brother's spirit. Satisfied that Ronaldo is once again content, Peedee leaves the lighthouse with the Crystal Gems.
Peedee gets Steven some fry bits at the shop.
Peedee takes Steven's order at the fry shop and then yells at Ronaldo for a double order of hash browns. Peedee tells Steven that he and his dad are restocking all of the condiments and that he gets to clean the bottles. Peedee says that they are supposed to wash the bottles twice, but he washes them three times because "Odd numbers just feel cleaner.". Steven asks Peedee if he is going to the fireworks show, to which Peedee replies yes, and is excited because they are going to launch the blue fireworks which are his favorite. Peedee is later seen watching the fireworks with his dad.
Throughout Beach City's time with no power, Peedee is seen with the other Beach City citizens. Peedee is angry when Mayor Dewey said the power would be back on, but it isn't. Peedee helps other Beach City citizens push over Mayor Dewey's Van when he runs and hides in it.
Peedee gives Steven fry bits when seeing him coming towards the shop. Peedee later prepares to take out a bag of trash, the glass in the shop breaks in front of him due to the Gem Warship's approach towards Earth. At night, when Beach City has to evacuate, Peedee hangs onto the fry shop's counter, asking if they are coming back while his dad tries to pull him off. He later gets out of the car with Ronaldo and his father to see if Steven is okay after flying out of Greg's Van.
Peedee can be seen walking with Kiki as the town cleans up the Gem Warship mess.
Peedee appears in Ronaldo's documentary, where he often acts as the camera-man and the voice of reason to his brother. Exclusive footage from Ronaldo shows Peedee, the night of the invasion, hanging onto the fry shop counter, wailing.
Peedee sits with his brother to watch Jamie's play, and cheers for Mayor Dewey when it is over.
Peedee is seen in the audience at the second Beach-a-Palooza.
Steven imagines Peedee will be up for his morning jog and get a donut when the Big Donut opens at 7:00.
Peedee is seen in the audience at the announcement for Guacola with Ronaldo.
Peedee looks concerned as he watches Onion attempt to light one of the roller-coasters on fire.
To Peedee's dismay, Steven orders "off-menu" at the fry shop so Peedee goes into the back to see what he can find for Steven. Peedee comes back excited, showing Steven that he found mozzarella sticks. According to Peedee, they were in the back of the freezer. When the Restaurant War starts, Peedee wears a pizza costume and stands outside of the fry shop, ashamed. Peedee explains "Years ago... my dad and Kofi signed an agreement to not steal each other's business, but when I fried up those mozzarella sticks, I re-ignited the hot oil of war." At the Temple, Peedee tells Steven and the other kids that there is no way to end the war. Peedee later is in disbelief when Ronaldo states that he has a girlfriend, and is shocked to find out that he was serious. Peedee and his family enter Steven's restaurant and are later happy when the war comes to a close.
Peedee is seen sitting by the fry shop counter reading a newspaper.
Peedee is hugged by Ronaldo and his father after Zoltron (Steven) tells Ronaldo that deep down his father loves him.
Steven wonders if Peedee will hang out with him, but the latter texts him saying "can't hang out. End of summer rush."
The city board handed Peedee Bill Dewey's truck, which he turned into a tater tot stand called "Hot 2 Tot".
He is seen with Padparadscha during Steven's performance, with a confused expression while Padparadscha talks to him.
He makes a cameo working at Beach Citywalk Fries while Steven and Spinel look for Amethyst. He is later seen giving fries to Steven and Amethyst.
Peedee was quickly shown standing outside the Big Donut, waving goodbye to Steven as he left Beach City.
Relationships
Fryman is Peedee's father and boss. Peedee wishes to gain respect and admiration from his father by working hard at the fry shop, and Fryman finally recognizes his son's wishes at the end of "Frybo". It is shown that they have developed a stronger father-son relationship since then, with Peedee and his dad partaking in more activities together, such as watching fireworks together on New Year's Eve as seen in "Maximum Capacity". In "Political Power" and "The Return", it is revealed that Mr. Fryman believes Peedee is responsible and trusts him to run things on his own, saying he can take care of himself, unlike his older brother, Ronaldo.
Ronaldo is Peedee's older brother and co-worker. It appears that while Peedee is serious and cynical, Ronaldo is much more easy-going, and far less concerned with his job due to his obsession with the paranormal. This is touched upon in "Keep Beach City Weird" in which it is revealed that Peedee often covers for Ronaldo at work when his older brother believes he has found a new lead in his paranormal research.
Despite having different work ethics, Peedee is dearly devoted to his older brother, and while he does not necessarily believe in Ronaldo's conspiratorial theories, he indulges his interest to ensure he stays happy. When he helps Ronaldo interrogate a snake-person (actually Steven in disguise), he breaks down in tears when Ronaldo suggests that Peedee might have to "take [Ronaldo] out" should he become infected with "amphibinoids." Upon seeing his brother devastated that his theories held no ground, Peedee quickly leads Ronaldo in a new direction with his research, revitalizing his brother's spirit and (ironically) helps him discover the true plan of the Gem Homeworld with his "Great Diamond Authority" theory.
Before the events of the episode of the same name, the inanimate mascot costume was a source of much grief to Peedee. He did not like wearing it, partly because it cut into his free time and partly because it attracted vicious seagulls who attacked the costume because of the resemblance to actual fries. When Frybo becomes alive due to the Gem shard put inside of it and transforms into a fry-monster, Peedee's feelings for the costume takes a turn for the worse - much like the other residents of Beach City he is terrified of it. Unlike his father, he was not sad to see Frybo being given a Viking funeral. He was in fact quite happy to be rid of the costume once and for all.
Steven and Peedee are very close friends, often visiting Beach City Funland together. However, Steven being more and more involved in "magical Gem stuff" and Peedee being more and more involved with his father's business leaves them less time to spend with one another. Though they play less now, he still considers Steven his close friend, whom he can confide in.
Episode Appearances
Trivia
He was for a while thought to be named "Petey" due to a closed captioning mistake.[citation needed]
His hairstyle looks similar to steak fries, while his brother's resembles curly fries.
Blue fireworks are his favorite type of fireworks, as seen in "Maximum Capacity".
According to the comics, Peedee and Ronaldo have formed a musical duo together called "Frying Saucer Landing", in which they both play the theremin. He also plays clarinet, according to the 2018 San Diego Comic-Con poster.

He tends to clench his shirt in his hands when nervous or worried.
Peedee is shown to have brown eyes, as seen in a short scene in "Keep Beach City Weird".[1]
Peedee and Ronaldo's names are wordplays on the real-world restaurant McDonalds' mascots, Peedee being a wordplay of Speedee and Ronaldo of Ronald McDonald, respectively.
How Peedee's name is spelled depends on the source. Various crew members, crew art, and the song "Peedee's Blues" spell it "Peedee", while storyboards and the credits spell it "Pee Dee".
The name "Peedee" is the spelling of "PD", which is the abbreviation of "Pink Diamond".
A cut scene from "Joking Victim" shows Peedee disdained and angered over Steven suggesting combining donuts and fries together, something Mr. Fryman says he gets from his mother.[2]
Galleries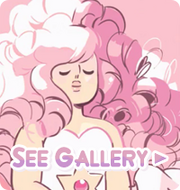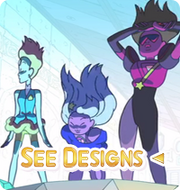 References