Peribot is a robot built by Peridot in "Back to the Barn" to compete against Pearl in the "Robolympics", a tournament created by Steven to decide between Pearl and Peridot on who would lead the construction of the Gem Drill.
Appearance
Peribot is a large green mech possessing a vaguely crablike appearance. The robot has at least three shades of green and is stout in stature. It has short legs that have green boots similar to Peridot's, and the arms are slightly longer with clamps/pincers for hands. The main body is a lime-green bipyramid with a small opening in the center where Peridot sits. Two gray cones stick out of the back of the diamond, and there are two tires used as the joints for the arms as well. How it is piloted is unclear, since the cockpit controls are never seen and Peridot can operate it with her hands free.
Equipment
As opposed to Pearlbot, Peribot focuses less on finesse and agility and instead on brute strength. The two clamps that serve as its hands have enough destructive strength to crush boulders of equal and greater size, and its short stature is used as leverage to support its arms. Despite its appearance, the robot's top running speed is enough to keep pace with Pearlbot. Its design also does not hinder its mobility too much, as Peridot was able to make it do a handstand, and spin like a top, and it has enough dexterity to run as fast as Pearlbot without the need for wheels.
It is also equipped with two missile launchers, located on the bottom two facets of its back, and its legs contain coils, which it relies on to jump due to its low center of gravity.
In case of an emergency, the tubing of the arms can serve as an escape tunnel.
History
Peridot makes her robot out of spare parts in the Barn. She uses it to compete against Pearl in the Robolympics.
It is briefly seen in the background of the scene at the Barn.
Peridot uses the Peribot to attack the Crystal Gems in an attempt to steal back the Diamond Communicator, but it is badly damaged by the Crystal Gems in the struggle.
After moving into the Barn, Peridot said she would repair the large hole made by Peribot.
Trivia
Peribot's posterior rocket weapon may be a reference to Astro Boy.

However, Astro possesses machine guns in his posterior rather than rockets.

Despite its name, it is not actually a robot, as it requires a pilot.

It being called a robot is due to it fitting within the trope of a mech or mecha, which are also referred to as (giant) robots despite being piloted.

The body of the Peribot bears resemblance to the Diamond Communicator.
The springs used to enhance its jumping power are similar to the ones used by Marvel hero Frog-Man.

It is also similar to Inspector Gadget's "Go go Gadget Spring Shoes".
Gallery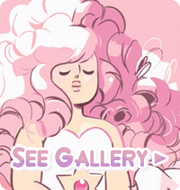 Community content is available under
CC-BY-SA
unless otherwise noted.