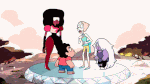 "I don't appreciate your tone."
Please don't add hypotheses in the articles. If you wish to express your opinions, please do so in a
blog
, or the
appropriate board
.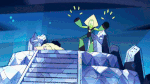 "You have to fix this!"
"

My Diamond! Your Diamond! Pink Diamond!

"
—"Earthlings"
Pink Diamond is a Homeworld Gem and a member of the Great Diamond Authority that continues to rule over the Gem race in her absence. She is first mentioned in "Earthlings".
Little is known about her other than that she was the former superior of Jasper and Rose Quartz, and that Rose did something to her.
The Gems originally serving her were reassigned to the other diamonds, but still refer to her as "my Diamond".
Trivia
Most of the ancient ruins on Earth have the Pink Diamond symbol, such as the Ancient Sky Arena.
The very bottom of a mural representing her can be seen in the Moon Base.