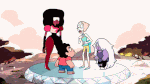 "I don't appreciate your tone."
Please don't add hypotheses in the articles. If you wish to express your opinions, please do so in a
blog
, or the
appropriate board
.
Pink Diamond was a Homeworld Gem and a member of the Great Diamond Authority that continues to rule over the Gem race in her absence. She was first mentioned in "Earthlings" and pictured in "Back to the Moon".
Appearance
Although Pink Diamond has yet to make an appearance in the show, her mural in the Moon Base shows that her gemstone is located on her navel, and she has large, jagged hair.
History
Pink Diamond was the original Diamond in charge of Earth's colonization. During the Earth's colonization, Pink Diamond would capture humans from their families and store them in her Zoo to be showcased as trophies of her conquest. While the progress of the colony was initially going well, she was ultimately betrayed and allegedly shattered by one of her Quartz soldiers, Rose Quartz, as part of the Rebellion.
Her death occurred hundreds of years into the Rebellion. According to witnesses, for unknown reasons, she halted her palanquin and stepped out of it, where Rose apparently ambushed and shattered her using her sword.
The Gems formerly serving her were reassigned to the other Diamonds, but still refer to her as their Diamond.
Jasper mentions that one of the reasons she has been fighting her whole life is because of what Rose did to Pink Diamond, her Diamond.
The Gems and the Rubies visit the Moon Base again where Eyeball takes a moment to pay her respects to Pink Diamond. Eyeball also reveals that the Moon Base belonged to Pink Diamond. After explaining how well the Earth colony was doing under Pink Diamond's supervision, Eyeball claims that she saw Rose shatter Pink Diamond herself.
Steven asks Garnet if Rose really shattered Pink Diamond, and she confirms it. Garnet says that Rose had to shatter Pink Diamond for the Earth to be "free", and for everyone to be who they are today.
Blue Diamond visits the Earth to pay her respects to Pink Diamond one last time. It is revealed that she was shattered in present-day Korea, where her palanquin lays abandoned.
Garnet mentions that during Pink Diamond's reign on Earth, she stole humans from their families as trophies of her conquest and put them in her Zoo.
During the tour of Pink Diamond's Zoo, Holly Blue Agate reveals that each of the Quartzes stationed there originally belonged to Pink Diamond. Holly Blue also reveals that Blue Diamond took over the Zoo to preserve Pink Diamond's legacy.
Blue Diamond returns to Pink Diamond's Zoo, where she is found and scolded by Yellow Diamond for still mourning Pink Diamond after thousands of years. It is revealed that Rose Quartzes were made by Pink Diamond, and that they are all bubbled because one of their kind was responsible for the rebellion and her demise. While Yellow Diamond wishes for their destruction, Blue Diamond wants them kept in the bubbles.
Steven wonders why Rose would bubble Bismuth for wanting to shatter Gems, but then shatter Pink Diamond herself.
Steven turns himself in to Aquamarine, claiming to be Rose Quartz: the Gem who shattered Pink Diamond.
Blue Diamond states that Pink Diamond was shattered with a sword. It is revealed by Blue Zircon that Pink Diamond was shattered in front of her entire entourage, but is puzzled by how that could be the case. To defend Steven in a trial against the Diamonds, Zircon states how it is very unlikely that Rose Quartz was able to get past Pink Diamond's entourage full of soldiers, Sapphires, and her Pearl. Blue Zircon comes to the conclusion that Rose had not committed the crime, but someone who had a great amount of authority and Pink Diamond's trust, which allowed them get past her attendants. She accuses the Diamonds of being capable of such a thing, which shocks Blue Diamond and makes Yellow Diamond furious.
Relationships
"

Oh, Pink. I'm sorry... I'm so sorry... I should've done more. Yellow says it'll all be over soon. I wonder what you would think. This is your planet, after all. I still think it is.

"
—Blue Diamond, "Steven's Dream"
Blue Diamond describes her relationship with Pink Diamond to be "very close" and continues to grieve her death even thousands of years later. One of Blue Diamond's goals is to preserve as much of Pink Diamond's legacy as possible, including maintaining her Zoo, keeping her "defective" Gems in service, and keeping every Rose Quartz Gem bubbled rather than shattering them, as Pink Diamond had made the type of Gem.
"

♫ Yes, of course, we still love her. And we're always thinking of her. Don't you know I miss her too? But tell me, what's the use of feeling blue? ♫

"
—Yellow Diamond, "That Will Be All"
Yellow Diamond and Pink Diamond's relationship seems to have been very close, since, despite her cold demeanor, Yellow Diamond admits that she still loves and is always thinking about Pink Diamond. Unlike Blue Diamond, she would rather destroy reminders of Pink Diamond in order to move on.
"

I was there. I saw it with my own eye. I watched the leader of the Crystal Gems, Rose Quartz, shatter Pink Diamond!

"
—Eyeball, "Back to the Moon"
Rose Quartz was one of the many Gems created by Pink Diamond on Earth, and allegedly the Gem responsible for shattering Pink Diamond.
Episode Appearances
Trivia
Most of the ancient ruins on Earth have the Pink Diamond symbol, such as the Ancient Sky Arena.

Curiously, those Pink Diamond symbols appear shattered or in bad conditions of conservation in many cases.
Pearl's spacesuit outfit sports a pink diamond in the chest, possibly hinting that Pearl may have a past affiliation with Pink Diamond.

Sardonyx has pink diamonds on her shoes, which most likely comes from Pearl.

The Moon Base was created by Pink Diamond.
Gemology
Gemstone Information
Diamond is the official modern birthstone for April, and it is also used as an official sixty-year anniversary gemstone.
Diamonds are the stone of truth and victory.

It is associated with lightning and fearlessness, and for its properties of protection.
The diamond, in its rarity and beauty, is a symbol of purity and innocence, of love and fidelity, and embraces strength of character, ethics, and faithfulness to oneself and others.

Diamond is the transparent, gemstone-quality crystalline form of carbon and it is indeed one of the hardest known natural substances on Earth.

Diamonds' hardness is the result of adamant chemical bonds between the carbon atoms.
There is no other gemstone in the same family as diamond, although there are a variety of very similar gemstones.
Diamond is pure carbon and is chemically the same as graphite.

Although traditional colorless or "white diamonds" are by far the most popular colored diamonds, yellow and brown diamonds are actually the most commonly occurring diamonds.

Other diamond colors include pink, red, orange, blue, green, gray, and black.
Specific colors will trade under specific names.

Brown and yellow diamonds are often referred to as "champagne" or "cognac" diamonds.

Pink diamonds are not uniformly pink, but instead, have different pink zones, called twin planes, that were most likely formed by volcanic eruption.
Some famous pink diamonds include the Pink Star Diamond, the Pink Sunrise Diamond, and The Condé.
Diamond deposits are found worldwide, the most notable being Africa, Australia, and India.

Approximately half of the world's diamonds come from Central and Southern Africa.
Canada has recently become a main commercial source for fine white diamonds.

Pink diamonds represent love, creativity, and romance.[1]
Gallery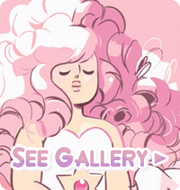 References