"

You should keep a close eye on your cactus.

"
—Garnet
"Prickly Pair" is the 10th episode of Steven Universe Future and the 10th episode overall.
Official Synopsis
After leaving Little Homeschool, Steven has found a new hobby, plants.
Plot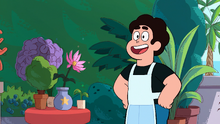 The episode begins at the conservatory where Steven shows the Gems that he has taken up gardening since leaving Little Homeschool. He proudly states that he grew them without using his powers, and names each plant after the people who have left his life. Steven pricks his finger while transplanting a cactus cutting, then heals it with his saliva and touches the cutting to finish the process, unaware that his saliva has affected it as well.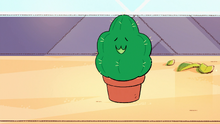 Steven finds the next day that the cutting has grown overnight, and become sentient and introduces it to the Gems, with Amethyst naming it "Cactus Steven", due to the fact that the plant looks nearly identical to Steven's head. Steven spends the day with the cactus while bemoaning how everyone left him and that his own life has had no direction since leaving Little Homeschool, as there is no one left to help.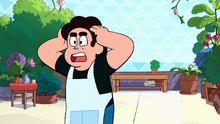 The next day Steven finds that Cactus Steven is able to talk, repeating back what he has said. Cactus Steven repeats back Steven's laments to the Gems, which makes them confused, causing Steven to panic and hide it away from them. Amethyst checks on Steven, at which he nervously denies that anything is wrong. Taking it back to the dome, Steven argues with Cactus Steven and further bottles his emotions towards the Gems, where he wants nothing to do with Pearl's empathic concern, Garnet's patronizing and Amethyst's newfound maturity. Realizing his mistake when blurting out his secrets, Steven hides Cactus Steven in a box, in hopes it would stop talking.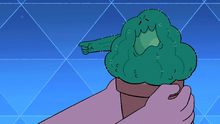 The next day Steven finds that Cactus Steven has grown deformed and continues to repeat everything he says, angering him and causing him to turn pink. Steven leaves the greenhouse when Pearl calls him for dinner.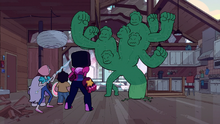 Steven awakens that evening to the sound of breaking glass and finds that Cactus Steven has broken out. Cactus Steven ambushes him in the house, now being able to move on its own having grown limbs. Steven attempts to fend it off when the Crystal Gems arrive. The Gems initially manage to gain the upper hand and knock Cactus Steven against the sink, until the impact causes it to grow even larger with multiple limbs and heads. The Gems are outmatched and Cactus Steven continues to repeat every negative opinion Steven told it about them, much to their confusion and concern.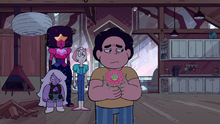 Upon realizing it is just continuing to mimic him, Steven ends the fighting by apologizing and hugging Cactus Steven, despite how painful it was due to the needles. This causes Cactus Steven to sprout flowers and gives one to Steven before busting through the house door and leaving. The Gems ask Steven if they need to talk about his issues, which Steven denies stating that he has said enough.
Features
Characters
Objects
TBA
Locations
Music
TBA
Trivia
This episode was Drew Green's favorite episode that he worked on.[2]
This is the first episode of Steven Universe Future where Steven's jacket does not appear at all.
The episode's title is a play on prickly pear, a fruit that comes from a cactus and prickly pair, referring to both Cactus Steven for obvious reasons, and Steven for his increasing anxiety and frustrations.
This episode marks the final appearance of Steven's Shield.
This was the final episode to air in 2019.
Cultural References
The premise of a plant being inadvertently brought to life, growing rapidly, and wreaking havoc is likely a reference to the musical Little Shop of Horrors.
The plot also shares similarities with Mary Shelley's novel Frankenstein, where the main character creates a sentient lifeform that acts like a monster out of confusion and aggression.
Continuity
Steven's house is partially destroyed again after being repaired during the time skip.
Steven began his hobby of growing plants following his departure from running Little Homeschool after "Little Graduation".
Up to this point, two of the demands that Aquamarine made in "Bluebird" have occurred: Steven's house getting destroyed and his friends being "bubbled" (in a dome).
Steven's annoyance of Amethyst "acting like she's so mature now" is a reference to the episode "What's Your Problem?" where he tells Amethyst that she is the most mature Crystal Gem.
Videos
Transcript
View the episode's transcript here.
Gallery
References
Community content is available under
CC-BY-SA
unless otherwise noted.