Doctor Strange in The Multiverse o Madness - The Loop
Play Sound
"

In the ring nobody can tell me what to do! And if they try, I hit them in the face with a chair!

"
—Amethyst, in "Tiger Millionaire"
The Purple Puma is Amethyst's pro-wrestler persona who was first featured in the episode "Tiger Millionaire". Starting out solo, Purple Puma eventually became the tag team partner of Tiger Millionaire, the pro-wrestler persona of Steven. The two were the Tag Team Champions before surrendering their title and retiring from wrestling in "Tiger Philanthropist".
Appearance
The Purple Puma retains Amethyst's skin color with large tufts of pale lavender hair sprouting from the head, chest, and armpits. Amethyst's gem is visible through the chest hair. Purple Puma wears a simple black leotard, a dark-mauve mask, mauve wristbands, and a pair of white boots.
Designs
Abilities
Purple Puma, being Amethyst in disguise, possesses standard Gem abilities, including weapon-summoning, bubbling, shape-shifting, fusion, regeneration, agelessness, and superhuman strength/durability.
This is naturally an immense advantage over human wrestling opponents (or as Mr. Smiley puts it, "victims"). When Pearl and Garnet discover the nightly wrestling escapades in the episode "Tiger Millionaire", Pearl promptly scolds Amethyst for being careless and reckless enough to use her Gem powers against ordinary humans.
Unique Abilities
Wrestling Proficiency: Amethyst is more inclined to use martial arts and unarmed tactics against her enemies in battle, such as using her hair as a blade to cut opponents with. When shape-shifted into the Purple Puma, however, she strictly sticks to traditional human wrestling moves (most likely due to her being sworn not to hurt any humans) - even if she is fighting outside the ring, as seen in "Ocean Gem".
History
The Purple Puma makes his first brief appearance as Amethyst is demonstrating her shape-shifting abilities to Steven by rapidly shifting between a myriad of different forms; one of them being The Purple Puma, flexing her muscles.
Puma's first major appearance as Amethyst's wrestling alter-ego.
After she is harshly scolded by both Garnet and Pearl for her behavior during a mission, Steven discovers Amethyst sneaking out of the Crystal Temple one night and follows her. They end up at the Beach City Underground Wrestling fight in the Abandoned Warehouse where she shape-shifts into The Purple Puma.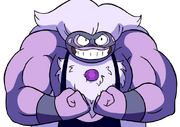 When she explains that she needs the outlet of wrestling to endure Pearl and Garnet constantly being on her case all the time, Steven admits to feeling the same, and he joins her in the ring as his own wrestling alter-ego, "Tiger Millionaire". When asked for an explanation for creating the Purple Puma persona, Amethyst simply replies that "Pumas are cool." Steven invents a unique back-story for the alter-ego: Puma's wild behavior drove everyone away, convincing Purple Puma to leave home and find a place to fit in.
Steven's story helps Garnet and Pearl understand Amethyst's need for an outlet.
During the fight against the water duplicate of her created by Lapis Lazuli, Amethyst shapeshifts into the Purple Puma and performs a high-flying knee drop move.
A dumbbell owned by Greg catches her eye as they are clearing out the storage unit. When Greg says he does not really need it anymore, Amethyst grabs the dumbbell and shapeshifts into the Purple Puma, jokingly asking him if he would not rather want to get "yoked" with it. He then tackles Steven and the two playfully wrestle on the ground.
After watching Pearl fight Peridot in a giant robot battle, Amethyst comments how Pearl should go wrestling with her sometime, a possible allusion to her Purple Puma persona.
After the drill is almost finished, Pearl requests to get the drill up on the wood stands. Amethyst shape-shifts into Purple Puma, indicating that she can lift it, and Pearl suggests that "we should be more careful", so Amethyst shape-shifts back into her original form and fuses with Pearl to form Opal.
Amethyst shape shifts into Purple Puma to add weight to Steven, in an attempt to help him fall faster.
During her fight with Steven, she shape shifts into the Purple Puma.
Purple Puma makes a brief appearance when Amethyst transformed into Purple Puma to spar against Bismuth.
Amethyst shapeshifts into Purple Puma to see if the Gems can shapeshift back into their normal selves while the Roaming Eye is calibrated for Rubies. When it does not work, and Amethyst remains as a tiny Purple Puma, he calls the form "Puma Cub".
Purple Puma and Tiger Millionaire re-enter the wrestling scene, competing for the Tag-Team belt. When they win, Purple Puma decides to quit wrestling, and Amethyst later explains that she did so since she no longer had a passion for wrestling. She also reveals that she only wrestled in the first place to make herself feel stronger when she was feeling down. Later on, Purple Puma once again joins wrestling, alongside Tiger Philanthropist. The two decide to "go out with a bang" by losing so they can quit wrestling together for good.
Trivia
Gallery